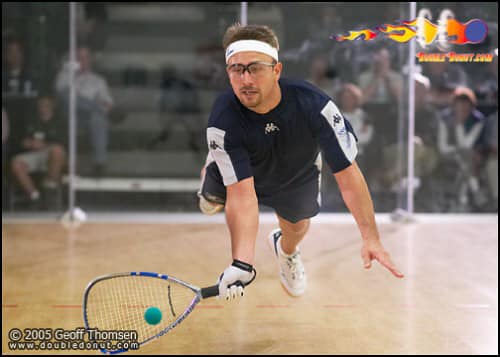 Hey racquetball fans. Long-time touring pro and former IRT commissioner Jason Mannino is up for the USAR Hall of Fame this year. Like we published with fellow HoF candidate Gregg Peck earlier this fall, here's a career retrospective of Jason with some stats and lists of accomplishments:
Mannino overcame a near-fatal car accident at the age of 18 to become one of the most accomplished players in the sport's history. Read on for a career summary.
————
Junior Career
Mannino hails from Staten Island, NY, the same area as Hall of Famer Sudsy Monchik, and being just 3 months apart in age frequently competed throughout their junior and professional careers. Often times these two dominant players would meet in the finals of state, regional and national competitions and would trade off as title holders.
Mannino and Monchik also frequently teamed up as doubles partners and won multiple junior national titles throughout their junior career.
Junior Career Accomplishments:
– 3-time USA Junior National champ
o 14U National Champ in 1990
o 16U National Champ in 1991 (as a 15-yr old)
o 18U National Champ in 1992 (as a 16-yr old
-5-time USA Junior Doubles national champ with Monchik
o 18U in 1993
o 16U in 1990
o 10U, 12U and 14U titles previous to that for a full sweep with Sudsy
– 18U World Junior Singles champion in 1994
————————
Professional Career
Mannino turned pro soon after the end of his junior career, when he was offered a contract with Spalding upon winning the 1994 Junior 18U world title. His first pro main event qualification was at the Jan 1995 Atlanta tourney. In his first full season on tour as a 20-yr old, he finished in the top ten on tour. He improved even more in the 1996-7 season, finishing 4th and kicking off more than a decade of being ranked in the top 5 on tour.
He competed across two distinct "eras" in the sport, and faced off against legends like Cliff Swain and Sudsy Monchik in the first part of his career, then Rocky Carson / Jack Huczek / Kane Waselenchuk in the second part of his career. Despite frequently competing in the back ends of tournaments against multiple year-end tour winners, he won 22 titles in his career and made the finals of another 18.
Mannino competed at the top of the tour for an astounding 16 seasons, competing at a high level well into his 30s and becoming one of the most long-serving pros in the history of the game. His playing career only ended at 35 so that he could take the opportunity of running the pro tour; he finished his final touring season ranked 4th.
Professional Career Accomplishments:
– IRT Pro tour champion: 2002-3 season
– 16 years on tour; 15 top-10 finishes, 14 top-5 finishes
– 22 career titles, 7th all time
– 40 career finals made, 9th of all time.
– 195 career appearances, 5th of all time
– 70.0% career W/L percentage (402-172), 11th all time
– 2-time US Open champion, 1999 and 2006
– Las Vegas Pro Nationals Champion 2001
– 1996: IRT Rookie of the Year
– 1998: IRT Most Improved player of the year
————————–
Innovative Playing Style
Mannino's playing style was revolutionary in our sport for two primary reasons: his tactical serving approach and his amazing retrieval capabilities.
Coming into play at an age in our sport dominated by power servers (Swain, Monchik, John Ellis, Doyle, Drew Kachtik, Andy Roberts, etc.), Mannino developed a unique serving style that was not really seen prior; the "Junk serve." Not a lob serve, but not a drive serve, he pioneered a serving style that involved deception, placement and guile to de-emphasize the power of his opponents and often times force loose service returns for easy points.
In the meantime, Mannino's "getting" ability on the court was perhaps the best ever seen on tour. Mannino could retrieve balls that no other player in his time could get, diving all over the court to extend points and rallies. Mannino could anticipate where kill shots were going and would literally begin diving before a shot was executed, and could return kill shots from mid-air. He set the athletic standard for generations of diving players to come.
———————
Professional Tour Leadership
Mannino retired in April 2010 to take over the professional tour as owner and commissioner. He succeeded Dave Negrete and became the 8th pro tour commissioner in men's pro tour history. Mannino took over the tour at a critical time; economic downturns in the 2010 time-frame forced major sponsors out of the game and cancelled marquee events. Mannino was able to resurrect the Ektelon Nationals in California for a time, and stabilized the number of tier 1 events for the better part of the 2010s.
However, Mannino's lasting impact on the tour may be the rule changes he implemented immediately upon taking over as commissioner. The IRT returned to two serves for the first time since Aug 1990 in an attempt to improve the excitement of the serve. Additionally, in response to complaints from fans and sponsors, Mannino implemented anti-arguing rules and pace-of-play statutes in an attempt to improve the quality of the product as the sport moved more fully into a streaming/broadcast focused mode.
Mannino sold the IRT tour in June 2017, ending more than 20 years of direct involvement (as a player or in management) of the men's professional racquetball tour.
———————
Coaching and Mentoring Career
Mannino has partnered with Fran Davis for more than two decades to teach Racquetball Camps all across the country and internationally. Davis and Mannino are the primary instructors of the most popular annual Racquetball camp series in the nation and have taught hundreds of players over the years.
Mannino is a co-author with Davis of Championship Racquetball, published in 2011.
———————
Personal
He hails from Staten Island, NY and studied at St. John's University before turning pro. He currently resides in San Diego, CA. He transitioned to a career in Real Estate upon leaving IRT management. He continues to work with Fran Davis Racquetball as a coach and mentor. He is married with two sons who have continued his athletic pedigree by excelling in youth baseball.
———————
Conclusion
Mannino's pro record speaks for itself; he's one of the most accomplished pro players to ever play the game. He continued to have an impact on the sport after his playing career ended, and continues to this day. He more than belongs in the Hall of Fame.