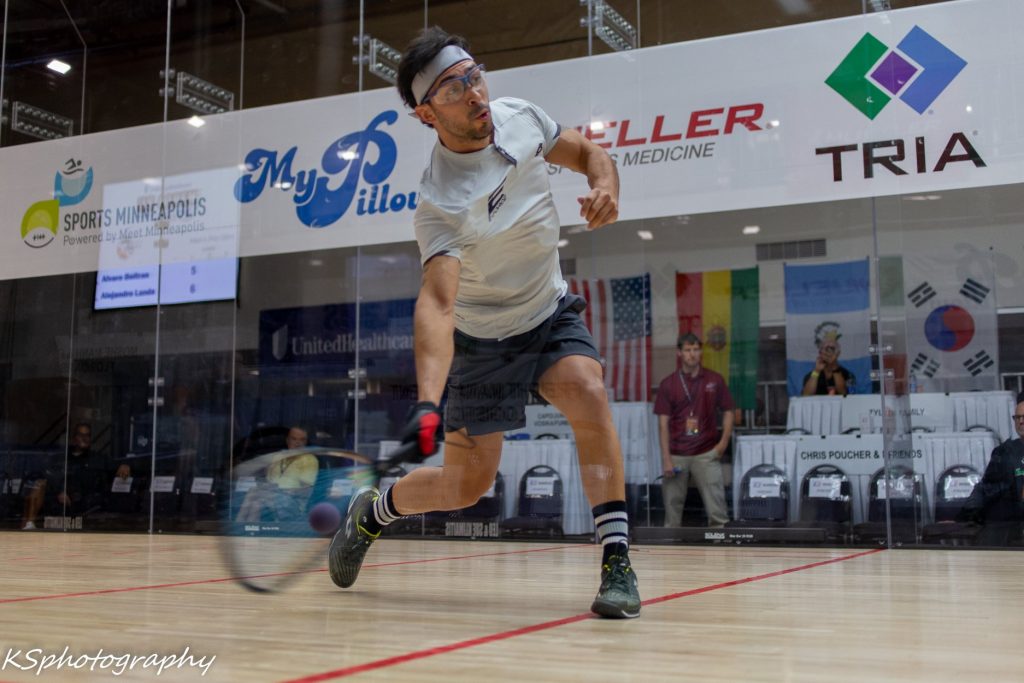 Welcome to the 2021 IRF World Championships, the 20th iteration of this tournament, one year delayed and oft-moved, but now upon us.
Draws are available from https://www.internationalracquetball.com/ , as the IRF continues to not use R2sports to run its events.
The format features several days of round robins with preliminary seeding done by virtue of the Country, not the individual player, who then compete for the actual seeding that's done for the knockout stages. So, while RR losses are not fatal, they are impactful.
There's a number of curious decisions by players who are here not to play singles versus doubles, especially since this tournament is a qualifier directly into the World Games event next summer. There's also some interesting absences that we'll note along the way.
Singles RRs to look for. Here's some matches that look compelling in the early stages:
#1 Alex Landa vs #15 Felipe Camacho; these long-time IRT buddies are drawn into the same RR group.
#2 Rodrigo Montoya Solis vs #13 Andres Acuña; these two IRT regulars are neck and neck in the IRT standings, and Acuna is coming off of a big upset of Landa at the last pro event. Montoya has missed a number of IRT events lately but is here and always flourishes at international events, where he has structure and coaching resources.
#4 Andree Parrilla vs #18 Diego Garcia Quispe; so, Garcia was a junior international champion for his home country of Bolivia before switching allegiances, now playing for Argentina. He briefly played on the IRT before switching and impressed those who saw him; he's a dark horse here.
#8 Set Cubillos Ruiz vs #22 Javier Martinez: both these players have been frequent participants on the IRT lately, and they get an interesting group here that includes Luis Aguilar, who surprisingly represents Bolivian here instead of one of several other more accomplished players.

---
Interesting omissions here.
I generally don't like to dwell on who is NOT at an event, instead wanting to focus on who is there, but it is definitely curious who is in Guatemala from an international perspective. Reigning US national champ Rocky Carson bowed out due to Covid quarantine concerns; we knew this earlier and it costs him a shot at next year's World Games. Curiously, Canada's reigning national champ and #3 player on tour Samuel Murray has chosen only to play doubles here. Bolivia's #2 singles player is Luis Aguilar … and not the national finalist Carlos Keller Vargas or regular IRT touring player Kadim Carrasco or even someone like MoMo Zelada, who competed in Bolivian nationals this past summer. Odd. Lastly, the #2 Colombian is not someone like Sebastian Franco or Eduardo Garay Rodriguez or even someone like Alejandro Herrera Azcarate, who continues to play at a high level. Lastly we're missing delegations from places like Venezuela, Honduras, and Cuba, who normally would be present and have players playing. Hopefully we get back to normal sooner than later.
---
Women's Singles RR to watch for:
#12 Micaela Meneses Cuellar versus Maria Pazita Muñoz Albornoz; an interesting matchup between the up-and-coming Meneses and the veteran pro Munoz. Meneses is representing Bolivia in both adult and juniors here.
#2 Maria Jose Vargas Parada vs #11 Kelani Lawrence: Lawrence has played Vargas tough before in the pros and this will be a good early test.
#3 Samantha Salas Solis versus #10 Angelica Barrios; the drastically underseeded Barrios will look to top this group by taking out its top seed Salas.
All 6 matches in the women's group D will be compelling, as it features three LPRT regulars in Natalia Mendez Erlwein, Rhonda Rajsich, Amaya Cris, as well as Ireland's #1 Aisling Hickey, who has really impressed in the last couple of LPRT events. I sense some upsets in this group, especially since Rhonda relishes international competition.
On the women's side, also some interesting choices. Reigning Canada national champ Frederique Lambert choses only to play singles. Chile's Carla Muñoz Montesinos is ridiculously underseeded at #17 but has a great chance to win her group. Colombia is not represented by Adriana Riveros for the first time in years, but also could have had Brenda Laime Jalil in the mix. Bolivia is represented by Meneses instead of Yazmine Sabja Aliss, who bowed out last minute (though I believe Meneses earned her spot at National singles by making the final against Barrios). We're missing the top female Costa Ricans like the dangerous Maricruz Ortiz and @melania sauma (who is in college and might not be able to miss this much time).
---
Doubles preview: Because of the compactness of the draw, the doubles on both sides should be amazing. I especially look forward to these Doubles RR matches:
Mar/Montoya versus Wer/Galicia; one of the top doubles teams in the world gets its first test against two battle-tested Guatemalans.
Mercado/Gomez versus Manzuri/Garcia: two Bolivian natives now playing for new countries face off.
Murray/Iwaasa versus Moscoso/Keller: wow, great first rounder for both teams.
Longoria/Salas versus Martinez/MRR: the #1 women's doubles team faces off against the Guatemalans, who have played together forever and are a formidable veteran team.
Rajsich/Manilla vs Lambert/Iwaasa: two former top LPRT players anchoring USA vs Canada.
Rajsich/Manilla vs Mendez/Centellas: another great matchup of four top LPRT pros.
Mendez/Centellas vs Lambert/Iwaasa: the last of three great RRs from this group of death.
Barrios/Meneses vs Amaya/Riquelme; four LPRT regulars face off.
Looking forward to the matches! Streaming announcements to come.