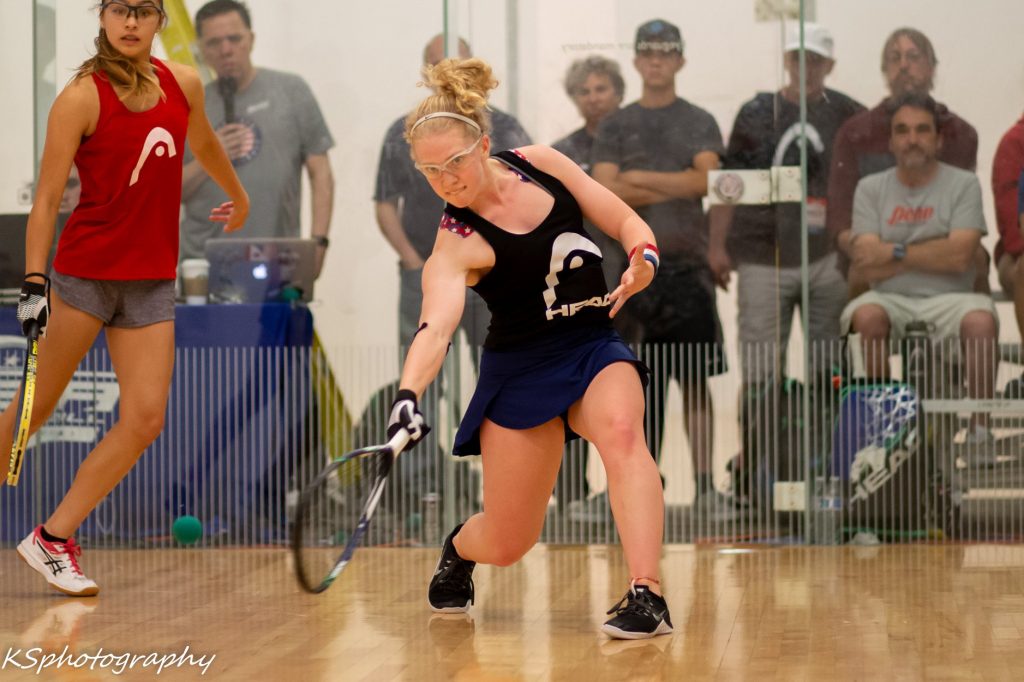 r2sports home page for all the brackets:
https://www.r2sports.com/tourney/home.asp?TID=39341

Congrats to your @USA Racquetball Junior National winners on the weekend. Champions were crowned in singles, doubles, and mixed doubles for six age groups on the weekend, so lots of champions to recognize.

This post is official notification that we've added the data to the database at www.proracquetballstats.com . This is the first time we've had a 21U junior division, so we've also made a bunch of coding changes to the behavior of the site. Please let us know if you see any issues or cannot see data as expected.

A reminder on our data entry policies for juniors: we put in full brackets for 14+ and older divisions, just the finalists for younger divisions, and just the finalists for doubles.
The finalists of each Singles division and the Champions of each Doubles division qualify for the US Junior National team, and have first right of refusal to compete at Worlds in November.
Singles
Boys 21U: Micah Farmer
Boys 18U: Josh Shea
Boys 16U: Nikhil Prasad
Boys 14U: Nathan Rykus
Boys 12U: Vaishant Mangalampalli
Boys 10U: Noah Jakola
Girls 21U: Annie Roberts
Girls 18U: Heather Mahoney
Girls 16U: Naomi Ros
Girls 14U: Andrea Perez-Picon
Girls 12U: Aarya Shetty
Boys/Girls Doubles
Boys 21U: Assuan Castaneda & Micah Farmer
Boys 18U: Josh Shea & Paul Saraceno
Boys 16U: Gatlin Sutherland & Nikhil Prasad
Boys 14U: Eshan Ali & Nathan Rykhus
Boys 12U: Lucas Frost-Biskup & Vaishant Mangalampalli
Girls 21U: Graci Wargo & Shane Diaz
Girls 18U: Heather Mahoney & Julia Stein
Girls 16U: Ava Kaiser & Naomi Ros
Girls 14U: Aarya Shetty & Sarah Bawa
Mixed Doubles
Mixed 21U: Shane Diaz & Micah Farmer
Mixed 18U: Heather Mahoney & Timmy Hansen
Mixed 16U: Naomi Ros & Cole Sendrey
Mixed 14U: Montserrat Torres & Axel Lopez
Mixed 12U: Aarya Shetty & Vaishant Mangalampalli
The best ways to see all the winners in one place are via the Junior Matrix Reports at the website.
Click here: https://rball.pro/mey for the Boys Junior winner's matrix for all USA junior titles, dating back to 1974.
Click here: https://rball.pro/cpf for the same report for the Girls.
However, for each of the singles draws you can see all the match results by pulling down the event at the main Junior home page. Go here, then hit the event pulldown: http://rb.gy/rnps1f
Here's some commentary on the Boys singles divisions one by one.
Boys 21U: Micah Farmer held serve as the #1 seed and held off #4 Castenada in a 5-gamer in the semis and then Elkins in the final for the win.
Boys 18U came down to #1 vs #2 as predicted, and they played a barn burner. NY's Josh Shea cruised to the first two games to make it look like it'd be laugher, but defending champ @Timmy Hansen took the next two to force the 5th. There, Shea ground out an 11-7 win for his first Junior National title.
Boys 16U came down to 1v2 in the final, and #1 Nikhil Prasad had to come back from 2-1 games down to secure the title over #2 @Gatlin Sunderland. Prasad repeats as 16U champ and secures his 7th career junior national singles title.
Boys 14U has a new titlist, as #2 Nathan Rykhus moved up from 12U and defeated the defending champion #1 Eshan Ali in a 5-game barn burner. This is Rykhus' third junior singles title, and interestingly his 3rd in a row in new age groups.
Boys 12U was 1v2 in the final, with Fremont's Vaishant Mangalampalli taking his first junior national title over #2 seed Alejandro Robles Pico.
Boys 10Udb's RR group was taken by Texan Noah Jakola. Fellow Texan Fernando Miguel Carpena finished 2nd.
Here's some thoughts on the Girls Singles draws:
Girls 21U: @Annie Roberts took the solid RR group, with wins over fellow LPRT part timers like Diaz, Wargo, and Perez-Picon. Solid win.
Girls 18U Heather Mahoney returned to the winner's circle, topping #2 Julia Stein in the final to secure her 9th Junior National title and her first since 2019. She can't reach the all-time record for junior titles by a US Female (@Adrienne Haynes with 11) but she can get close with one more 18U title.
Girls 16U was taken by #1 @Naomi Ros to repeat as 16U titlist. She topped #2 Ava Kaiser in the final. Ros now holds 2 US junior national titles and at least 2 Mexican Junior National titles in younger ages (our records are incomplete).
Girls 14U was taken by #1 Andrea Perez-Picon in dominant fashion, without dropping a game. She secures her 6th US Junior National title and has a chance at the all-time record if she can run the table here on out.
Girls 12U was taken by Arya Shetty, who won the 4-person RR.
Girls 10U was won by Anum Mitha, who topped Anna Sikorski h2h for the title.
Girls 14U
We also capture Junior Doubles data, but only the winners of the draws going back in time.
https://rball.pro/o0y
Click on the PRS home page for Junior Doubles results and you can pull up winners by division.
Congrats to all the new members of the Junior National team. They qualify to represent the US at World Juniors in November, which apparently will be at the new facility in Guatemala City (though the IRF has not officially announced the site).
Thanks to @Connor Shane for running the event, thanks to Leo Vazquez for streaming and broadcasting all weekend.
Next up?
Per our handy master racquetball calendar …
https://docs.google.com/…/1V6OTid6rZ356voXVkoV2sN7KMMb…/
Next up on the Racquetball calendar is a break for the 4th of July weekend, then the World Games happen in Birmingham from 7/10 to 7/13, then the big Outdoor Nationals happens in Huntington Beach!