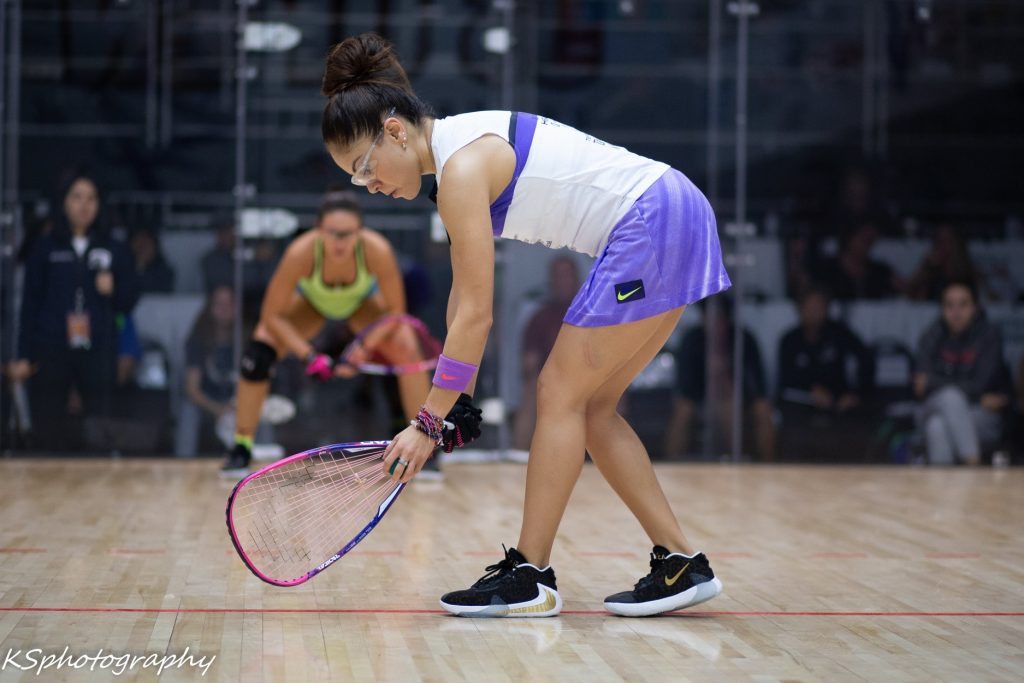 Congrats to your Pro winners on the weekend:
– Men's IRT Singles: Conrrado Moscoso
– Women's LPRT Singles: @Paola Longoria
– Mixed Pro Doubles: Moscoso & Longoria
A nice bounce-back weekend for long-time #1 Longoria, who along with the current IRT #1 Moscoso both earned doubles on the weekend.
R2 Sports App home page for event: https://www.r2sports.com/tourney/home.asp?TID=39922
——————
Lets review the notable matches in the Men's Pro Singles draw.
Singles Match report in the PRS database: https://rball.pro/i4u
—————-
In the Qualifiers:
– All the hype about former #1 Kane Waselenchuk returning to the court turned out to be worthless, as he withdrew before even playing his first qualifier against Texan DJ Mendoza . As he did after withdrawing from the 2021 US Open, he went on Sudsy Monchik 's podcast and went on a 25 minute diatribe about the IRT without really giving a reason why he withdrew. For neutrals who really just want to see him play, to see if he's still "got it" it was definitely a let-down, as i'm sure it was for those on site.
– @Elias Nieto had two solid wins to get into the round of 32, topping Canada/Chile's @Pedro Castro and then USA's @Sam Bredenbeck .
– Hometown favorite @Jacob Kingsford had a nice win over @Rodrigo Mendoza to get into the main draw.
– @Erick Cuevas Fernandez got a nice win over east coaster @Dylan Pruitt to move on.
—————-
In the 32s:
– #21 Diego García topped #12 Thomas Carter in game one 15-5, then got an injury forfeit to move into the 16s as a 20+ seed.
– Career pro win for Neito Elias , taking out #13 Alan Natera in a breaker. Nieto is really coming into his own; he got a win over Murray at PARC earlier this year and now reverses the result with Natera since their last meeting.
– #19 Erick Trujillo made fast work of #14 Jaime Martell 5,9, a solid win for Trujillo, who had had some sputtering results lately.
– #7 Alejandro Landa no shows, giving @juan Francisco Cueva a walk-over into the 16s. We now know that the IRT preemptively put a slew of players into the draw, then when it was released well ahead of the event those who had no intentions of coming were given forfeits. I think we all appreciate the attempt to get the draws out early to build buzz (especially since the amateur entries were capped), but there's a reason draws for pro events are not released until the day before; players drop out last minute all the time. Int'l players can't get visas, or flights get cancelled, or players get injuries and withdraw. The LPRT changed its draws last minute, since that's what the players want, and it made our prediction piece useless … but the IRT stuck with its release and ended up giving multiple walk-overs in the event.
– #23 Carlos Keller Vargas came from a game down to topple #10 @Andres Acuña. A tough break for Acuna, to draw Keller here.
—————-
In the 16s
– #1 @Conrrado Moscoso made fast work of former #1 Rocky Carson 4,5.
– #8 Adam Manilla got a very solid win over #9 Samuel Murray 7,7. These kinds of 8/9 wins are crucial for players at the edge of the top 10 to stay there.
– Garcia with a very good win over Eduardo Portillo, coming from behind after dropping game one. Garcia has now beaten Lalo twice this year, to go along wins over Mar and Carson last October, a U21 junior worlds win last December, and a semi-finals showing at PARC in April where he lost 21-19 in the 5th game to Keller. Is Garcia legitimately a top 5 player in the world?
– Nieto extended #4 @Rodrigo Montoya to a third game before falling, really making a statement this weekend.
– #6 @Andree Parrilla got a solid win over @Javier Mar, a regular troublespot, to advance to the quarters.
– Little known Diego Gastelum really hung with #2 @Jake Bredenbeck , losing game one 15-14 before getting ran off the court in game two.
—————-
In the Quarters, the top four seeds advanced as expected.
– Moscoso trounced Manilla 11,3
– Montoya lost game one to Garcia before advancing.
– @Daniel De La Rosa finally got pressed, losing game one to Andree 8 before moving on.
– Bredenbeck ground out a very close 13,12 win over the always-tough Keller.
—————
In the Semis
– Moscoso took care of business 11,6 over Montoya; the last few times these guys played its been super close, a bunch of 15-14 games. Not today: Conrrado really played Rodrigo off the court.
– In a rematch of the US nationals final, DLR worked through some sort of ankle or calf injury to top Jake and move into the final. It was a pretty impressive performance from someone who was clearly hurt.
In the final, DLR blasted Moscoso 15-3 in game one, then seemed to basically give up in game two to preserve his game cycles for a tiebreaker. In the breaker, DLR went for glory shots again and again as it was clear his movement was hampered, and towards the end of the breaker Moscoso got to just a few more shots than DLR anticipated, leading to an 11-7 loss and the title for Conrrado.
—————-
Points Implications of results
This event didn't expire anything from 2022, so there won't be a single change until you get to about the #18-20 range. The next event will feature the same top 4 seeds in the same order. I'm not sure if the IRT flips seeds 5-8 anymore (I don't believe so). We're not going to see appreciable movement in the rankings until about the middle of October, by which time DLR should be in a pretty good position. The next three events to expire are:
– 2022's Capital Classic (DLR: did not play)
– 2022's US Open (DLR lost in 16s)
– 2022's Golden State Open (DLR: did not play)
So, DLR is defending just 135 points from these next three events. By way of comparison, Moscoso will be defending 1150 points and Jake will be defending 675 points from those same three events. If DLR shows up and makes the semis or finals of the next handful of events, he'll rocket back to #1 and will be hard to catch.
—————-
LPRT Singles Review
Match report in the PRS database: https://rball.pro/j09
A last minute pair of withdrawals of mid-20s international players resulted in a shifting of the draw last minute, which drastically changed a couple of key first round matchups that really could have re-shaped the way this draw went. As discussed by LPRT Deputy commissioner Timothy Baghurst on social media, this is what they players want; they want withdrawals that result in no-show walkovers into the money rounds eliminated, no matter what the impact on the draws.
Lets review the notable matches resultant of the re-shaped draw:
In the 32s:
– Rarely seen @Nancy Enrique took a solid TB win over #17 Sheryl Lotts.
– #13 Criss Amaya got a solid win over #20 @Lexi York .
– #11 @Gaby Martínez got a bummer of a walk-over win against Costa Rican junior Maricruz Ortiz . I would have liked to see this one. Not knowing the answer, it seems like Ortiz got hurt in Mixed, because she forfeited out of both Pros and Open.
– #6 @maMaria Jose Vargas made fast work of her practice partner and dark-horse candidate Veronica Sotomayor 3,2 to extinguish any deep runs by 20+ seeds.
In the 16s:
– #9 Natalia Mendez reversed the course of her last couple of matchups with #8 Carla Munoz , winning a tight one 9,14 to move on.
– #5 Brenda Laime Jalil made fast work of #12 Kelani Lawrence 10,5 to move on.
– Gaby shocked this observer and cruised past Vargas 9,12 to move on. Vargas has been on such a roll lately, i'm surprised she got upset early despite her seed. I feel like there's a set of 5 women in a class of their selves in the ladies game right now (Mejia, Longoria, Herrera, Gaby, Vargas), and when two of them meet in the 16s, its always a high-stakes match.
– #10 @Samantha Salas Solis took out Jessica Parrilla in a slight upset in the 7-10 matchup.
Quarters:
– #1 Montse Mejia lost the first game against Mendez before buckling down and cruising to a win.
– Laime took out #4 @EErika Manila 7,10 to move into the semis.
– #3 Alexandra Herrera got back on top, defeating Gaby 13,7 to return to the semis. What a quartile; The #3 quartile in this event had Herrera, Vargas, Gaby, Sotomayor, and Ortiz. Phew.
– #2 Paola Longoria made fast work of Salas to move on. In three matches to this point in the tournament, Longoria had given up just 10 combined points in 6 games … a sign of things to come?
Semis:
– Mejia topped Laime by the more dominant score line than I was expecting 6,12.
– Longoria ground out a tough win over Herrera 10,14.
Finals: we got the match we wanted: 1 v 2. Last year's champ versus this year's champ. And we got a back and forth affair, Longoria grinding out a game one win 15-13 before Mejia caught fire in game two and blasted Paola 15-3. In the tiebreaker, Longoria found a weakness: a cut lob serve to Mejia's forehand that she just couldn't help but attack … and with a lively ball and concrete and altitude, cross court overheads come off the back wall for setups over and over, and before Mejia could alter her strategy Longoria ran away with the tiebreaker 11-5 for the title.
—————-
Points Impact of the event.
If you see the rankings today … 8/14, they look weird, because the Paola Longoria Experience from 8/14/22 is still in there. However, tomorrow on 8/15/23, the impact of those points expiration will be more clear.
The top 3 will not change despite Paola's win. Laime will switch places with Manilla and move to #4. Vargas and Munuz will move up one spot each, to #6 and #7 respectively as Barrios drops down by virtue of missing the Denver event and its grand slam points. Gaby moves into the top 10, while Leoni drops out of it.
—————-
Mixed Pro Doubles recap
The 28-team Mixed Pro doubles draw gave us some crazy results in the early rounds, Here's a couple of the crazy upsets by seed from the 32s and 16s:
– #1 seeds Montoya & Salas, who won this event in 2021, were shocked by #16 Gaby & Edwin Galicia in a tie-breaker.
– #24 Waselenchuk & Michelle Key advanced past two very good doubles players in @Kadim Carrasco and Laime in the opener 10,10. Carrasco just couldn't put balls away in the altitude, but Kane could and that made the difference.
– #13 Martell & Amaya went 11-10 against Adriana Riveros and Diego Garcia to move on.
– #19 Ecuadorians Jose Daniel Ugalde and Sotomayor took out Costa Ricans #14 Acuna & Ortiz.
– #10 Lawrence & Carter took out Canada's top pairing of Samuel Murray and Frederique Lambert in two, not an upset by seed by definitely by reputation.
– The run of Kane/Key was ended by the husband-wife team of Natera/Munoz in controversial fashion. After destroying the #24 seeds 15-2 in the first, Kane and Key took game two and forced a breaker. A back and forth tie-breaker was ended on a no-call at match point when Natera hit a jam serve at Kane, who held up but was not given a hinder. An unsatisfying end to the match, but one which was vindicated as Natera/Munoz raced to the final together.
7 of the top 8 seeds moved on to the quarters. #8 Natera/Munoz crushed #16 Gaby/Galicia, and then topped Mar/Mejia in the semis with relative ease 8,9 to gain the final together. From the bottom half, Moscoso and Longoria earned their finals appearance, topping the veteran Beltran/Mendez team, then advancing past the troublesome DLR/Scott team, before crushing Portillo/Herrera to get to the final.
In the final, Natera's excellent play finally met its match in Moscoso, and the dominant pair cruised to the pro title.
—————-
Open Singles and Doubles, other notable draws
There was no "Pro" Gender Doubles in Denver, with TD Hiser opting to put money into the Pro Mixed instead, but the doubles draws were still solid.
– In Men's Open Doubles, Beltran/Carson turned back the clock and took the title over the hard-hitting pair of @Sam Bredenbeck and Sam Murray 11-9.
– In Women's Open Doubles, Salas teamed with Mendez to take out the all_USA doubles pair of Lawrence & Scott
– In Men's Open singles, Trujillo topped Gastelum in an all Mexico U21 final.
– In Women's Open Singles: @Martina Katz took the final against @Shane Diaz.
—————–
Thanks for all the streaming on the weekend from both pro tour's teams. That means Favio Soto , Samuel Schulze ,Pablo Fajre and the IRTLive crew, plus Timothy Baghurst , Sandy Rios , Jerry J Josey Jr., and Tj Baumbaugh , plus all the guest commentators.
Thanks to the Tourney Director Jim Hiser for putting on this event. It was 2 years in the making, and I hope you do it again.
Thanks to title sponsor Keith Minor and Kwm Gutterman ; without your continued support we wouldn't have a pro sport.
Reminder to Players! Please like and follow this page so that when I tag you, you see it. Facebook will only retain tags of people that like/follow a page, which means lots of you are not getting the notoriety of getting tagged and noticed on Facebook. If your name is here and it isn't tagged … it probably means I attempted to tag you but Facebook stripped it.
——————
Next up?
Per our handy master racquetball calendar …
https://docs.google.com/…/1V6OTid6rZ356voXVkoV2sN7KMMb…/
Labor Day weekend thanks to Wayne Antone we have the 2023 Tracktown Open in Eugene Oregon, the first time the pro tours have ever been there.
——————-
tags