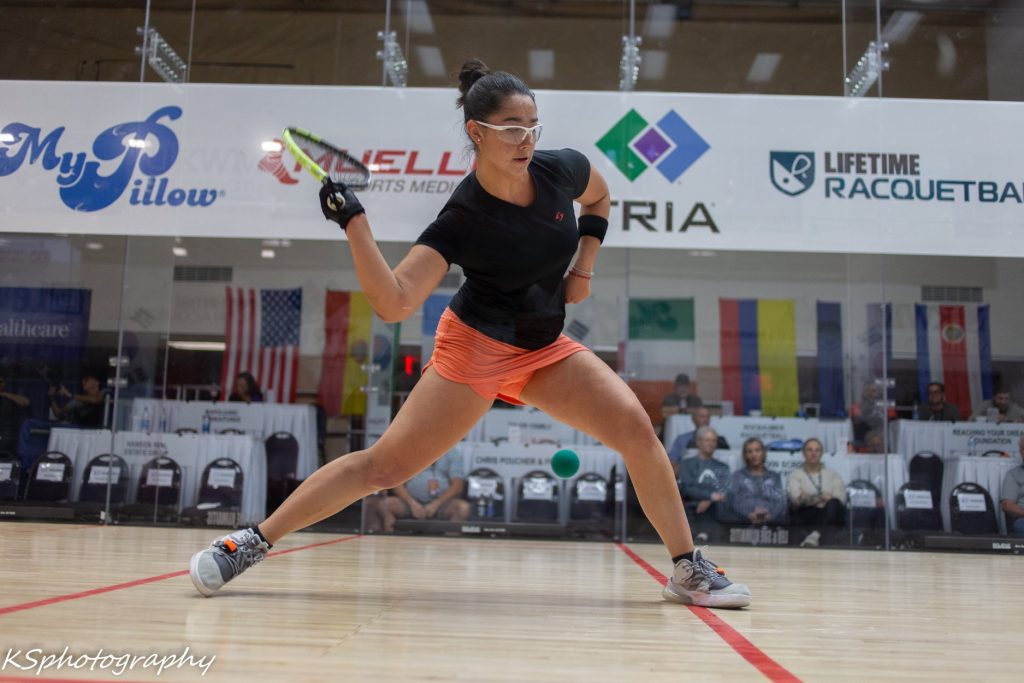 Congrats to your winners on the weekend:
Pro Singles: Montse Mejia
Pro Doubles; Mejia & Alexandra Herrera​
Mejia gets just her second ever win over Longoria to take her first ever pro title. She becomes the 28th person ever to win a Tier 1 women's pro event. She also breaks Longoria's 39-match winning streak, the 7th longest in the history of the sport on the women's side.
R2 Sports App home page for event: https://www.r2sports.com/website/event-website.asp?TID=37491
---
Lets review the notable matches in the Singles draw.
Match report in PRS: http://rball.pro/DD7F6B
In the 64s, some surprises starting right at 8am Friday:
Solid win for Colombian María Paz Riquelme, taking out the junior upstart from Bolivia Natalia Mita. Fun fact about Riquelme; she got her start playing racquetball when she lived in Arlington Va, and she used to play in the leagues that I ran as a club pro there in the 2006-2007 time frame. I don't think i can take all the credit for her success though 🙂
Annie Roberts had a great turn-around to notch her first LPRT win, storming back from a 15-8 first game loss to take the second game 15-0 and then hold on for the 11-10 tie-breaker win over Colombian junior Camila Rivero
Erika Manilla took a close one from fellow American Michelle De La Rosa3,11 to move on.
---
In the 32s, the notable results
#16 Adriana Riveros dominated #17 @Maria Maria Renee Rodríguez 4,11 to move on. I would have expected this to be closer; a solid win by Riveros.
#8 Angelica Barrios​ made quick work of #25 Daniela Rico​ 10,2; they had gone deep into a tie-breaker in the last event when they met.
#12 @Carla Carla Muñoz Montesinos and #21 Masiel Rivera Oporto (a former top10 player herself) played it as close as you could, with Munoz edging out the Bolivian-American 11-10 in a fantastic back and forth, tense match.
#11 Nancy Enriquez​ dominated the tough Ana Laura Flores​ 6,6 in the opener.
#20 Brenda Laime Jalil​ got the biggest upset of the round, topping Colombian veteran Amaya Cris in two.
#10 Montse Mejia​ cruised past Bolivian junior @Micaela Micaela Meneses Cuellar​ 8,4 to start off her tournament.
In the most talent-laden opening round match, #7 Valeria Centellas played very solid racquetball to move past the criminally under-seeded #26 Lucia Gonzalez 12,7.
#15 Kelani Lawrence​ and fellow American Sheryl Lotts played it as close as they could, with Kelani taking an 11-10 tie-breaker.
#2 Alexandra Herrera was given a stiff challenge, advancing by 10,14 in two close games against Manilla.
---
In the 16s:
#1 Paola Longoria​ cruised past #16 Riveros to move on.
#8 Barrios took care of business against the veteran #9 Rhonda Rajsich,9.
#5 Samantha Salas Solis​ left no room for an upset over #12 Munoz, who has challenged her (and beaten her) in the past. She moves on 7,7
#4 Natalia Mendez​ handled the upstart #20 Laime, controlling the match and moving on.
#14 Gabriela Martinez​ took out #3 @Maria Maria Jose Vargas Parada with relative ease 3,7. This was a tough round of 16 for Vargas, just coming back after a break, having to go against the under-seeded Gaby. This sets up some possibly very compelling matches later on in the bottom half.
#6 Jessica Parrilla​ turned the tides on the surging #11 Enriquez, and showed some serious mettle in coming back to win game two and the match. She moves on 7,14
#10 Mejia got a solid win over #7 Centellas 9,8, in a match of two of the better young players on tour.
#2 Herrera withstood a tough opening game, then cruised to the win 14,1 over Lawrence.
---
In the Quarters
Barrios got her points and definitely played better than the last time she met #1 Longoria, but Paola persevered and moved on 8,10.
#5 Salas got a great win over #4 Mendez, turning the tide from their last meeting in South Carolina and buldling on her solid showing at Mexican Nationals. Is Salas back? This win should put her back to #4 on tour going into the next event.
#14 Martinez continued her pathway through the draw, topping #6 Parrilla in two relatively in-control games. Is Martinez back? Clearly she's one of the top 4-5 players in the world, and the tour would be better with her on it full time.
#10 Mejia held serve against her doubles partner and moved into the semis over #2 Herrera in two closer games. Its always tough to play your doubles partner, and the two know each other's games intimately. Mejia moves on for a compelling semi final.
---
In the Semis
Longoria improved to an amazing 52-3 against her long-time rival Salas, topping her 7,6 to move into the finals of the 25th consecutive LPRT event.
Mejia topped Martinez 8,6 for the fourth successive time in major/pro competitions to move into just her second ever pro final.
In the Finals, which some pundits (ahem, me) predicted, Mejia took it to Longoria in a way she hadn't done since her sole previous victory over the #1, and kept up the pressure all game for the two-game win.
---
Points Implications of results:
The big move, of course, is Mejia, who should move from #10 to #3 with this big win. That is assuming that there's no rolling expiration of points going on and we're just adding existing points to the current totals for each player. It will be the first time Mejia has been anywhere close to the top of the LPRT rankings, where she really belongs based on her talent level.
Other minor moves in the rankings that i'm projecting include:
Mendez dropping from 4 to 6
Centellas dropping out of the top 8.
Martinez moving up from 13 to 11.
Laime moving up 2 spots to 18.
---
Doubles review
Match report in the PRS database: http://rball.pro/27A5B6
Round of 16: two minor upsets in the 8/9 and 7/10 matches, other wise seeds held.
In the quarters, all four top seeds held serve, but it wasn't easy; three of the four matches went to tie-breaker and the top seeds were stretched 9,10 by the American duo of Lawrence & Scott.
In the semis; a shot across the bow of ladies pro doubles; the Guatemalan national team of Martinez & Rodriguez handled the #1 Longoria/Salas team to move into their first pro doubles final as a team. On the bottom-half, Mejia & Herrera moved into the final as well, easily handling the Argentine duo of Mendez/Centellas.
In the final: the Mexican duo made quick work of the Guatemalans in game one, then held on 15-14 in game two to give Mejia the shock double on the weekend. Final score 1,14.
---
Women's Open draw
There was a very solid women's open draw on the weekend as well, which featured 18 players and was headlined by #7 and #8 players Barrios and Centellas as well as several former top 10 pro players.
The semis nearly went chalk, with 4 of the top 5 seeds advancing, all regular LPRT touring pros. Erin Slutzky had the biggest upset of the early rounds, taking out #4 Amaya Cris 11-10 before falling to #5 Enriquez easily in the quarters.
In the semis, four countries represented: Bolivia, Mexico, Chile and Argentina. A very international semis.
Barrios got a solid tiebreaker win over Enriquez.
Munoz got one of the better wins of her career by topping Centellas in 2.
In the final, Munoz finished off Barrios in two to capture the crown and finish off a significant weekend of results. She finishes atop the open draw with a series of wins over top 8 players and wins a draw that included at least 4 current or very recent top 10 players. Great weekend for the Chilean.
---
Thanks for all the streaming on the weekend, especially from broadcasters Timothy Baghurst​, Jerry J Josey Jr.​., and Tj Baumbaugh​. Thanks to Leo Ray Vasquez​ for his weekend broadcast work as well. Lastly thanks to Sudsy Monchik​, who was in KC with his wife for the event and who did a great job broadcasting as always. I'd like to say that the streaming video quality looked really amazing this weekend, more "high def" than I'd seen it before, and the broadcast team did a great job of live action camera switching. Bravo and kudos to the entire tech team of LPRT.
---
Reminder to Players! Please like and follow this page so that when I tag you, you see it. Facebook will only retain tags of people that like/follow a page, which means lots of you are not getting the notoriety of getting tagged and noticed on FB. If your name is here and it isn't tagged … it probably means I attempted to tag you but FB stripped it.
---
Next up on the Racquetball Calendar?
Next weekend there's an RKT event in Chihuahua.
The next big tournament is the Outdoor Nationals in Huntington Beach, CA the weekend of 7/11/21.
The weekend after that will be the US Team Qualifying plus Junior Nationals in Des Moines.
The next known LPRT event is the combo IRT/LPRT World Doubles event in mid-august in Denver.
---
tags
LPRT​
International Racquetball Federation – IRF​
USA Racquetball​
@Federación Mexicana de Raquetbol
RKT​
Raquetbol Bolivia​
Federación Boliviana de Racquetball​ de Racquetball
Racquetball Colombia​
@Federación Chilena de Racquetball
@Racquetball Rancagua, Chile
@ASOCIACION DE RAQUETBOL DE GUATEMALA
Reaching Your Dream Foundation​oundation
Randy Root​
Hashtags #racquetball #proracquetball #outdoorracquetball #irt #lprt #wor