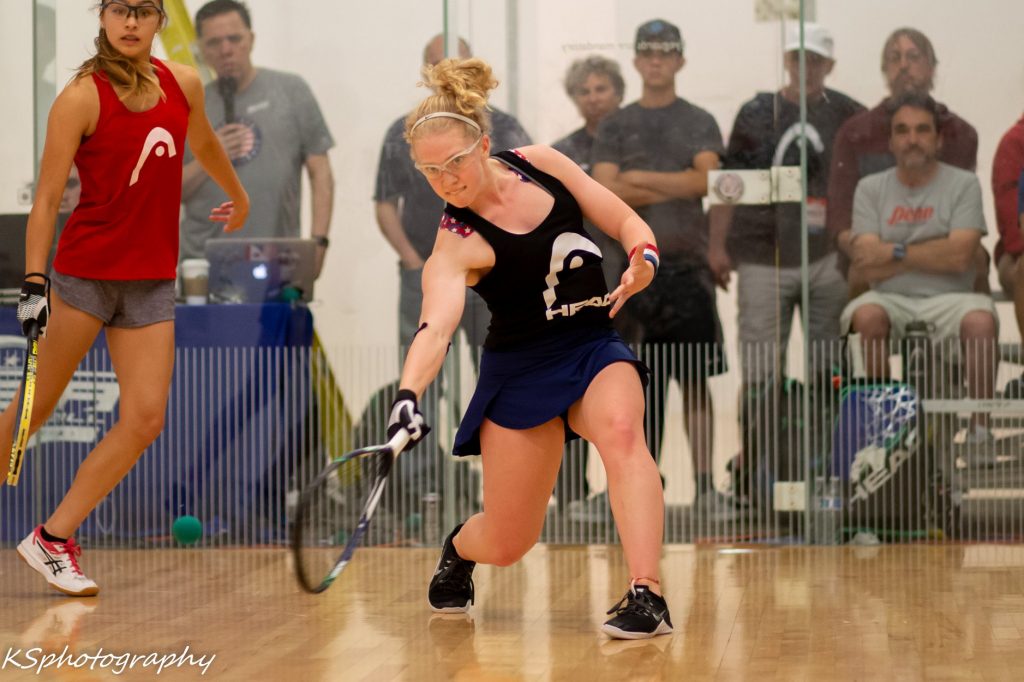 Congrats to your Junior National Champion winners on the weekend! After a year away, where we saw an entire class of juniors matriculate without being able to defend titles or compete one last time, it was great to see the nation's top juniors playing this weekend in Des Moines.

R2 Sports App home page for event:https://www.r2sports.com/tourney/home.asp?TID=37673
Lets review the draws and call out the finalists. Both Singles finalists qualify for Worlds. We'll go singles then doubles, Boys then Girls, then Mixed. In each singles section, i'll give the link to the Champions Matrix Report, which has all the champions of all junior divisions going back in history.
---
Boys Junior Singles Champions:
PRS Champions Matrix Report: http://rball.pro/68C60E
In 18U, #1 Timmy Hansen survived a strong push from the upset-minded #6 seed Julius Ellis, who had topped both the #2 and #3 seeds to get to the final. Hansen wins the battle of the sons of two former US National team members and captures his 2nd junior national title.
in 16U, #1 Nikhil Prasad captures his 6th junior national title over #3 Josh Shea in a tiebreaker.
in 14U, #2 Eshan Ali upset #1 seeded Joseph Marshall to win his 4th junior national title.
In 12U, #1 Nathan Rykhus dominated the field and took his 2nd junior national title over fellow NorCal #2 Vaishant Mangalampalli.
in 10U, #1 Alejandro Robles Picon won his 3rd junior national title in dominant fashion, winning all 5 RR matches and never giving up more than 5 points in a game. Nebraskan Lucas Frost-Biskup came in 2nd.
in 8U, Beckett Hansen took out his fellow 8U RR competitor Chris Nelson for the title, and beat several 10U players along the way.
10U Double bounce, 8U multi bounce and 6U multi bounce divisions were not competed this year.
---
Girls Junior Singles Champions:
PRS Champions Matrix Report: http://rball.pro/6D7917
In 18U, #1 Annie Roberts saved off match points to take the title over #2 Erin Slutzky. Roberts secures her 4th junior national title in her final year competing.
In 16U, a big upset as #5 Texan Naomi Ros took out 8-time junior national champ #1 seed Heather Mahoney with ease, then cruised to her first Junior national title in the final over Ava Kaiser. A dominant showing from Ros, who is a former Mexican and World Junior champ but has now moved to the US and is competing here.
in 14U, #1 Sonya Shetty wins her 3rd junior national title over #2 Andrea Perez-Picon, a 12U player playing up and who double qualified on the weekend.
in 12U, Perez-PIcon secured her 5th junior national title with ease, cruising to a win over #2 Aanshi Thakur in the final.
in 10U, Stockton's Natalia Canchola was the sole entrant and wins the title by default; she competed against the 12U
10UDB, 8U, 8Umb and 6Umb divisions were not competed this year.
---
Boys Junior Doubles Champs
A reminder: just the doubles champs qualify to represent team USA.
18U: Josh Shea repeats as champ (he also won 18U doubles in 2019 with Dylan Pruitt) with Vedant Chauhan; they topped the #1 seeded team of Gleason/Hansen. This is Shea's 3rd junior double national title and Chauhan's 2nd.
16U: Gatlin Sutherland & Nikhil Prasad surprised the #1 seeded team of Shea & Chauhan and took the 16U title in the RR draw. This is Sutherland's 3rd junior national title and Prasad's 3rd as well.
14U: Eshan Ali & Alexander Pappas took the RR title over 2nd place finishers Axel Lopez & Juan Herrera II. This is Ali's 2nd junior national doubles title and Pappas' first.
12U: Vaishant Mangalampalli & Nathan_Rykhus took the small RR draw over fellow 12U competitors Alejandro Robles Picon & Aarush Sudamalla to take the title. This is Mangalampalli's first title and Rykhus' second.
10U: The Texan brother team of Chris & Adrian Nelson were the sole 10U entrants; they competed against the 12U but take the title uncontested.
(we generally don't compete younger than 10U doubles)
---
Girls Junior Doubles Champs
18U #2 Heather Mahoney & Julia Stein topped #1 Estefania Perez & Erin Slutzky in an 11-9 thriller to take the title. This is Mahoney's 9th junior national doubles title and Stein's 9th as well (most of their titles have been together as they've grown up).
16U: #1 Karina Mathew & Ava Kaiser cruised to a title over #2 sister team of Arya & Esha Cyril. This is their third junior national doubles title together.
14U: The Shetty sisters Aarya & Sonya won the RR competition, with the Stockton duo of Jordan Ellis & Camila Canchola coming in 2nd. This is Sonya's 5th doubles title and Aarya's first.
12U: Andrea Perez-Picon & Zara Ximena Barraza took the RR draw, with Aarya Shetty & Elizabeth Denler coming in 2nd place.
No 10U doubles competitors this year.
---
Mixed Junior Doubles Champs
18U Mixed: Iain Dunn / Estefania Perez topped Hannah Werk / William Sherman in the final.
16U: Esha Cyril & Nikhil Prasad were the top ranked 16U team in the combined 16/14 RR group.
14U: Nathan Rykhus & Jordan Ellis were the top ranked 14U team in the combined group.
---
Thanks for all the streaming on the weekend, especially from broadcasters Leo Ray Vasquez and Dean DeAngelo Baer. And thanks to all the players and parents who hopped on the mike to help out, including the likes of Michelle De La Rosa, Tim Hansen and John Ellis. You all made the broadcasts fantastic.
Reminder to Players! Please like and follow this page so that when I tag you, you see it. Facebook will only retain tags of people that like/follow a page, which means lots of you are not getting the notoriety of getting tagged and noticed on FB. If your name is here and it isn't tagged … it probably means I attempted to tag you but FB stripped it.
Next up?
Your two singles finalists per division plus the doubles winners all qualify to represent the USA at the 2021 World Juniors championships, to be held the first weekend in December in San Jose, Costa Rica.
tags/Sponsor links
International Racquetball Tour
LPRT
International Racquetball Federation – IRF
USA Racquetball
Hashtags #racquetball #proracquetball #outdoorracquetball #irt #lprt #wor