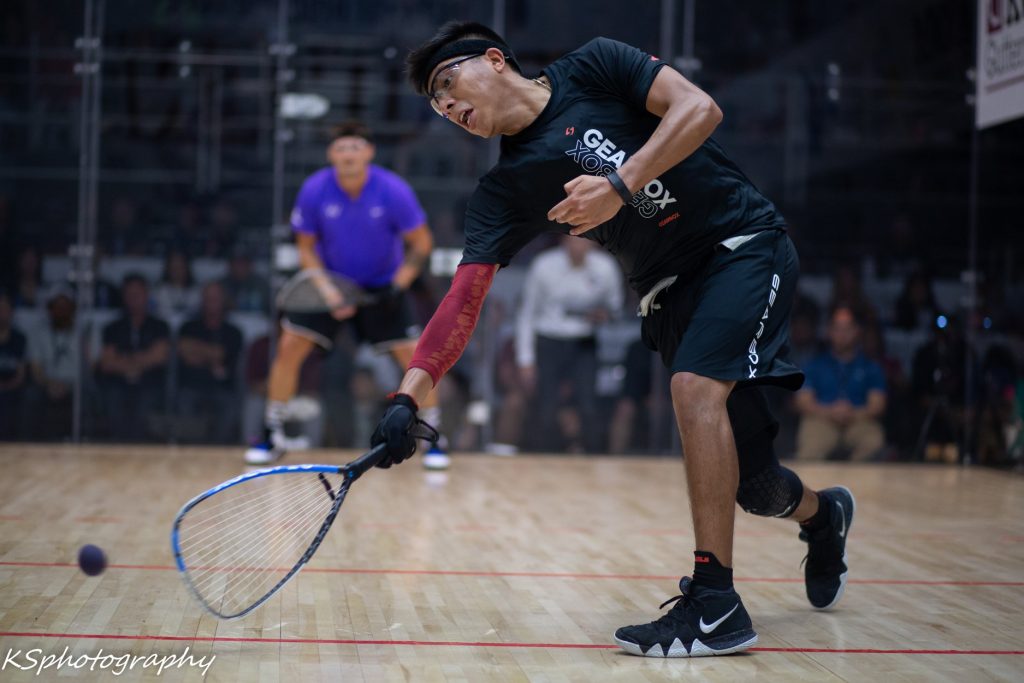 R2sports link: https://www.r2sports.com/website/event-website.asp?TID=31129
Hot on the heels of last weekend's event in Tempe, the pros are back in action at the legendary Meridian club in Fullerton. The club has played host to a number of major amateur events over the years, but hasn't hosted the men's pros since the old Ektelon Nationals event ended in May of 2013.
There's 36 pros in action this weekend, including a very solid top of the draw with 18 of the top 20 currently ranked players in action. Notably missing is #1 Kane Waselenchuk, who misses the event with an injury picked up in Tempe last weekend. The only other missing top 20 pro is Ohioan Thomas Carter who misses just his 4th event in the last three seasons.
Another notable missing player is Costa Rica's Andres Acuña, who has been making waves on tour this season but who is headlining the 5th annual Costa Rican National event in his home country (and which has been going on since Tuesday).
For the 2nd event in a row the IRT is using a staggered qualifying system versus the "everybody not in the top 8 qualifies" system often seen. This gives the top 8 byes into the 16s, then gives the 9th-16th ranked players byes into the 32s to ease the qualifying demands on the IRT regulars who havn't made it into the top 8 yet. Lastly this is another "flip" seeding event, so the 5th-8th ranked players are slightly jumbled to mix up quarter final matches.
———————-
Lets review the singles draw:
Round of 128 matches to look for:
– SoCal player #33 Majeed Shahin takes on Canadian veteran #32 Lee Connell in what should be a close match between two players who each have a lot of IRT experience
– Former outdoor national champ #31 Luis R Avila takes on Mexican 18U player #34 Manuel Moncada..
In the round of 64:
– #17 Jose DIAZ is the highest ranked player to miss out on the staggered qualifying; for his troubles he gets a match-up against the winner of the 32/33 play-in that should be winnable.
– The #24/#25 match-ups are always fun; this time its Sam Bredenbeck versus dark horse Mexican Alan Natera Chavez. Natera plays hot and cold; he can get victories over top-10 players or he can go one-and-done to players well below his talent level. Should be an interesting match.
– We get a rare appearance from #22 Javier Estrada, fresh off a solid win at the Mexico City event last week. He starts off against Chilean vet #27 Francisco Troncoso.
In the round of 32, some really great projected matches:
– #16/#17 will be two Californians: Sebastian Fernandez versus Diaz. Its Tijuana/SoCal vs the 209. This will be a fascinating match; Fernandez was looking primed for a push up the rankings with a quarter-final appearance at the US Open, but has scuffled since. Diaz seems to be stepping back from full-time touring but has top-10 talent.
– #9 Rodrigo Montoya Solis likely takes on #24 Natera; a tough match-up for Montoya. Natera took out Montoya in the Mexican Nationals earlier this year during a run to the semis, so he knows how to beat him. But then Montoya destroyed Natera in Syosset a few weeks afterwards. Montoya took off last week while the rest of the field played; will this be an edge?
– #21 Jake Bredenbeck vs #21 Set Cubillos Ruiz: normally i'd rate this a straight-forward Jake win, but Cubillos played fantastically in Arizona; is this an upset-watch?
– #14 Gerardo Franco Gonzalez vs #19 Eduardo Garay Rodriguez: Franco beat Garay in Syosset, but Garay has the talent to move on here. Look for a battle and look for Franco to try to reign in Garay's power.
– #11 David " Bobby" Horn vs #22 Estrada: a really tough round for Horn, having to face Estrada, who comes off a weekend when he topped Cardona, Mar and Ochoa to take a stacked singles draw in Mexico City. Estrada though has proved to be inconsistent; with fantastic wins one week then curious upsets the next; can he put it together on the tier 1 stage and take out an experienced touring vet like Horn? One thing seems sure: Horn plays fast, while Estrada plays deliberately and slow … the contrast in styles may be a factor.
—————-
Projected 16s matches to watch for:
– #8/#9: thanks to the flip seeding: Daniel De La Rosa gets popped to #8, where he likely faces frequent Mexican National team opponent Montoya. DLR is 4-1 over Montoya on the various big stages and seems to be able to handle his game well. If Montoya exits at this stage, it would mean the fourth straight IRT event to start the season where he exits at the first round of the main draw.
– #5/#12: Conra Moscoso Ortiz] gets moved to the 5th seed with the flip and likely faces big Jake. Look for a bunch of broken balls between these two power hitters but for the shooter Moscoso to advance.
– #3 Alvaro Beltran] vs #19 Garay: I like Garay to advance over Franco, and I like his chances against Beltran here. Two straight weekends of play combined with doubles may be too taxing for Alvaro versus the fitness of Garay.
– #6 Samuel Murray vs #22 Estrada: if this comes to pass, I also like Estrada's chances of moving on here.
– #7 Lalo Portillo vs #10 Sebastian Franco; ironically, these two seeds would have been switched just a few weeks ago, but a great run in Arizona by Portillo now has him in the top 8 while Franco is now outside looking in. But Franco is a former tour winner and this will be a solid test for Portillo's staying power in the top 10.
– #2 Alex Landa vs #18 Carlos Keller Vargas]: a tough opener for #2 Landa, facing two-time defending PARC champ in Keller. This might be closer than people would expect given the seeds. Keller won the 2019 event, it should be noted, in a draw that included Landa. Keller has now played all 5 of the IRT events so far this season but has fallen at this round of 16 gate each time.
———-
Possible qtrs: I seem to be predicting an awful lot of upsets, which could be great in a Kane-less draw but also could mean that the top seeds rise to the top and go chalk.
– #1 Rocky Carson over #8 DLR: I know DLR has some recent success over Carson, but I also sense that DLR is not sharp right now (as evidenced by his one-and-done in Tempe). Carson moves on unless DLR comes to play.
– #5 Moscoso over #4 Andree Parrilla: I like Moscoso here as a shooter who can overpower Parrilla and get the win here.
– #22 Estrada over #19 Garay: its crazy to predict a 22nd seed into a pro semis, but I like the way the draw opens up here. Both guys have winnable 16s if they play to expectations.
– #2 Landa over #7 Portillo: Landa waxed the youngster just 4 days ago 5,9; I can see Lalo learning from that outing and making it closer, but still falling here.
————-
Projected Semis:
– Moscoso over Carson: Moscoso really wasn't troubled too much by Carson at the US Open and will be emboldened here without Kane in the draw to think he's the obvious favorite. I don't disagree.
– Landa over Estrada: If this match comes to pass, look for the tactical Estrada to try to will his way into a win. Estrada has wins over the top tier of players like Landa in the past, but Landa looked really solid in AZ and should move on.
My predicted final: Moscoso over Landa; they met in the quarters of the Bolivian Open, a 11-0 tiebreaker win for Moscoso. I think we could see a similar match. Moscoso has all the same tools that frustrate Landa when he matches up with kane, and I look for the Conrrado win here.
—————-
Doubles preview
They're playing doubles too in California; 13 teams are entered into what looks to be a solid draw.
#1 Landa/Murray have jumped #2 DLR/Beltran in the rankings: these four players are head and shoulders ahead of the rest of the doubles player rankings. But I don't think they're a lock to make the final; the draw is stacked with really solid teams.
#1 has to play through the tough Bolivian team of Moscoso/Keller in the quarters … and thats if they can beat the really solid Estrada/Natera team in the 16s. #4 Jake/Jose have to likely face the tough Garay/Montoya team, #3 Colombian team of Franco/Mercado likely faces the newly formed and improving team of Portillo/Parrilla.
I like #2 DLR/Beltran to make the final and take on Moscoso/Keller, with the Mexicans taking the win.
—————–
Looks like it will be a great tourney, with a ton of really compelling matches early on. Can't wait!
International Racquetball Tour
Racquetball Canada
USA Racquetball
Federación Mexicana de Raquetbol
Federacion Boliviana Tiro Deportivo
Fecoracquet Fecoracquet