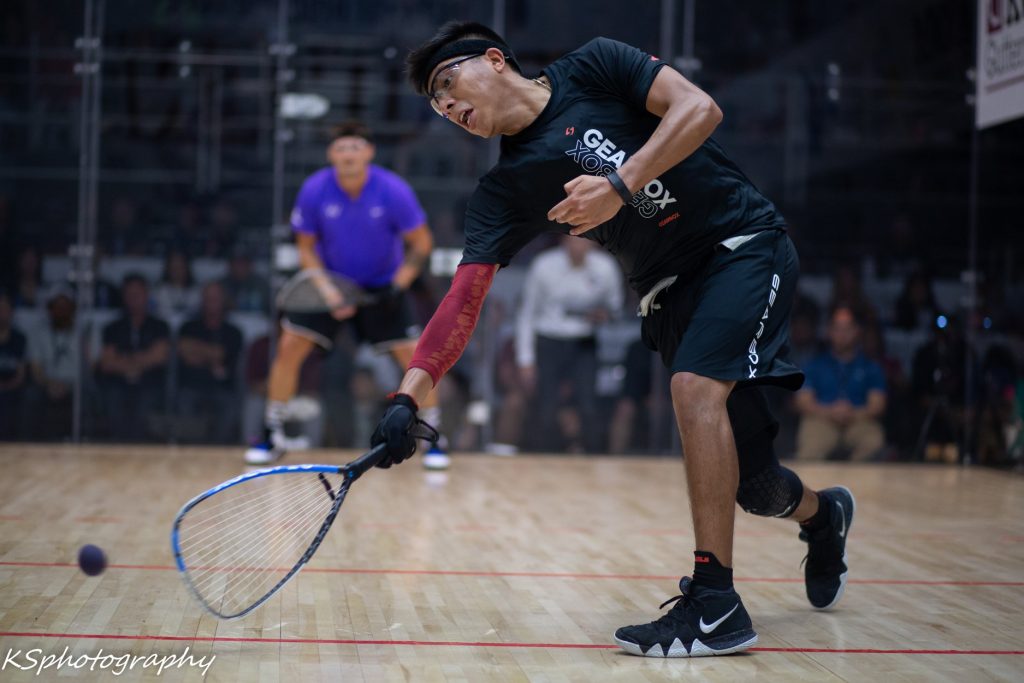 Racquetball's highest international honor, the Pan American Games, has completed its singles and doubles competitions. Here's a recap of the winners:
Congratulations to the individual winners:
– Men's Singles: Conrrado Moscoso: Bolivia
– Women's Singles: Paola Longoria: Mexico
– Men's Doubles: Rodrigo Montoya & Javier Mar: Mexico
– Women's Doubles: Gaby Martinez & Maria Renee Rodriguez, Guatemala
– Mixed Doubles: Adam Manilla & Erika Manilla, USA
Five events and four different countries represented in the winner's circle, a great testament to the spread of the sport and talent throughout the two continents.
R2sports link: https://www.r2sports.com/website/event-website.asp?TID=41548
PRS links to Match Reports for this event:
– Men's Singles: http://rb.gy/pq3qo
– Women's Singles: http://rb.gy/6hk0y
I've run out of URL shorteners in my account for the month, so for the Doubles just got to www.proracquetballstats.com, click on IRF Doubles, then pull down for these three events.
– Men's Doubles:
– Women's Doubles:
– Mixed Doubles:
——————
Here's a run-through of the notable results for me in each draw.
Men's Singles:
In the 16s, three interesting results for me. Andres Acuña handled Canadian Coby Iwaasa in three straight, a solid win for the Costa Rican over a tough player in Iwaasa who we rarely see on tour. Mexico's Eduardo Portillo was stretched to five games before advancing over Ecuador's Jose Daniel Ugalde. Lastly, the toughest match of the round was USA's Adam Manilla advancing over Argentina's Diego Garcia in five games. Garcia regularly gets upset wins whenever he can get to a pro event, and this was a very solid win for Manilla despite the seeds.
In the quarters: #1 seed @Conrrado Moscoso handled Acuna as expected, but USA's top player Daniel De La Rosa fell in five games to Portillo in a huge upset. Portillo won 13-11 in the fifth, with the final call being a disputed service return skip. The courts in Santiago unfortunately were constructed with a small gap between the floor and the front wall, and to this observer it looked as if DLR hit a perfect return that would have rolled out on a normal court but which "popped up" on this court; the call stood and Lalo had his win. On the other side, Manilla game Mexico's Rodrigo Montoya a run for his money but fell in five. Lastly, the #2 seed Carlos Keller Vargas held serve against Big Canada Samuel Murray to move on.
In the semis: Moscoso blitzed Lalo, while Keller shocked Montoya (the 2019 Pan Am games gold medalist) with a 5-game win to make it an all-Bolivia final.
In the final, Moscoso and Keller, who annually seem to play for the Bolivian National singles title and who have gone back and forth for years, played another in their series. This time around, Moscoso came out on top in three games. Conrrado wins his fourth straight major IRF title (2023 PARC, 2022 Worlds, and 2022 PARC; Bolivia did not send teams to the 2022 World Games) and has really solidified his place at the top of the Men's international game.
———————–
Women's Singles
The 32s and 16s went basically as expected. A couple notable round of 16 matches included Costa Rica's Maricruz Ortiz topping Guatemala's @Maria Renee Rodriguez by the score line of 9,7,17. third game: 19-17. The match of the round though was the 2-15 seeds Carla Muñoz and Maria Jose Vargas , who went the distance with the Argentine coming from 2-1 games down to win.
In the quarters, Ortiz continued to impress, topping the draw's #1 seed Natalia Mendez 12-10 in the fifth to move on and secure a medal. Current LPRT #1 @Montse Mejia took out the 2022 PARC champ Angelica Barrios in three. Three-time defending champ Paola Longoria moved past USA's Erika Manilla in three, and Vargas rebounded from her near-upset loss to grind out a great 3-game win over 2018 World Champ and 7-time IRF singles finalist Ana Gabriela Martinez to move on.
In the semis, the two Mexicans held serve, with Mejia shutting down Ortiz in three, while Longoria reversed a recent trend of losses to Vargas on tour with a solid 4-game win to set up an all Mexico Final.
In the final, Longoria won her 25th IRF singles title of her career, and her fourth straight Pan American gold, with a 3-game win over her new rival.
—————–
Men's Doubles
The clear-cut #1 Men's Doubles team in the world Rodrigo Montoya and @Javier Mar cruised to the title, dropping just one game along the way.
The quarter finals featured two major results: the #2 seeded Bolivian team of Moscoso and @Kadim Carrasco was shocked by the Guatemalan team of @Juan Jose Salvatierra and @Edwin Galicia. Bolivia was the finalist earlier this year at PARC, but they were one-and-done here. Meanwhile, the battle of heavyweights in the quarters was team USA versus team Canada. Murray and Iwaasa won the 2022 PARC event together and are a very experienced team, and they pulled the 5-game "upset" over De La Rosa and @Alejandro Landa to send the US team home one-and done. Canada ran to the final to face team Mexico and took game one before falling.
—————–
Women's Doubles
The Guatemalan pair of Martinez and Rodriguez finally broke through at a major and took the title, topping the surprise finalists from Argentina Mendez an Vargas. Gaby and MRR have been playing together for a decade and have made a slew of major international Women's Doubles finals but have always fallen short of winning. Not on the day today, as they played the veteran Argentine team tough and outslugged them for the gold medal.
Vargas and Mendez were in the final by virtue of a shocking upset of the #1 seeds and heavily favored team from Mexico Mejia and Alexandra Herrera . Team USA fell to the Argentines in the quarters, while team Bolivia (Barrios and Daza) lost to the Guatemalans in four close games in the other semi.
—————–
Mixed Doubles
There's not a long history of Mixed Doubles in IRF events, but the few that have been held have been dominated by Mexico. They've won 3 of the 4 such events and were the losing finalist to Bolivia in the other. So when both Mexico and Bolivia were upset in the semis, it sent some shock waves across the sport.
Team Argentina took out team Bolivia (Moscoso & Barrios) in one five-game semifinal triumph, while team USA shocked team Mexico (Portillo & Longoria) in the other, to guarantee a first-time winner in the final.
There, the Manilla's took over and dominated, winning the Gold medal 4,4,6 with a great game plan of having Adam range over to cherry pick balls and Erika out-hitting fellow power-swinger Vargas along the right.
—————–
Team Standings.
At the end of the five bracket competitions, the conventional IRF points tally was tabulated to determine the overall Team standings. This is different from the Team competition that followed all the individual draws, an event that seems to have been added on to make the trip more worthwhile to the players. These are unofficial standings and are not generally done for events that don't feature group stages.
Overall Team Standings:
1. Mexico 760
2. Bolivia 540
3. Argentina 440
4. USA 380
5. Guatemala 370
Mexico cruised to the combined title thanks primarily to the Bolivian's poor Women's showing. Only the Mixed gold saved USA from being in 5th place behind Guatemala, a country that literally only has one facility in their entire nation.
Men's Team Standings:
1. Bolivia 360
1T. Mexico 360
3. USA 200
3T Canada 200
5. Costa Rica 150
Mexico won doubles, Bolivia won singles, so perhaps the tiebreaker is Bolivia having the better runner's up performances.
Women's Team Standings:
1. Mexico 400
2. Argentina 300
3. Guatemala 240
4. Bolivia 180
4. USA 180
Bolivia would win a TB by virtue of better Doubles performance over USA, if we were awarding team medals.
—————–
As was well discussed during the event, streaming/broadcasting was non-existent officially until the finals, and even then just the doubles was broadcast on the https://panamsportschannel.org/ channel. It is what it is; racquetball fans are just not used to participating in an event where the broadcast rights are sold as a package and free streaming is readily available. We did get some guerrilla streams from parents and players, which kept us satiated here at home.
However, during the doubles final, the streaming was magnificent. High quality cameras showed crisp, crystal clear images of the sport. If only we could get this quality week in/week out. That was a treat.
——————
Next up?
Per our handy master racquetball calendar …
The IRT is in Boston in two week's time, then the LPRT is in Chicago the week after, so we get all the pros in action in November.
International Racquetball Federation
International Racquetball Tour