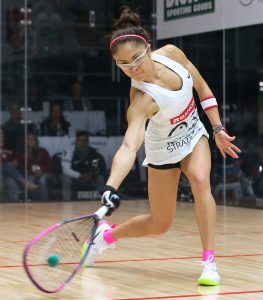 The first event of the new LPRT season is in the books, and normalcy has returned to the Women's game. Congrats to tourney namesake Paola Longoria on her title to open the new season.
Click here for the full Singles match report: https://bit.ly/2MRS1Wg
Lets recap the event, which may have had a "normal" final but definitely featured some upsets and big wins.
Notables missing: #3 Jessica Leona Parrilla , who suffered a knee ligament injury at Mexican Nationals over the summer and looks to miss a sizable chunk of this season. Other Notable top 20 players include #13 Sheryl Lotts (probably exhausted from her trip to Worlds), #19 Jenny Daza Navia (also a busy international player this summer), and #20 Eleni Guzman Velgis .
In the play-ins/Round of 32, some surprise results:
– Mexican youngster Diana Aguilar surprised Chilean #1 Carla Muñoz Montesinos, coming back from 2 games down to win in the 5th. Aguilar was looking like "the next big thing" a few years ago, winning two consecutive 16U World Championships in 2013 and 2014 before dropping off the Juniors radar, playing just one more time in any Junior tournament. Now 21, she has played just one pro tournament in the past three years; lets hope this is the start of a come-back.
– Another young Mexican player Montserrat Perez (who was the same year as Aguilar coming up), also pulled off a nice upset win over a tough veteran player in Guatemalan Marie Renee Rodriguez, coming back from 2-1 games down to also win in the 5th 11-9. Its the second time she's taken out Rodriguez in as many appearances on the tour, the last time coming in April 2018 in San Antonio.
In the 16s…
– #13 seed Ana Gabrielle Gaby Martinez continued her great summer of 2018 and upset #4 seeded Rhonda Rajsich in four. Martinez is looking more and more like one of the top 2-3 players in the world based on results this summer, and she got a statement win here.
– Ana Laura Flores, who is in her age 17 season (!), got a walkover win in the 32s then promptly defeated #6 Natalia Mendez 12-10 in the fifth. Mendez had an amazing Worlds run and was my choice to make the semis here; instead Flores gets easily the best win of her career and makes her first pro quarterfinal. Add her name to the list of amazing Mexican juniors
making waves on the world scene.
– Samantha Salas Solis continued her climb back up the rankings post-injury with a tough win over #7 seed Cris Amaya, taking a brutal 5 game match.
– #2 Seed Frederique Lambert survived an upset attempt and advanced past Montse Mejia in four tough games.
In the Quarters:
– Longoria advanced past Maria Jose Vargas in three straight 0,4,4. Vargas still has not beaten Longoria on the pro tour (she's now 0-22 lifetime) but had some success in IRF events this summer (winning the South American games) and is looking (like Salas) to rebuild ranking points after an absence from the tour.
– Martinez's run continues with a fantastic come from behind win over Nancy Enriquez, 12-10 in the 5th. Martinez was down 2 games to 0 and was just a couple points from elimination before coming all the way back.
– Salas trounced Lambert in a match-up of the 2nd and 3rd best players on tour right now, making a statement about how the tour rankings may eventually look at the end of this season.
The Semis featured two rather anti-climactic results, with Longoria geting revenge for her World's loss with a 3-game easy win over Martinez, while Salas advanced easily over her country-mate Alexandra Herrera.
The final was the 46th ever pro meeting between doubles partners Longoria and Salas … and Longora won for the 43rd time 7,1,3 to capture the title.
————————
In the doubles event, Paola Longoria made it a double on the weekend, taking the doubles title with Partner Salas in a rematch of the Mexican Worlds selection event from earlier this year. They defeated Herrera/Mejia 10,9 in the final.