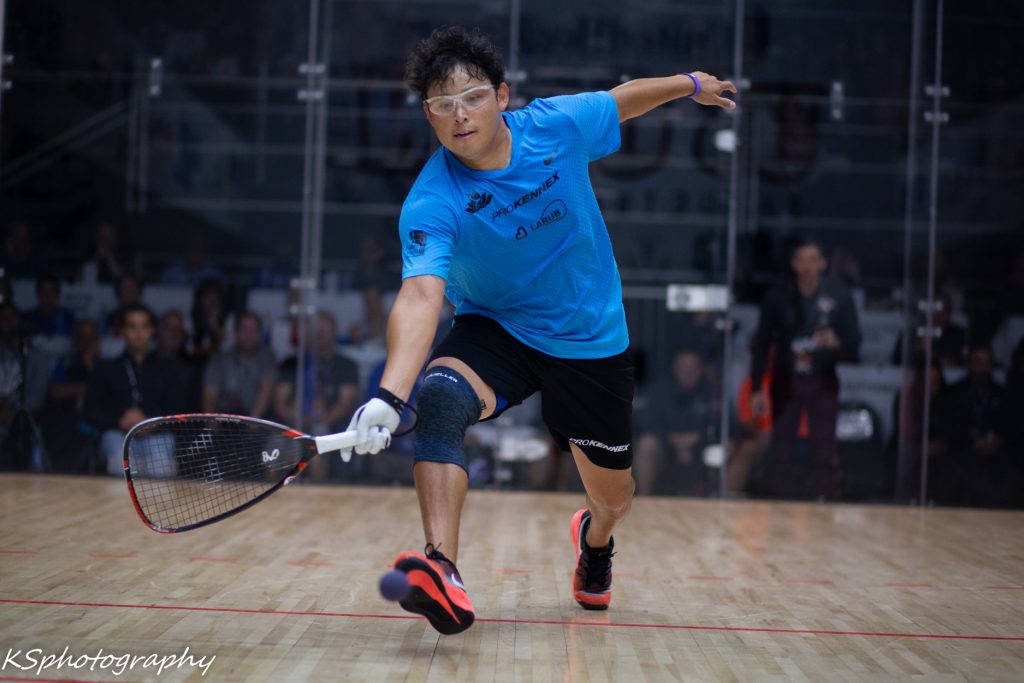 Congrats to all the winners on the weekend's return to Minneapolis:
Men's Singles: Daniel De La Rosa
Women's Singles: Paola Longoria
Men's Doubles: De La Rosa & Alvaro Beltran
Women's Doubles: Paola Longoria and Samantha Salas Solis


PRS Reports for the four draws:
Men's Singles:http://rball.pro/E898FF
Men's Doubles: http://rball.pro/DED94C
Women's Singles: http://rball.pro/004952
Women's Doubles:http://rball.pro/E22640

DLR becomes just the 6th man to win one of the 25 US Open IRT titles. Longoria wins her 10th straight US Open title and 11th overall.

DLR and Beltran win their 2nd US Open pro doubles title and their 9th pro doubles title together since Jan 2017. Longoria/Salas win their 4th US Open pro doubles title together, to go with their astounding pro doubles title total playing together of 34 since Aug 2014.
Lets do a quick recap of the main draws.
—

Men's Singles: The round of 32 went relatively chalk, with just 3 upsets by seed. Adam Manilla finally got the better of Andres Acuña in their frequent 16/17 match-up, #18 Eduardo Garay Rodriguez got a walk-over against #15 seed Rodrigo Montoya Solis (who picked up a slight knock and decided to save himself for doubles), and #19 Sebastian Fernandez taking out #14 Thomas Carter in two.

Just one upset in the round of 16, but it was a huge one: #5 seed and defending finalist Conrrado Moscoso ousted by his countryman #12 Carlos Keller Vargas in two 13,5. Not even that close of a match. Keller, after touring for the entirety of the pre-covid season with little success, has suddenly become a force on tour, making a quarter, semi and (as we'll soon see) a final in 2021.
In the quarters, two top seeds went down. Keller continued his run and took out #4 Samuel Murray in two tight games. On the bottom half, #6 Andree Parrilla took out the struggling #3 seed Alex Landa relatively easily 6,11. Landa has not lived up to his seeding basically since he ascended to #2 on tour, whether it be through injury or focus.
In the semis … well. A sh*t show for the sport. For reasons that remain unclear and unpublished as of this writing, #1 Kane Waselenchuk forfeited his singles semi final, stating in a facebook posting that he had a "disagreement" with the tour. This gives a walk-over into the final to Keller; his first pro final. On the bottom side, DLR had to battle to take out #6 Parrilla.
In the final, an excellent showing of shot-making by both players results pushed the match to a breaker, but DLR's passion and energy won out going away with an 11-3 win.
---
Women's Singles:
The LPRT draw was wide open, with upsets all up and down the bracket this weekend. Lets take a look back;

In the 32s, three upsets in one quarter, with the #5, #12 and #13 seeded players taken out early. Perhaps the biggest shock was the loss by #5 Montse Mejia, who won the Kansas City grand slam and seemed like a safe bet for the semis here, taken out by American Erika Manilla in a tie-breaker. Manilla, a 23-yr old part-time player over the past few years, had never advanced past the round of 32 in a pro draw (!!) but took out three higher-ranked players in Minneapolis, including two recent Tier-1 tourney winners, to make the semis. Just an amazing storyline.

Another great storyline that was cut short was the showing this weekend by Vero Sotomayor, who had not played the tour in years but who stretched the #8 seeded player Jessica Parrilla to an 11-10 tiebreaker.

In the 16s, a bunch more upsets. None bigger than the #2 seeded Alexandra Herrera getting upset by #15 Brenda Laime Jalil. But we also saw the #6 and #7 seeded players ousted at this juncture.

Heading into the quarters, half the top seeds were already done.
In the quarters, Manilla got her next big win, taking out Gaby Martinez, while former grand slam finalist Angelica Barrios took advantage of Laime's upset to move into the semis herself.

In the semis, #1 Paola Longoria faced off against the Cinderella story Manilla, and was made to work for it, winning in two close games 13,10. On the bottom, #3 Maria Jose Vargas Parada went down big early to Barrios 14-1 in the first game, then completely flipped the script, getting the first game back to 15-10 then blitzing her young Bolivian rival in the next two games to move into the final.
In the final, it seemed fait accomplis for Longoria to win, and she cruised to her 11th US Open title 3,8.
---
The Men's Doubles draw turned into a showcase for the state of doubles in the current game, with tough tiebreakers and close games throughout. The #1 seeds went breaker to win in both the quarters and semis over established and tough veteran teams, while on the bottom side the semis turned into a showcase for the doubles prowess of Sam Murray, who took over the match to lead his team to an upset over #2 Kane/ Sudsy Monchik. In the final, DLR/Beltran controlled the tempo and won perhaps their easiest match of the tournament 11,11 to take the crown.
---
The Women's Doubles draw went mostly chalk, with the exception of the talented and under-seeded Vargas/Sotomayor team taking out the #4 seeded Guatemalans in the quarters. From there, the top two seeds cruised into the final, where we saw yet another major final battle between the two top teams from Mexico. This time around, the veterans triumped, with Longoria/Salas overcoming a game-one beat down to take the title.
---
Congrats to all winners, thanks to @doug ganim for 25 years of running this event.
International Racquetball Tour
LPRT
UnitedHealthcare US OPEN Racquetball Championships