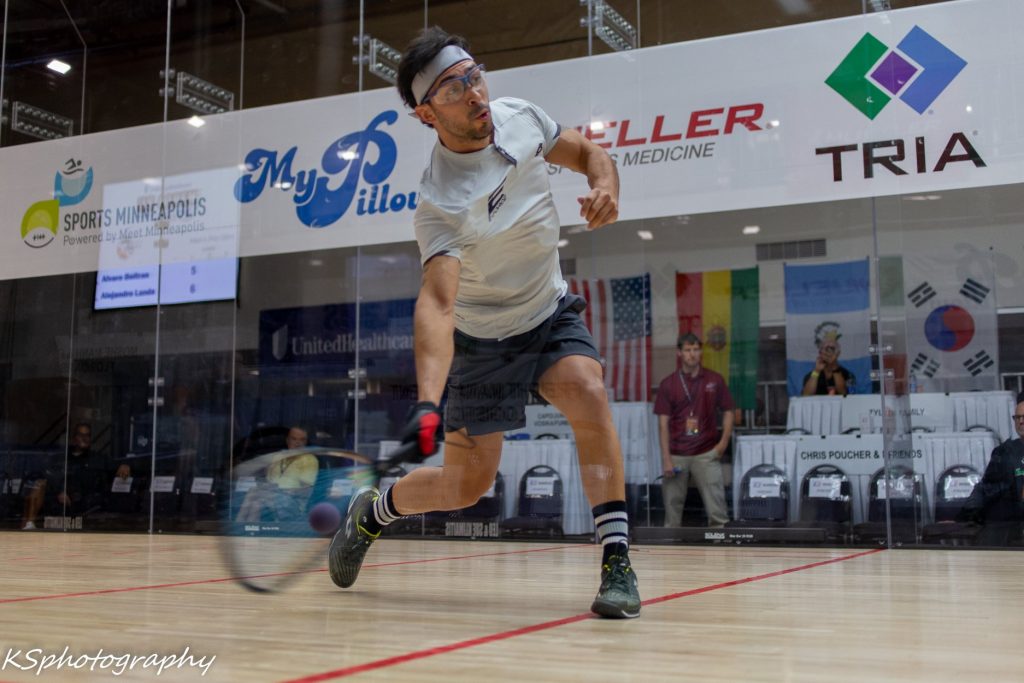 As you may have already seen on KRG and elsewhere in social media, there's a very solid IRT satellite tournament scheduled for this weekend, the Torneo de Raquetbol Landa Open 2022, in honor of current IRT #4 Alex Landa . It is being held in Juarez, one of the bigger racquetball communities in Mexico, right across the river from El Paso where Landa resides.
The pro singles draw has 34 pro players, almost entirely from Mexico. The Guatemalan team is here, along with Set Cubillos Ruiz from Colombia and a couple of Americans, but this is almost entirely a domestic draw. And its stacked; this is arguably a deeper draw than the last Mexican Nationals event, and it should be a ton of fun to watch from afar.
r2sports link: https://www.r2sports.com/tourney/home.asp?TID=39837
Here's a quick preview of the Singles and Doubles draws. Play gets kicked off later today, Thursday 7.28.22, and the @International Racquetball Tour streaming team is in the house to get us some live action.
Reminder: Juarez is Mountain time zone, so its 2 hours earlier than EST for timing purposes.
round of 32s to look for:
#9 @Erick Cuevas Fernandez versus #24 @Christian Longoria is compelling: Longoria is better than his seeding, while Cuevas' seeding in an IRT event is inflated due to his playing more events. This is a pretty even match.
#21 @Jose Ramos versus #12 Cubillos: Ramos won a slew of Mexican Junior national titles and lost his last 18U season to Covid. This is a nice test against a veteran international player.
#20 @Polo Gutierrez vs #13 @Christian Wer; Polo was at one point recently a force in Mexican racquetball and won a slew of WRT events before an elbow injury curtailed the back half of his career. He's still a very solid player and is an upset watch all weekend.
Both Renteria brothers are entered (owners of 9 junior national titles between them), and both take on Guatemalan competition in the openers.
– 15-18 @Guillermo Ortega versus @Sebastian Hernandez should be a close match between two up and comers in the Mexican scene.
Projecting the 16s, which are all scheduled for Friday night. Here's some match-ups I'm projecting and hoping to see:
#1 @Andree Parrilla projects to face #17 Alex Cardona (who I think advances past Guatemalan Mendoza in the 32s). That's a brutal draw for the former WRT #1; this is a quarters quality matchup.
#4Rodrigo Montoya vs #20 Gutierrez. A contrast in styles, with Montoya's power and athleticism heading up against Polo's pin-point control and unorthodox playing style. Montoya should advance but upset watch here if Polo is rested and in form.
#3 Alvaro Beltran vs #14 Jaime Martel ; Martell is one of the better players in the world that you may not know of, with multiple recent wins over players ranked in the teens on the IRT. I hate picking against Alvaro, but he's struggled in singles events lately and Martel can beat players. Upset watch.


Predicted Quarters:
#1 Parrilla over #8 @Jordy Alonso: Alonso probably is a top 10 player if he toured regularly, with wins over Horn, Jake and Sebastian Franco earlier this year. But Parrilla is too tough for him here.
#4 Montoya over #5 @Sebastian Fernandez : Patata has a relatively straightforward path into the quarters, but there is set to face the tough Montoya. Both of these players are athletic as all get-out, and this would be a fantastic match to see live. Rodrigo moves on.
#6 Erick Trujillo over #14 Martel: with wins over the likes of Natera, Garay, and Franco t his year, Trujillo is starting to become a feared opponent on tour. Martell is a veteran, and certainly can win this game, but i'll go with the youngster to move on.
#2 Landa over #7 @Javier Mar: the only times I have these two meeting was in Mexican Nationals in 2017 (Mar win in the final) and 2019 (Landa win in the quarters). On paper this is a Landa win; Mar has taken time off from singles recently to rehab an injury, while Landa has also fought off injury issues in the last year, but both should be recovered. Expect a tactical shot making match here, with Landa moving on in two close games.


Semis:
Montoya over Parrilla: Montoya just has Parrilla's number, having just beat him in the World Games and owning a 6-3 adult record h2h against him. Makes you wonder why Montoya isn't also in the top 4 in the world, if he can continually beat the current #2 player. Anyway; i'm going with another Montoya win here.
Landa over Trujillo; experience trumps youth here; Trujillo has the talent to get into main IRT draws but not to win them just yet. Landa solves him and moves into the final of his namesake tourney.
Final: Montoya over Landa. Montoya topped Landa in Birmingham (though landa was under the weather), and they have a 3-3 head to head record dating to 2017 in top-level events. Montoya has won the last two meetings on tour/internationally and is riding the hot hand.
---
IRT U21 preview
In the Under21 pro division, 14 players are entered, headlined by Trujillo and Cuevas. this is a great showcase for rising talent and i'm glad to see this division again.
Predictions: Trujillo over Hernandez from the top half, Ortega over Cuevas from the bottom half, and Trujillo wins the title.
—
Open Doubles Preview
This 12-team draw features some fun teams. it is headlined by Montoya/Mar, perhaps the finest doubles team in the world. They should advance to the final with relative ease.
The bottom half features a throwback veteran team of Landa/Beltran as the #2 seed; they should be able to outlast #3 Hernandez/Trujillo to get to the final.
The final should be chalk though, as Montoya/Mar are hard to beat.
As mentioned, streaming on the IRT this weekend. Follow the IRT and sign up for live streaming notifications.