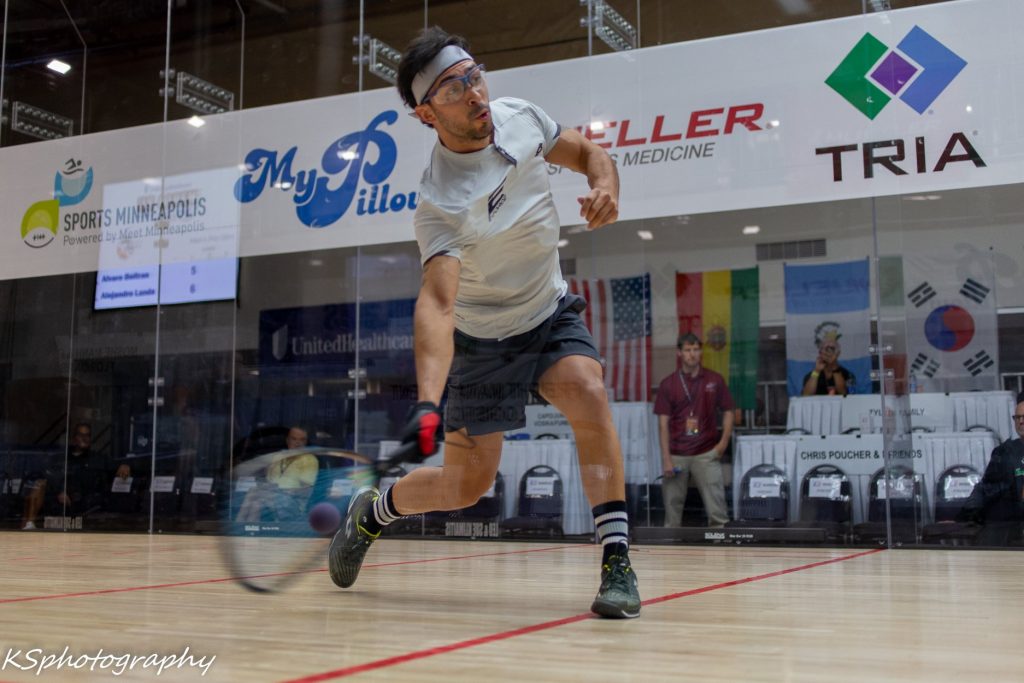 Hot on the heels of the big World Singles & Doubles event last weekend was a talent-laden tournament in Juarez hosted in honor of current IRT #2 Alex Landa. A solid set of the top Mexican players were joined by a big chunk of the Guatemalan national team, who stopped in Juarez on their way back from Denver, to have a nice tournament. Here's a recap of some of the top events.
Congrats to your winners on the weekend:
Men's Pro Exhibition: Rodrigo Montoya Solis
Men's Open; Jaime Martel
Men's Open Doubles: Landa/Montoya
Women's Open: Cristina Amaya
R2 Sports App home page for event:https://www.r2sports.com/tourney/home.asp?TID=37803
Here's a recap of the Men's Pro exhibition:
22 players played the Pro "exhibition" event, headlined by the tournament's namesake Landa as the #1 seed. Its great to see two guys in the draw in Polo Gutiérrez and Alex Cardona who don't really tour anymore but who are forces on the court. Most of the top 10 players are regular IRT touring vets, and the rest of the draw is filled with Guatemalan nationals, Mexican rising juniors and top local players.
The 16s saw a couple of upsets and tough matches as a result:
Chihuahua's Roldofo Esparza upset #5 seed Alan Natera Chavez in a tie-breaker.
#4 Polo was stretched to a breaker against Mexican 18U player Sebastián Longoria before advancing.
#3 Rodrigo Montoya Solis needed a breaker to get past Guatemalan Juan Salvatierra.
Guatemalan #1 Edwin Galicia took out #6 Javier Estrada 11-9 in a big upset.
In the quarters:
#1 Alex Landa handled the talented but rarely seen Jaime Martell Racquetball 12,8. Hope to see Martell at the US Open.
#4 Polo Gutiérrez and #3 Montoya each cruised past upset-minded opponents Esparza and Galicia
#7 Lalo Portillo got a statement win, dominating the #2 Alex Cardona 9,4 to move on and setup a great semi.
In the semis:
Landa needed a tiebreaker to get past his long-time Juarez-based playing partner and friend Gutierrez.
Montoya held off his young Mexican rival Lalo in two.
In the final, Landa and Montoya played a bit less intensive a match, ending up trading match point attempts at 10-10 before Montoya got the last rally.
---
The Men's Open Draw was headlined by #1 Jaime Martell Neri, but also featured a couple of top LPRT women's players in the draw competing against the men. This included Lucia Gonzalez and Ana Gabriela Martinez, fresh off her first ever professional win last weekend; she opted to just play the Men's open here and not the women's draws.
Both ladies in the draw won their openers to force matches against the #1 and #2 seeds (@sebastian longoria), but neither moved on from there. In the final, Martell took out Mexican junior Hernandez in a tie-breaker for the win.
---
The Men's Open Doubles draw was stacked, with most of the top pros teamed up to provide some tantalizing later round matches. The Guatemalan pairing of Christian Wer and Edwin Galicia played great all weekend, taking out the #3 seeded teams of Javier Estrada/Alan Natera and then the #2 seeded team of Cardona/Polo to make the final.
However, the #1 team of top doubles players Landa/Montoya topped the Guatemalans for the title.
---
The Women's Open featured 9 players, nearly all of which who have featured on the LPRT at some point. #1 seed Amaya Cris and #2 seed Lucia Gonzalez headlined the draw, but Gonzalez was upset in the semis by fellow up-and-coming player Delia. Aguilar. In the final, Amaya took a close 11-9 tie-breaker to win the title.
Thanks for all the streaming on the weekend from various sources, including some players and some RKT. Make sure you follow the players and RKT on facebook and signup for live stream notifications to stay in the loop.
Thanks to the Tourney Directors RKT and Salvador Rentería for putting this event on!
Reminder to Players! Please like and follow this page so that when I tag you, you see it. Facebook will only retain tags of people that like/follow a page, which means lots of you are not getting the notoriety of getting tagged and noticed on FB. If your name is here and it isn't tagged … it probably means I attempted to tag you but FB stripped it.
Next up?
Breaking news; PARC 2021 in Bolivia has been cancelled due to covid-19 issues. The next major events on the schedule happen towards the end of September, when Canadian Nationals and the rescheduled Chicago IRT pro stop occur.
tags