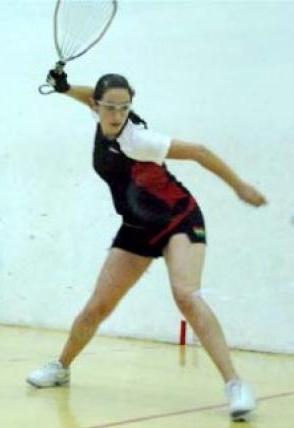 My preview was so big, I had to split it up between the IRT and the LPRT so I could keep tagging the players. See the IRT version for the overall history of Raquet Bolivia racquetball and the larger preview for this event.
R2sports home page: https://www.r2sports.com/tourney/home.asp?TID=30507
On the LPRT side, the #1 player Paola Longoria is missing (as per @the racquetball blog & Evan Pritchett reporting; she has a shoulder injury), which robs this event of the ladies #1. Of the remaining top 10, only Frederique Lambert and newly-retired Gaby Martinez are missing. Its such a long flight, such a tough ask of pro players to give up basically a week to compete, that it isn't terribly surprising that many have opted not to make the trip (especially those with rigid obligations or kids or work commitments). Paola Longoria has such a huge lead on even #2 Salas though that this absence means little for the year end title race. Like with the men, about half of the 23 person ladies pro draw are locals, several of whom will make noise in this draw.
There's 7 round of 32/play-in matches, mostly featuring all-Bolivian match-ups and the lowest ranking touring LPRT pros.
We start to get fun matches in the 16s:
– In the #8/#9 match, a doozy: Yazmine Sabja Aliss vs Cristina Amaya Cris they've met three times in international play (all three Sabja wins) and I'm guessing Sabja will ride the home crowd to a win here.
– #5 Nancy Enriquez vs #12 Angelica Barrios; they met at the US Open; a four game win for Enriquez. Since that time, Barrios made the semis of World Juniors 18U (losing to eventual champ Montserrat Montse Mejia for the 2nd year running in the semis) and made the round of 16 in Chicago. She's definitely an up and comer … but probably doesn't quite yet have the chops to take out Enriquez.
– #4 Rhonda Rajsich vs #13 Jenny Daza Navia these two last met at the 2016 worlds, an 11-10 RR win for Rajsich. This is no walk-over for the 4-time pro tour champ.
– #3 Maria Jose Vargas vs #14 Valeria Centellas: I don't expect the 16-yr old to win here, especially given Vargas' power .. but she could make things interesting.
– #7 Adriana Riveros vs #10 Masiel Rivera Oporto; another tough match of regular tour pros; they met at the US Open in October and Riveros took a four game win. I'd expect a closer game here as Rivera plays on her native soil.
Projected Quarters:
– #1 Samantha Salas vs #9 Sabja: they played at the 2018 PARCs, an 11,12 win for Salas. I think the pro format may make this a closer match. 
– #5 Enriquez over #4 Rajsich: Nancy is a bit more rested than Rhonda, who just finished playing a ton of outdoor matches at Beach Bash last weekend.
– #3 Vargas over her country-woman #6 Mendez
– #2 Alexandra Herrera over Riveros
Semis: Salas over Enriquez, Vargas over Herrera.
Finals: Salas over Vargas.
————
LPRT Doubles
There's also an 8-team doubles draw that features some interesting match-ups. Current World Doubles champs Sabja & Centellas are seeded last and face off against Salas & Rajsich … who have never played with each other. Because Mejia is missing, Herrera is playing with Enriquez at the #2 seed. The Argentinian National team of Vargas & Mendez is seeded 3rd, while the Colombian #1 team of Amaya/Riveros is 4th.
I think the Bolivian champs can make the final and win this draw over the Argentinians in the final.
—————-
Can't wait to see the matches!