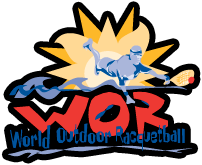 One of WOR – World Outdoor Racquetball's 3 biggest annual events of the year is this weekend; its the 2018 3-Wall Ball championships being held in Las Vegas. The courts are constructed outside the Stratosphere Hotel & Casino and the WOR event is combined with Paddleball and Handball events to be a massive outdoor festival in Sin City.
More than 200 Racquetball players are entered, including a bunch of international players that should make the pro events quite interesting. Draws are now online at this r2sports.com link.
Here's a preview of the various Pro events.
Men's 3-wall Pro Singles: 9 guys entered. #1 seed Luis Avila is the 2018 outdoor champ and a favorite to make the final. On the other side, Bolivian powerhouse Conrrado Moscoso is in town and will make some noise. I'm predicting Moscoso over Avila in the final.
Women's 3-wall Pro Singles: four players entered; three LPRT top 10 touring pros and veteran outdoor power Janel Tisinger-Ledkins. I'm predicting a Tisinger-Rhonda Rajsich final in the RR stage for the title. They've met more than a few times to settle a major outdoor title; see this link for all outdoor finals in the database.
Men's 3-wall Pro doubles: 14 teams, including a ton of very qualified WOR players. I'll predict a Daniel De La Rosa/Alvaro Beltran versus David Horn/Robert Sostre final, with the current world champs coming out on top.
Women's 3-wall Pro doubles: 4 teams competing RR all weekend. I'll go with Jacqueline Paraiso-Larsson and Janel Tisinger-Ledkins coming out on top over Carla Muñoz and Michelle De La Rosa .
Mixed 3-wall pro doubles: hard to bet against the husband-wife De La Rosa pair, who could face off against Rajsich and tourney promoter and outdoor legend Rick "Soda Man" Koll.
This year there's also One-Wall pro doubles events, with some of the dominant one-wall players in the mix.
Men's 1-wall pro doubles: hard to bet against a team that includes one-wall legend from New York; Horn/Sostre over fellow New Yorkers Nick Montalbano/William Rolon.
Mixed 1-wall pro doubles: just two teams entered, but it could be a great match: Rajsich/Koll versus Tisinger/Jason Geis. I'll go with the lefty/righty matchup here for the title, while also rooting for a DC-area guy Gies.