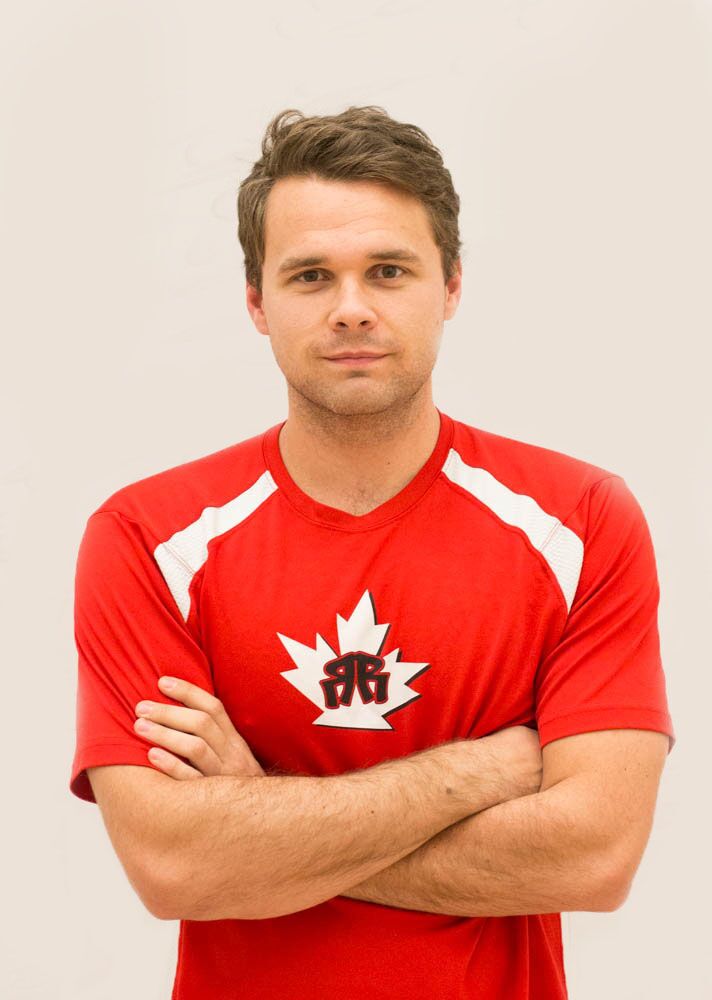 Just like their southern neighbors, Racquetball Canada uses the last weekend in May to host their National Singles events. They also host their National doubles (which ended yesterday and which we'll wrap-up later this week)
r2sports home page: https://www.r2sports.com/portfolio/r2-event.asp?TID=30409
This is the 45th iteration of Canada National Singles, as far as I can tell. First held in Winnipeg in 1975, the first Men's champ was Wayne Bowes. Mike Green (who recently announced his retirement officially from competition) is tied with Canadian legend Sherman Greenfeld for the most singles titles in Canada with 10 each. Samuel Murray is your defending champ and is the #1 seed this weekend.
On the Women's side, they also have records dating to 1975, with Monique Parent being the first ever Women's singles champ. Jennifer Jen Saunders hholds the record for most ever Canadian singles titles with 10, and as the defending champ and #1 seed has a chance to take the outright lead and tie American Rhonda Rajsich for the most ever country national titles (with the caveat that we don't have full records for Mexico and other countries).
click here for a full list of all Canada National Men's Singles finals: http://rball.pro/DEA1C6
click here for a full list of all Canada National Women's singles finals; http://rball.pro/D48335
————————–
Here's a preview of the singles events.
Men's Singles:There's 15 in the draw. Here's some round of 16 matches to look for:
– in the 8/9 game, Tommy Murray takes on Tanner Prentice for a shot at #1. If Murray wins, he gets to go against his brother. If Prentice wins, it would be his first ever win at Adult nationals.
– In the 7/10 game, Lee Connell (who's been playing in National events for more than 15 years) gets a match against current Canadian 18U champ Sean Sauve in his adult debut.
Projecting the quarters:
– #1 Murray vs #8 Prentice; Sam moves on.
– #4 Pedro Castro vs #5 Trevor Webb; they met in 2017, a Castro win, and Pedro will be looking to return to the semis for the 2nd year running.
– #3 Tim Landeryou vs #6 Nicolas Bousquet; they met at this juncture in Nationals last year, a tie-breaker win for Tim. 
– #2 Coby Iwaasa vs #7 Connell: also a rematch of 2018 National quarters, an easy 5,5 win. Can Connell push it closer?
Semis: Murray over Castro, Iwaasa over Landeryou. These are the exact same semis from 2018, and i'm predicting the same chalk results.
Final: Murray over Iwaasa in a tie-breaker. These two met in the 2018 National finals, and in the finals of both Canadian qualifiers leading up to this event, and have clearly separated themselves from the rest of the Canadian field.
————————-
Women's Singles: there's 10 ladies in the draw, and no Frederique Lambert, which opens up the field significantly. Lets preview the draw.
In the 16s:
– Reigning Canadian 18U Junior champ Cassie Prentice takes on #8 seeded Murielle Boivin for a shot at the #1 seed.
– Sisters Juliette and Marjolaine Parent have to face off in the 7/10 match. Juliette is the reigning 16U Canadian champ, while Marjolaine just graduated 18Us and represented Canada at Junior Worlds last year. Tough matchup for the parents; who do you root for? 🙂
Projecting the Quarters:
– #1 Saunders over #9 Prentice, marching towards a record-setting title.
– #4 Danielle Drury vs #5 Erin Geeraert: Geeraert is fresh off of representing Canada at the 2019 PARCs and will look to get back on the team for the Pan Am Games later this year.
– #3  Michèle Morissette takes on the legend Linda Marie Ellerington, whose first entry in the database is the 1987 Canadian National singles competition. Linda hasn't competed in this event since 2015 …when she was eliminated by Morissette. 
– #2 Christine Richardson faces a Parent … i'm not sure which one, but think Richardson will be favored to advance either way.
Possible Semis: Saunders over Geeraert, Richardson over Morissette.
Final: Saunders over Richardson, a rematch of the 2018 final and the 2017 semis.
———————-
Look for streaming notifications over the weekend. Follow Racquetball Canada for sure to get notifications. I know that Timothy Baghurst is in Canada leading the announcing, so tune in and follow along