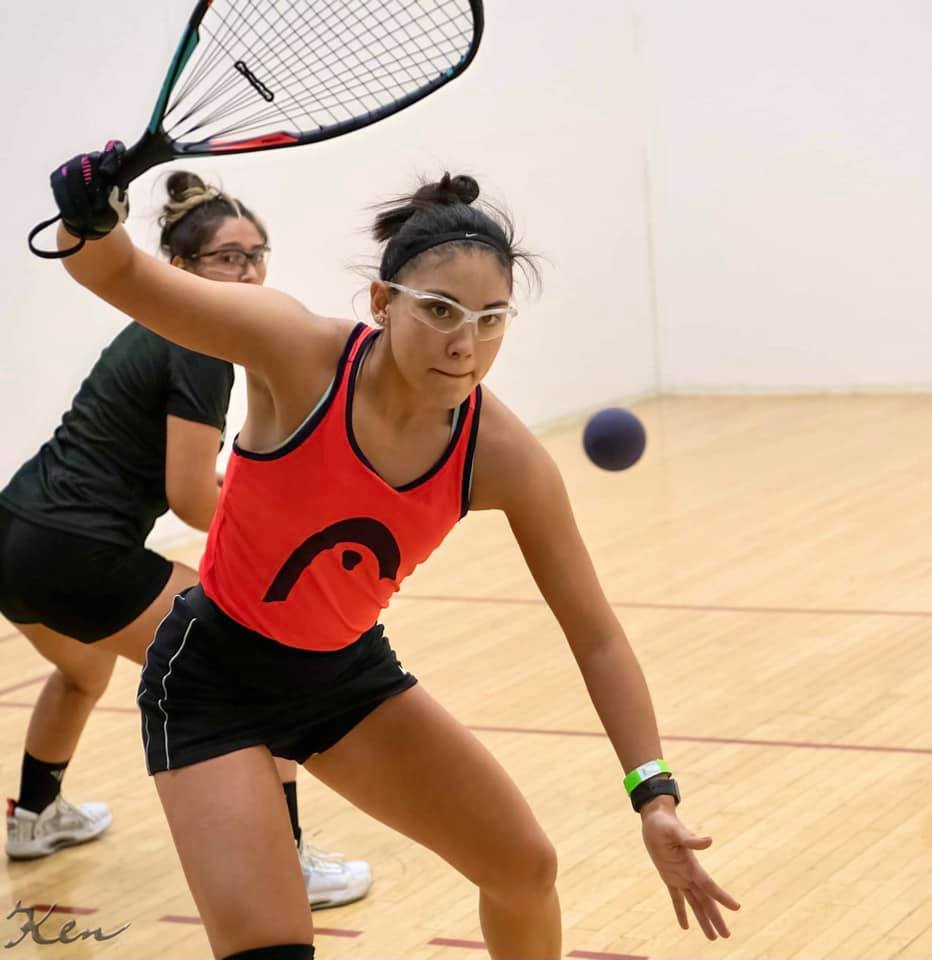 We recapped the top 10 LPRT finishers first, then the players ranked 11th-20th, now here's some commentary on the players who finished 21st or higher. This will be a selection of the players; I'm not going to write up every player from 21-60+. We'll focus on the notables, regular tour players, and the like.
#21: Michaela Meneses the 18U reigning world junior champ from Bolivia, came in ranked #21 after showing some impressive results early in the season. She had wins over Lotts, MRR, and Enriquez. But then she collapsed at season's end, losing multiple matches by donut scores (or close to it). Apparently she's going through some swing mechanical changes, and should recover for the beginning of the next pro season and in time for her to defend her 18U title. She's got promise, can hang with seasoned players, and looks like a future top10 Bolivian star like Barrios and Centellas before her.
Projected Rank next season: 15-16 range.
#23 Jenny Daza only played 3 events, but upset C.Munoz and got a walkover against Parrilla to get to the Vero Beach quarters. A couple of years ago she beat Vargas at the US Open. She can get solid wins … but lives 4,000 miles away and cannot travel to every stop. So, she'll remain a player to watch out for when she plays.
Projected Rank next season: mid 20s.
24 Veronica Sotomayor recently relocated to the US, living in Vero Beach, and made it to three events. She's a former top 10 ranked player who just turned 30 and who trains every day with one of the best players who ever lived in husband @Sudsy Monchik , and can still play. She's a threat whenever she plays, but cannot commit to playing full time. She'll remain the wildcard "player nobody wants to have feed into them" in draws she enters, and she'll hope to pick off wins here and there.
Projected Rank next season: low-to-mid 20s unless she decides to commit to the tour full time, then we're talking top 10.
#27 @Annie Roberts is in college now, matriculated from juniors, and keeps running into Laime in pro draws (her last three round of 32 matches were all against the Colombian). She continues to show power improvements, and she's eventually going to play someone besides Brenda to get a shot at a round of 16 matchup against a top 8 seed. Her college commitments will keep her from touring full time presumably, meaning her rank will remain in the 20s.
Projected Rank next season: mid 20s.
#27 Susy Acosta played the tour about half-time, which is what she's basically done since turning 40, but continues to compete. This was her 24th season with pro results and her lefty-ness will continue to get her partners in the doubles side for some time to come.
Projected Rank next season: upper 20s.
#29 Naomi Ros is one to keep an eye on; she's the reigning US 16U junior national champ, meaning she's still got two years of junior racquetball remaining, but is already making half the LPRT events now that she's relocated from Mexico to south Texas. She's still looking for a signature pro win, but has hung with veterans and it's just a matter of time before she starts getting wins.
Projected rank next season: low to mid 20s.
36 @Daniela Rico is another 18u junior who can put some good results on the board; she only played a couple of LPRT events this year (going one-and done in Vero Beach and Boston) but made the semis of 18U world juniors and put a loss on a very under-rated Lucia Gonzalez at Mexican Nationals earlier this year. Another in a long line of Mexican junior women to watch going forward.
Projected rank: still mid 30s.
37 Ireland's @Aisling Hickey made some noise in a couple of events she entered and has relocated to California, which could open up a pathway for her to play more events. We'll see; we didn't see her in any of the spring events, so perhaps moving to the US wasn't the springboard for her to play m ore LPRT events.
Projected rank next season: low-to-mid 30s.
43 @martina Katz made her pro debut at the season's final event; she's an Argentine 18U champ who could start to feature for the Argentinian national team soon.
Projected rank next season: 30s-40s.
Phew, that's it for recapping the season! One more post after this to point out some milestones I tracked on the "tour history page" as a look back at the season that was.