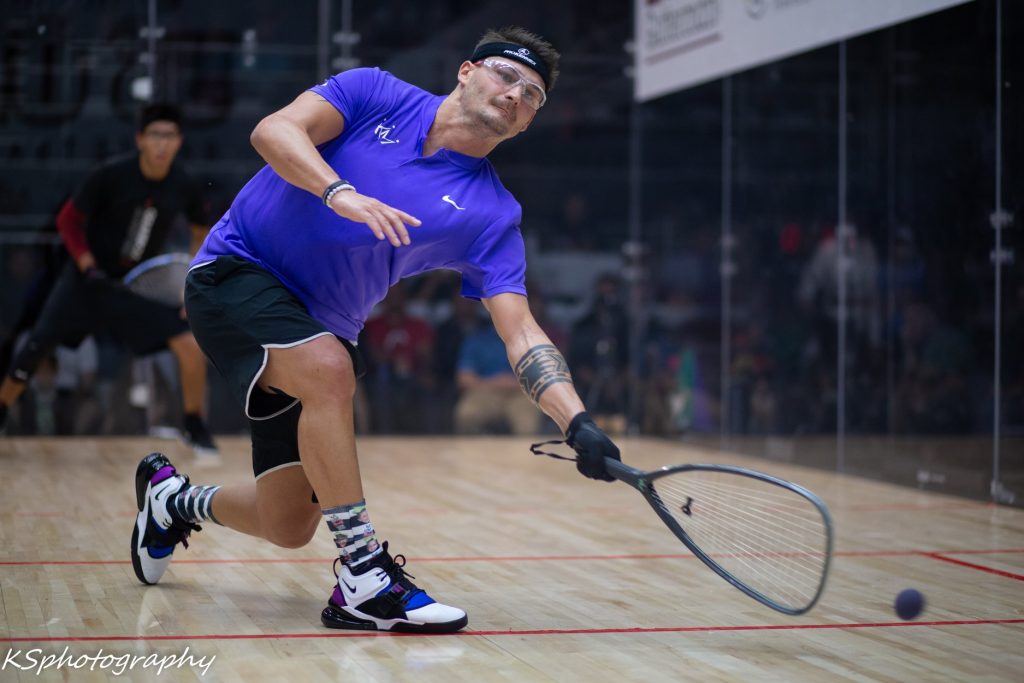 NOTE: just after publishing this, the LPRT changed the pro draw, changing someof the matchups. Unfortunately the Ladies pro section of this now is out of date.
Hello Racquetball Fans! Welcome to 2023 World Singles and Doubles, being held in and around Highland Ranch, Colorado. It will be the biggest indoor tournament of the year, an event two years in the making which boasts a huge prize purse and one of the most rare events in the sport: Pro Mixed Doubles. This event is the first event of the new LPRT 2023-24 season, and it marks the beginning of the second half of the IRT's 2023 season, and holds intrigue across the board for both tours.
R2 Sports App link: https://www.r2sports.com/tourney/home.asp?TID=39922
Both pro tours have healthy attendance. There's 56 men and 35 women in Denver, numbers not approached on either side since the last US Open. Most of the top 20 on both sides is present, and the Men's side features the triumphant return to the court of 14-time #1 Kane Waselenchuk after a 10 month absence due to an injury sustained last September.
The big question mark, of course, is Kane's fitness and match prep. He played in Outdoor Nationals a few weeks ago, but outdoor doubles is a vastly different experience than indoor pro singles. He's now nearing 42 years of age, coming off a full-blown Achilles heel injury, and nobody (besides him) really knows how he'll be prepared for a pro singles event. Especially one at altitude. It isn't as if he forgot how to play the sport, and if he makes a deep run in Denver I'll simultaneously be surprised and not surprised. I honestly don't know what to predict; an early exit or a title, or something in-between. I do know this: Kane generally has played with a chip on his shoulder after long absences, looking to make a statement, so opponents beware.
We're previewing the IRT, LPRT, and Mixed Pro draws here. There are also "Open" Doubles on both sides with strong draws, but which won't "count" as pro events since they're not full pro purses, as well as the regular Open singles draws for the non-top 10 players.
——————————
IRT Men's Singles preview
There's two rounds of qualifiers into the main draw of 32; the top 16 players got byes into the 32s, and everyone else had to play at least one qualifier.
—
Qualifiers that look interesting:
– Nick Riffel vs @Juan Jose Salvatierra could be a tough match, assuming former touring pro Riffel gets past his round of 128 match.
– Cole Sendry vs @Edwin Galicia is a nice test for the USA U18 up and coming player.
– Erick Trujillo should have the advantage over Bolivian doubles specialist Roland Keller , but this is no cakewalk for either player.
– Former IRT top 10 player @Carlos Keller Vargas projects to face former Intercollegiates champ @Erik Garcia for a spot in the main draw.
– Maryland's own @Dylan Pruitt , if he can get past Canadian national team member @Naman Gaur , projects into @Erick Cuevas Fernandez in a match that could go either way.
—
Round of 32 matches to watch for:
– #9 @Adam Manilla vs Waselenchuk; Manilla is the unlucky top 10 player who gets Kane in the first round. These two played in the tournament where Kane got injured last fall, with Manilla losing 11,7. Since then, Adam has played well and is on home courts. But I'll pick Kane to advance here.
– #12 Thomas Carter projects to get qualifier @Diego García in the round of 32, another non-full time playing pro who can do some damage. These two played at PARC in April in Guatemala and Garcia came out on top, one of several impressive wins for the young Bolivian-turned-Argentine in that event. I'll go with Garcia with the upset here.
– #13 Alan Natera versus #20 Sam Bredenbeck could be tight; how far has Sam's singles game come in the past few months? Natera is climbing up the ranks quietly, and will be favored to advance.
– #14 Jaime Martell projects to play countryman Trujillo, if Erick can advance past Roland. I think Martell can handle him, but this is potentially a tight match.
– #10 newlywed Andres Acuña is the unlucky player to get the last of the big names coming out of qualifying; Keller. These two also played in Guatemala at PARC, a 4-game win for Keller, and I think Carlos will upset the Costa Rican again here.
—
Projecting the 16s; here's some possible great matches:
– #8 Samuel Murray plays the winner of Manilla/Waselenchuk. If Kane gets by Adam, he runs into fellow Canadian Murray, who he has utterly dominated during their careers. Kane won their last meeting in NY in 2022 1,1. A bad potential matchup for Sam, and I'll favor Kane to continue his mental and physical dominance here.
– If Garcia gets by Carter, he runs into #5 @Eduardo Portillo , another player he beat at PARC. Look for Garcia to make a deep run in Denver.
– #6 Andree Parrilla projects to face always-the-dark horse #11 @Javier Mar . Mar owns the career h2h 5-3 and has won the last two meetings, and I always like Mar to get the upset win.
– The winner of Keller/Acuna he plays into #7 @Alejandro Landa , and both opponents offer intrigue here. Landa-Acuna bad blood history is well documented, while Keller-Landa have met just three times in 10 years. The question for Landa is always health; he's been bedeviled by injuries for a while. Upset watch here.
—
Quarters prediction:
– #1 Conrrado Moscoso over Waselenchuk. Here's where I think the Kane train derails in Denver. Moscoso is #1, he's battle tested, he's used to playing at altitude, and he's game ready. If Kane wins this … he wins the event and gives us all pause as to the current state of the game.
– #4 @Rodrigo Montoya over Garcia: the upset-laden run ends at the hands of the top Mexican.
– #3 Daniel De La Rosa over Mar. We havn't mentioned DLR yet; he has a pretty straightforward draw to the quarters, then projects to meet one of two top Mexican players (Mar or Parrilla) that he knows well and should move on.
– #2 @Jake Bredenbeck over Keller (or Acuna, or Landa). We also havn't mentioned Jake yet; his two openers look very straightforward, and he'll get his first test here. whoever moves on from the #7/#10 section should be the underdog against Jake.
Semis and Final:
– Moscoso over Montoya: they always play tight, but Moscoso has figured out early-career troubles playing Rodrigo and now has won 6 of their last 8 meetings (and one of those losses was his head-banging forfeit in Florida in 2022).
– DLR over Jake: unpopular opinion, since Jake won their last meeting … but DLR is still 13-3 lifetime over Jake. That being said, Jake's 2023 has been spectacular, and his ascension to #2 is well earned. But DLR should be on a mission here; he is behind on points, and needs to start winning events to give himself a shot at a third pro title at year's end. I think he starts here.
Final: A rematch of the 2021 World Singles & Doubles final; Moscoso vs DLR. In 2021, DLR won 7,13 for the title, but things are a bit different since then. They've only met twice since, in two successive finals earlier this year. DLR topped Conrrado in Austin in January, then the result flipped at the Lewis Drug two weeks later. Who has the advantage with fast concrete courts and altitude negating the effects of the slower ball? I sense Moscoso wins here.
———————————-
Ladies Singles Preview
NOTE: just after publishing this, the LPRT changed the pro draw, changing someof the matchups. Unfortunately the Ladies pro section of this now is out of date.
Just as Kane is returning to the men's tour after a long absence, so does the Ladies tour have a former top player returning after some time away. Veronica Sotomayor is in the draw for the first time since Feb 2022 and will be looking to shake things up. She's the player everyone wants to avoid in the draw.
Round of 32 matches of intrigue:
– @Sheryl Lotts vs Nancy Enriquez in the 16/17 matchup should be solid. Former top 10 player Nancy gets surprise wins often, and Lotts returns to the tour after months away, but with a ton of playing under her belt in her new Florida digs.
– Lexi York takes on Cris Amaya in a tough opener for both. York gets a ton of playing time with the Bredenbeck brothers and could surprise the tour regular Amaya.
– #4 Erika Manila vs Sotomayor: a semis-quality matchup in the round of 32 isn't fair to either player, but Sotomayor had to play someone to start. Manilla's last match on tour was a 3,7 loss in the round of 16 in the season's final event, one which didn't affect her season ending ranking but which had to leave a bad taste. Meanwhile, Vero basically trains all week with the likes of Ortiz, Vargas, Lotts, and Sudsy Monchik and is game ready. Upset watch here; I would not be surprised if Sotomayor handles Manilla's power and sends her packing early.
– #11 Gaby Martinez faces Maricruz Ortiz in a match she should win, but which gives Ortiz another chance to show how far she's progressed.
– Two top US juniors in @Naomi ros and @Shane Diaz take on top 10 pros in Natalia Mendez and Carla Munoz respectively, but I don't expect them to get upsets on tour just yet.
—-
Round of 16 matches to watch for
– In the 8/9, Mendez and Munoz are set to battle. Mendez is trending down while Carla is trending up, and I favor the Chilean here.
– Brenda Laime takes on east-coast rival @Kelani Lawrence in a new budding rivalry. They've played 4 times in 10 months, splitting them 2 and 2. Laime has gotten wins at the majors, and has very quietly ascended to her current #5 ranking, and could continue making noise on tour. Laime to advance.
– #6 Maria Jose Vargas takes on #11 Gaby in a semis-quality meeting between two of the top four ladies in the world right now. Vargas has just been on fire since her return to the tour, and I favor her for another deep run.
– 7/10 is Jessica Parrilla vs Samantha Salas Solis , who have played each other for years. Salas holds the upper hand though, and should move on here.
—
Quarters prediction:
– #1 @Montse Mejia over Munoz. This is no walkover; Carla played Montse tough in Virginia at this juncture, the match going 12,12, and has some career wins. But Montse is #1 now for a reason, and moves on.
– #5 Laime over Sotomayor: I think Vero's run ends at the hands of the classical power/pinch game of Laime.
– #6 Vargas over #3 Alexandra Herrera ; amazing how tides shift; Herrera was 0-for-career against Vargas until early 2022, when she put it all together and couldn't lose to anyone. But now, Herrera is slipping, with several round of 16 losses and is in jeopardy of getting pushed out of the top 3 for the first time in years.
– #2 Paola Longoria over Salas: Longoria has looked vulnerable of course, but not against her long-time doubles partner, over whom she holds a commanding h2h career lead (68-3). She'll move on, then the real tournament starts.
Semis and Finals picks:
– #1 Mejia over #5 Laime. It wouldn't shock me if Laime gets a win here, but I expect Mejia to hold serve and return to the finals. These two play similarly, but Mejia's got a better overall pinch/pass game plus can handle Laime's power.
– #6 Vargas over #2 Longoria. I think Vargas has the confidence to win, and will build on the last few meetings against her long-time antagonist.
Finals: Mejia over Vargas. I think Montse is relishing the chance to get a title as #1 for the first time.
———————————
Mixed Pro Doubles Preview.
No fewer than 28 mixed pro doubles teams are set to compete, and racquetball fans are looking forward to this rarity. The defending champions from the 2021 event are back together and are the #1 seeds: Salas & Montoya. The similarities to prior Mixed Pro events pretty much ends there, as teams are jumbled and seedings done using a combination of USAR ranking points and past experiences.
Here's the opening round matches I'm liking:
– #16 Sam Bredenbeck & Lexi York vs #17 Galicia and Gaby: an interesting contrast in styles here; Gaby should win the right sided battle with Lexi, but Sam can overpower Galicia. Look for this one to be close.
– #24 Kane & Michelle Key versus #9 @Kadim Carrasco and Laime: Carrasco and Laime are both solid doubles players, but so is Key as the reigning US National doubles champ. Kane is Kane, and in doubles can be pretty brutal to line up against on the backhand as a right-handed player. Don't let #24 fool you (Kane has literally never played mixed before, knocking down their seeding): this is a tourney favorite.
– #14 Acuna/Ortiz versus #19 Sotomayor & @Jose Daniel Ugalde . Ugalde has some solid doubles experience (he made the finals of 2022 PARC men's doubles) and can hang with Acuna. Sotomayor should win the right-side battle with the younger Ortiz. That kind of split usually means close tiebreaker.
– #23 Samuel Murray & @Frederique Lambert versus #10 Carter & Lawrence: a tough matchup for both teams, as the under-seeded Canadians feed into the all-USA Carter/Lawrence team. The big question here is how game-ready is Lambert right now? She's now down to seemingly only playing a couple times a year during her medical residency. The former #2 LPRT player still is tough to beat, so expect a tiebreaker here.
—-
Round of 16 matches I like:
– #24 Kane/Key over #8 Natera/Munoz: I like the Kane & Key matchup over the husband-wife team of Natera and Munoz, even though Munoz is every bit as good a doubles player as Key.
– #12 Garcia/Vargas over #5 Manilla/Manilla. This will be an unpopular opinion, but I think the matchup for the reigning US Mixed doubles titlists and home-town favorites here is a tough one. Garcia is every bit as good as Adam on one side, and Vargas is better than Erika on the other. Power matches power here, so the match will come down to shot making and mental fortitude.
– #3 Portillo/Herrera over #19 Ugalde/Sotomayor. The inclusion of the lefty Herrera, who will match up against Ugalde, counter balances Portillo blasting away against Sotomayor on both players' forehand. Herrera is tough to beat in doubles, as is Lalo, and they have the edge.
– #7 DLR/Scott over Murray/Lambert. DLR and Scott are probably under-seeded here given their combined exploits on the court. DLR is inarguably the best doubles player in the world indoor or out, and will take over this match. Murray's no slouch though, so it'll come down again to how match-ready Lambert is.
—-
Quarters Prediction:
– #1 Montoya/Salas over Waselenchuk/Key. A great quarter final that I look forward to watching. Salas is probably the 2nd best right-sided ladies doubles player out there (behind Mejia), and she'll trump Key in that battle. Montoya has just as much power as Kane on the left side, so this match should be close.
– #4 Mar/Mejia over #12 Garcia/Vargas. This is a great match, but I can't get over two of the best individual doubles players in Mar/Mejia getting beat here.
– #3 Portillo/Herrera over the #6 Parrilla brother/sister combo: I think this all Mexican battle goes according to seeds.
– #2 Moscoso/Longoria over #7 DLR/Scott. Longoria makes the difference here, winning the right-sided battle with Scott as DLR does all he can to counter the shot-making of Conrrado
—
Semis and Finals:
– #4 Mar/Mejia over #1 Montoya/Salas. Just a hunch, but the two doubles partners Mar & Montoya cancel themselves out, leaving the newly crowned #1 player to take over against her veteran Mexican rival.
– #2 Moscoso/Longoria over Portillo/Herrera; Longoria is just too tough to lose at this juncture, as is Moscoso.
Final: Moscoso/Longoria over Mar/Mejia. I think Paola and Montse cancel themselves out, but Moscoso has the edge over Mar and that makes the difference.
———————————
Look for Streaming in the regular places for both pro tours. Follow IRT and LPRT on Facebook and sign up for live notifications.
Thanks to the Tourney Director Jim Hiser for putting this event on! Also for attendees there's a great History of Racquetball/Museum exhibit done with the help of Jim Easterling and @Randy Stafford's efforts.
Thanks to the main sponsors Keith Minor and Kwm Gutterman . It goes without saying that without you and your support, we don't have a sport.
Reminder to Players! Please like and follow this page so that when I tag you, you see it. Facebook will only retain tags of people that like/follow a page, which means lots of you are not getting the notoriety of getting tagged and noticed on Facebook. If your name is here and it isn't tagged … it probably means I attempted to tag you but Facebook stripped it.
Coincidentally, if you're interested in playing Fantasy Racquetball for this event, the links to the brackets are advertised on LPRT's main page. The winner each week gets free swag!
Associations
International Racquetball Tour