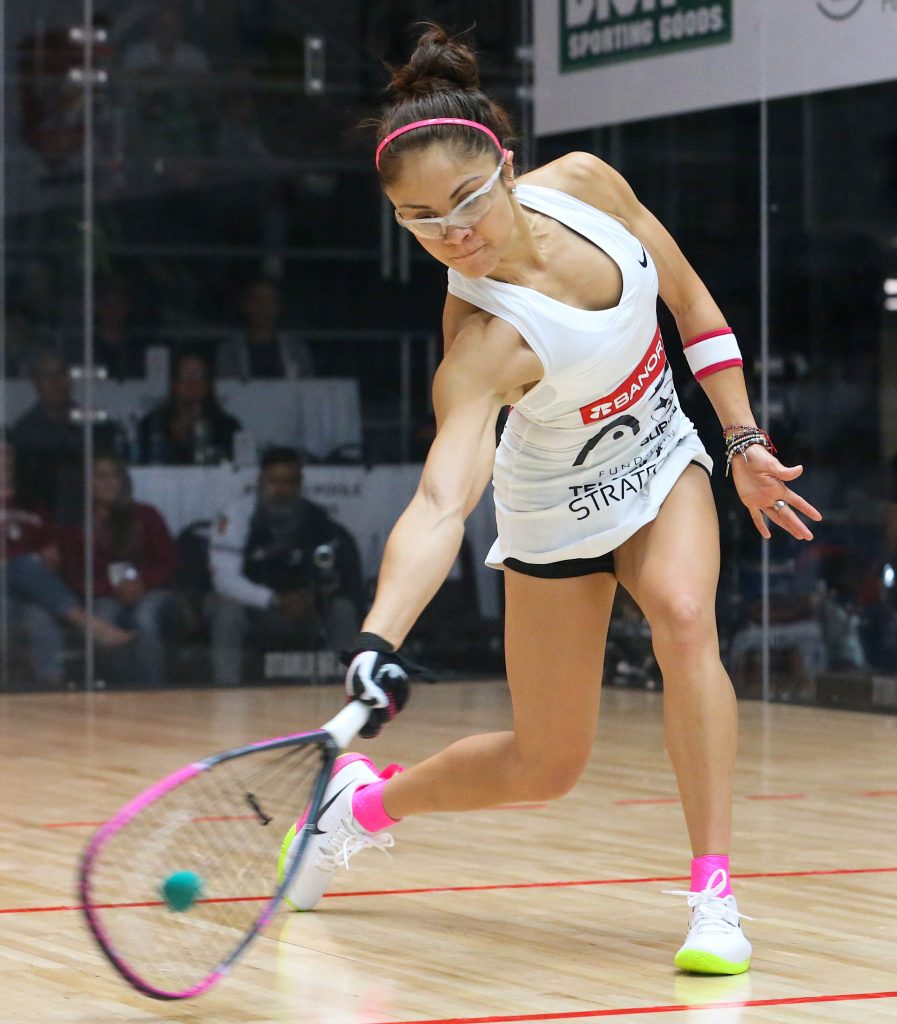 Congrats to Paola Longoria on her win at the latest LPRT event. This is her 5th win out of 5 on the season, her 6th straight tournament win on tour, extends her current match winning streak to 25 matches, and she opens up an even larger lead on her two closest competitors (#2 Samantha Salas Solis, who reportedly had travel issues and did not attend, and #3 Frederique Lambert, who was upset in the round of 16). This win represents Paola's 87th tournament win in our database.
Here's a link to R2 Sports App website for the tourney: http://www.r2sports.com/website/event-results.asp?TID=29971
And here's the PRS Match Report for the Singles draw.
Here's a wrap-up of the notable matches (for me) in each round:
In the 32s:
– Lucia Gonzalez outlasted 16U world champ Valeria Centellas in four to advance in a battle of young up-and-coming players.
– In a battle of two long-time pro players, Laura Brandt (first pro appearance in 2005) outlasted Jennifer Mayadas-Dering (first pro appearance in 1996) in a five-game breaker.
– Danielle Maddux outlasted #11 Adrienne Fisher Haynes, the highest seeded player not getting a bye into the 16s, in a 5-game marathon.
– Michelle De La Rosa (DLR) also played a 5-game marathon, just eking by Hollie Scott 12-10 in the fifth in a back-and-forth encounter.
In the 16s, just one upset but several close matches.
– #8 Carla Muñoz Montesinos outlasted #9 Sheryl Lotts in four close games.
– #5 Rhonda Rajsich needed a 5th game tie-breaker to down home-town favorite Masiel Rivera Oporto
– #4 Maria Jose Vargas seemed to be battling leg or ankle issues but came back from a 2-game deficit to down Lucia Gonzalez in five.
– The big upset though was De La Rosa ousting #2 Frederique Lambert. This is one of the biggest upets of the season and the first time in more than a year that a top 2 seed was upset at this juncture. DLR dominated, winning 6,4,7 and is in a great position to challenge for her second ever pro semi final.
In the Quarters: 
– #1 Paola Longoria made quick work of #8 Munoz 4,1,0
– #5 Rhonda Rajsich took a 3 game win over the hobbled #4 Vargas.
– #3 Alexandra Herrera took a 3-game win over #6 Natalia Mendez Erlwein 
– #15 De La Rosa continued her great run, downing the #7 seed Amaya Crisin four games.
In the Semis:
– Longoria took out Rajsich in 3 straight games 4,5,7.
– Herrera ended DLR's run by blitzing past her 1,0,8.
In the Final, Longoria improved to 10-0 lifetime on the pro tour against her country-mate Herrera 8,4,7.
—————
In the doubles.. Just one upset in the quarters (#5 over #4). In the semis the top two seeded teams advanced to the final. In the final. Longoria made it a double on the weekend, teaming with Virginia-based Kelani Lawrence to top #2 Lambert/Herrera 7,10.
Here's the Doubles match report in the database.
—————
In the Men's International Racquetball Tour Tier 5 event the top four seeds all advanced as expected to the semis:
– Sebastian Franco over Geoff Heskett
– MoMo Zelada over Brent Walters
– Maurice Miller over Thomas Gerhardt
– Troy Warigon over Mike Gaffney
In the semis, Franco took a close one over fellow local Zelada, while Atlanta-based Miller scored the upset over home-club favorite Warigon. In the final, Miller (who has been playing pretty tough lately) took a game off of the #5 ranked Franco but fell in a tiebreaker.
—————-
Happy Holidays to you from PRS: next event isn't until the new year, with the always popular Canoga Park event on the IRT.