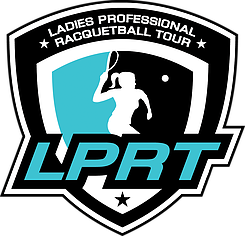 The LPRT returns to action this weekend, traveling to Boston for the annual Boston Open. This event has been on the books this Halloween weekend for a few years now and has become a popular LPRT stop.
22 women are entered in the Singles draw, and the draw has some interesting participants and omissions.
Top 10 players missing include #9 Jessica Parrilla (still recovering from knee surgery) and more importantly #10 Ana Gabriele Martinez, who has made two semis in two tournaments this season and misses out on a chance to put herself into the top 8. The only other top 20 players missing are #17 Susy Acosta and #20 Montse Mejia. (Post-publishing note: its likely that both Martinez and Mejia are missing this event due to its proximity to World Juniors, which starts the following weekend. Both are favorites in their final juniors appearance to reach the 18U final).
There's a few interesting "blast from the past" players in this draw; Laura Brandt first appeared on the pro tour in 2005 and plays her second pro event this month. Jennifer Mayadas-Dering played events in the late 90s into the 2000s, then took 14 years off before re-appearing in pro draws lately. Lastly, four-time tour champ Cheryl Gudinas plays her third straight Boston Open, and for the time being remains tied with Rhonda Rajsich for most ever appearances on the pro tour with 181.
Lets run through the draw and note some possible good matches to watch for:
In the 32s:
– Adrienne Fisher Haynes gets the 4-time former champ Gudinas in the first round. Haynes is 2-16 lifetime versus Gudinas … and those two wins came in their two most recent meetings (in 2012 and 2013).
– Cassi Lee faces off against Dering, making for a match-up of two New Yorkers.
– Guatemalan Maria Renee Rodriguez faces off against DC-area native Masiel Rivera Oporto.
In the 16s:
– Bolivian dark-horse player Yazmine Sabja Aliss gets an unlucky early match-up with #1 Paola Longoria. Sabja is a dangerous player who can hang with nearly every player in the world … but I think she'll be hard-pressed to pull off an upset of this magnitude here.
– In the 8/9 seed, a South American battle between Colombian Amaya Cris and Argentinian Natalia Mendez.
– Representatives of these two countries will also battle in the bottom half of hte draw, when Colombian Adriana Riveros and Argentinian Maria Jose Vargas meet.
Possible Quarters:
– Longoria should handle Mendez.
– A highly interesting all-Mexico quarter final between Nancy Enriquez and Alexandra Herrera awaits; Enriquez has been upset in both LPRT events this season by the same (missing) player in Martinez; now she has a path to the semis against a player who she has beaten. Herrera leads the h2h on tour 2-1 but they havn't played in more than a year.
– Samantha Salas faces off against Vargas; a few years ago Vargas seemed like she was perched to take over the #2 spot on tour (and in fact did in 2015). But she's been hit and miss this season while Salas has come back energized from her injury last season.
– Dr to be Frederique Lambert is set to take on the legend Rajsich in the last quarter.
Projected Semis: Longoria, Enriquez, Salas and Lambert.
My predicted final: Longoria over Salas.