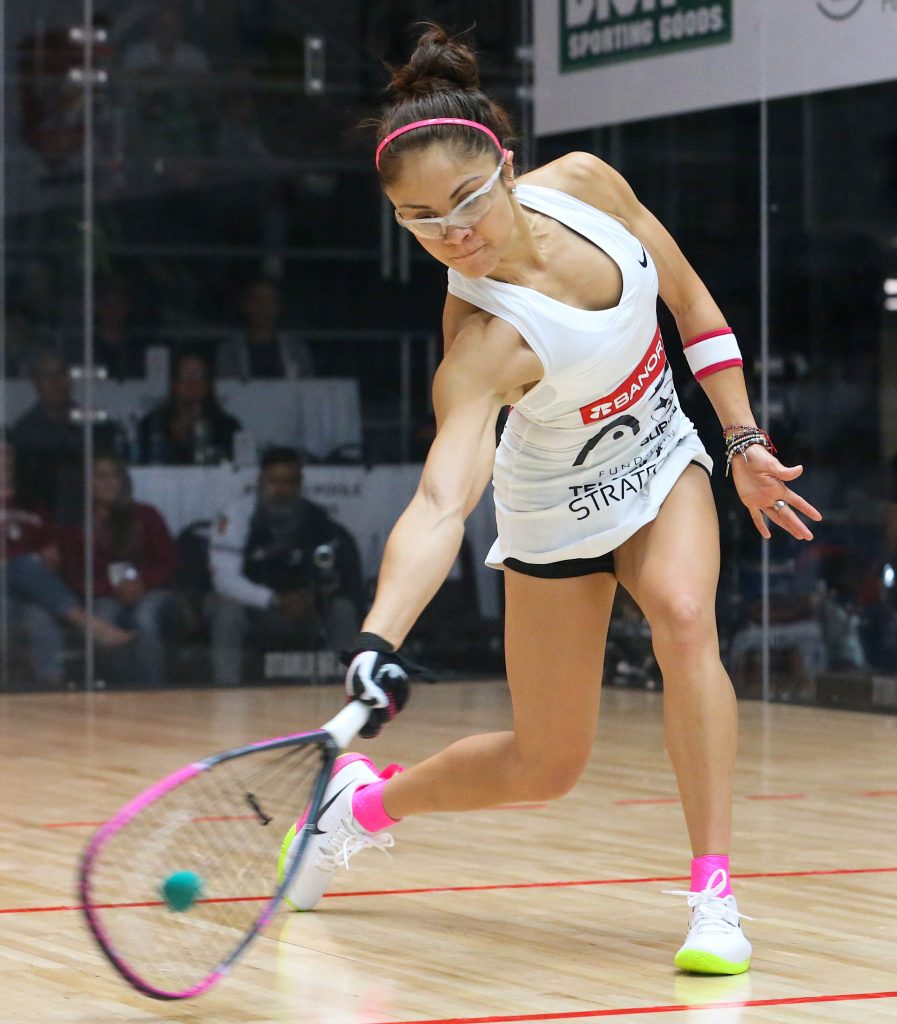 r2 sports link: https://www.r2sports.com/tourney/home.asp?TID=30301
Congrats to your Ladies Pro Singles: Paola Longoria takes the crown on the weekend.
PRS singles match report: http://rball.pro/2F7086
———————
Here's a wrap of the notable matches by round to me:
In the 32s:
– Laura Brandt took a game off of #16 seed Guatemalan #1 Maria Renee Rodríguez before losing in four. Notable because Brandt is 56 years old, still competing with players nearly 1/3rd her age. Bravo.
In the 16s:
– the #8/#9 match gave us a classic yet again, with doubles partners and Colombian team-mates Amaya Cris and Adriana Riveros going to a 5th game tie-breaker before Amaya pulled it out.
– #5 Rhonda Rajsich was stretched to the limit, getting an 11-9 fifth game tiebreaker win over Colombia youngster Brenda Laime Jalil.
– #3 seed Maria Jose Vargas Parada held on for a 5th game win over Montse Mejia in a semis-quality match-up. Vargas won the first two games, Mejia the next two, and the tie-breaker was 11-8.
In the Qtrs:
– #5 Rajsich continued her career dominance over #4 Alexandra Herrera, improving to 9-0 lifetime with a 5-game win. 
– #3 Vargas beat her country-mate and doubles partner Natalia Mendez for the third time in the last month (after having *never* faced each other).
In the semis:
– #1 Paola Longoria took out long-time rival Rajsich in three. Rhonda owns 15 of the 30 career pro losses on Longoria's resume, but could not beat her on this day.
– #2 Samantha Salas Solis held serve against Vargas, advancing in three games to face off against Longoria.
In the final, Longoria improved to 48-3 against her doubles partner Salas on the pro tour, winning in three for the title. There have been 8 LPRT events this season; Longoria and Salas have met in the final of six of them.
———————
With the win, Longoria extends these personal streaks:
– She's now won 33 straight matches, the 5th best such streak known.
– She's still undefeated on the season, now 29-0.
– She's only dropped 4 games this season.
– She's now got 89 wins in the Pro Racquetball Stats database (which, we know, does not match what her media team claims; we're still working to resolve that issue).
———————
Points implications for the rest of the season:
There's two more events on the LPRT schedule; this coming w/e in Syosset then a Grand Slam in Overland Park, KS to finish off t he season
Longoria holds a 450 point lead over Salas for 2nd, who then has an even larger lead over Herrera and the rest of the tour. In order for Salas to overtake Longoria, Paola would probably have to miss both the remaining events and Salas would have to win the Grand Slam and make at least the final of the Syosset event to take the title. There's no way any other player has enough time to catch up.
So, while its mathematically possible for Longoria to lose the title, its likely that she's basically sewn it up for this season.