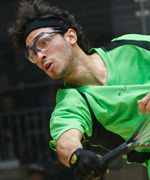 International Racquetball Tour
r2sports link: https://www.r2sports.com/portfolio/r2-event.asp?TID=30402
PRS Match Report: http://rball.pro/6A2E20
Congrats to Alejandro Landa, who wins his 3rd career title on the weekend.
Here's a review of the event, citing notable matches (to me) by round:
In the 64s:
– Maurice Miller advanced by the skin of his teeth over Kyle Ulliman 11-10. 
– Set Cubillos Ruiz got a solid win over "the ref' Scott McClellan to advance.
In the 32s:
– Thomas Carter got his first career win over Felipe Camacho with a pretty solid 6,13 win. He advances into the main draw for just the 2nd time this season.
– Eduardo Garay Rodriguez upset 9th seeded Mario Mercado 11-9 in the breaker. A solid win for Garay, which earns him a rematch with Beltran.
– #13 Jake Bredenbeck saved game point against Miller in game 1, then cruised to a two game win, avoiding this pitfall and advancing to his 7th main draw in 8 IRT events this season.
– Andres Acuña won a hard-fought tiebreaker win over #14 Jansen Allen. Allen's tough season continues; he's only qualified for the main draw now in 4 of the 8 events, after cashing in all 11 events last season. 
– Lalo Portillo got a solid win over tour vet Robert Collins to continue his impressive season.
In the 16s:
– David Horn got a solid win over #5 Samuel Murray 11,12. He avenges a bad loss a month ago to Murray and moves on to his second QF of the season.
– Alvaro Beltran made quicker work of Eduardo Garay than I thought he would, winning 7,9.
– #3 Alejandro Alex Landa absolutely destroyed Acuna 3,2. Where was this dominance at the Pan Am Games? 
– #7 Daniel De La Rosa got an easier-than-expected win over Rodrigo Montoya Solís 12,3, the latest in a back-and-forth rivalry with Montoya.
#6 Sebastian Franco got a solid win over Jose Diaz to advance.
Nearly 100% chalk into the quarters, with only Horn's upset of #5 Murray a blemish on the resumes of the top 8 seeds.
In the Quarters:
– In a shocking result, #8 Beltran topped #1 seed Kane Waselenchuk in an 11-8 tiebreaker. I'll do a separate post on this result, which streaks it ends for Kane, and what it means for the title race later on.
– #4 Andree Parrilla dominated his former WRT rival #12 Horn 2,6.
– #3 Landa took a close one over Franco
– #2 Rocky Carson wiped out #7 De La Rosa 7,3.
Semis:
– Beltran came back from looking like he'd get wiped off the court to take Parrilla in an 11-10 thriller.
– Landa played one of the more complete games of his career, beating Carson 5,7 to advance to the final.
In that final, a rematch of the Mexican National championship, Landa fended off the veteran Beltran to take home his 3rd career title.
——————————-
Next up; the Syosset Open, the last Tier 1 of the season!