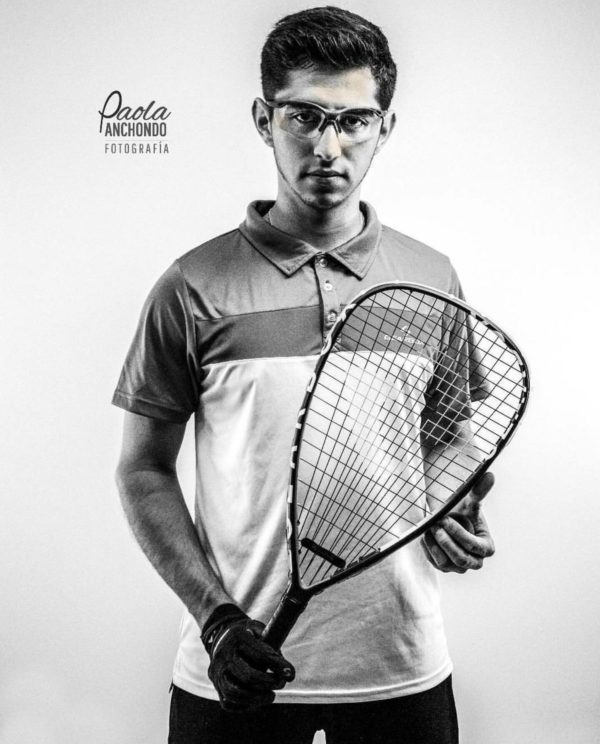 Congrats to your winners on the weekend:
Men's Singles: Rodrigo Montoya
Women's Singles: Paola Longoria
And, congrats to all the players who made the Mexican National team for 2021 (all semi finalists).
R2 Sports App home page for event: https://www.r2sports.com/tourney/home.asp?TID=36616
Lets review the notable matches in the Men's Open draw.
Singles Match report in the PRS database: tbd (having tech issues this week)
In the 32s, a couple of upsets by seed or notable results:
#24 Elias Nieto took out #9 Daniel Diaz in two games 11,9. Nieto used his length to take control over Diaz and move on.
#25 Rodolfo Esparza took out #8 semi-regular IRT touring pro Erick Cuevas in a tie-breaker for the biggest upset of the round.
– #21 Carlos Esparza upset #12 Alex Bear 6,12 to setup a meeting with the reigning world champ Montoya.
In the 16s:
The first match of the 16s was also the biggest upset of the weekend: #1 seed and favorite to advance at least to the semis Sebastian Fernandez was upset in two games 13,10 by his junior cohort team member Emir Martinez. Fernandez and Martinez last met in a top-level tournament in the finals of Mexican 18U in 2019, an 1,3 dominant victory for Patata, but the tables were turned today. Fernandez played loose, left balls up and Martinez took advantage. Huge upset and the upper half is really opened up now for Montoya to return to the finals.
#2 Javier Mar avoided the same fate as #1 Patata, but had to really work to advance past #15 Jose Ramos. Ramos took game one 15-14, and the tiebreaker was 11-8.
#6 Erick Trujillo went the distance to down #11 Juan Loreto 11-9.
#20 Jordy Alonso continued his hot streak and took out #4 Christian Longoria in a tie breaker.
– the other top touring pros (#7 Andree Parrilla, #3 Lalo Portillo and #5 Rodrigo Montoya Solis all advanced in two dominant games.
In the Quarters:
#24 Nieto took out #16 Martinez to earn a shock semi-finals appearance.
#5 Montoya absolutely dominated #20 Alonso to move into the semis. Montoya donuted Jordy in the first, and was threatening to do so in the second before Alonso went on a run of points at the death to make it respectable.
#3 Portillo was not troubled by #6 Trujillo (who is also competing in the 18U here this weekend) and moved on with ease 5,6.
– The match of the night though, and the surprise of the night, was in the 2/7 game. #7 Parrilla absolutely dominated #2 Mar throughout the match, running up big leads in both games by playing smart, conservative racquetball, and blitzed into the semis with a 5,4 win. Parrilla looked crisp in his shots, putting balls away with ease and kept the pressure on Mar, who just couldn't get anything going. Great win by Parrilla.
In the Semis
#5 Montoya ended Elias' run, dominating his younger countryman 3,10 to move onto the final.
Another barn burner for Parrilla in the bottom semi, as he dug deep to take out #3 Portillo in a tie-breaker. This was a tough win, as Portillo has been improving steadily.
In the Finals, Parrilla and Montoya face off for the next version of a very long-running series. The two players are just a few weeks apart in age and frequently met in the finals of junior nationals and junior worlds tournaments growing up. They traded titles for years, and then traded titles professionally. I don't have them meeting in a top-level tourney since Mexican Nationals in 2018, but clearly Montoya has had the upper hand post-juniors. And the same happened in the 2021 final. Parrilla raced to a 15-4 first game win, but couldn't close it out in game 2 and then Rodrigo dominated the tie-breaker to take his 2nd Mexican National title (he also won in 2018)
(Lalo took out Elias for 3rd)
Women's Open review
Match report in the PRS database: tbd (having tech issues this week)
In the 16s:
no major upsets and mostly dominant 2-game wins for the top seeds.
#2 Jessica Parrilla was taken to a tiebreaker by 18U player Leonela Osorio, dropping the first game 15-14 before bearing down and cruising to a TB win.
#5 Susy Acosta was stretched by Delia Aguilar but advanced in two close games.
In the Quarters, we got some heavyweight LPRT matchups and a couple of surprising results.
#1 Paola Longoria got her title defense started with a quick win over #9 and 18U competitor Daniela Rico 2,4.
#4 Montse Mejia served up a double donut against #5 veteran Acosta, winning 0,0.
#3 Samantha Salas Solis got a great win, topping #6 Alexandra Herrera in an 11-9 tiebreaker. Salas has seen her pro rankings slip lately, having been overtaken for the #2 spot on tour by Herrera, but she kept her career record perfect against Alexandra in top-level events, improving to 9-0.
#7 Nancy Enriquez gets a solid win over #2 Parrilla 10,9. An upset by seed, but in reality a really solid win for Enriquez, who has been playing on fire as of late.
In the Semis:
#1 Longoria continued her dominance over her erstwhile younger rival Mejia, dominating the first then holding on for the win 4,11 to move to the final.
#3 Salas continued her great run this weekend, crushing her frequent LPRT rival Enriquez 7,4 to return to the Mexican Nationals final for the first time since 2018.
In the final, Longoria topped her frequent doubles partner Salas 11,3 to win her 7th title in the last 8 years.
Thanks for all the streaming on the weekend, especially from the players and from RKT.
Thanks to the Tourney Director Favio Soto for putting this event on!
Reminder to Players! Please like and follow this page so that when I tag you, you see it. Facebook will only retain tags of people that like/follow a page, which means lots of you are not getting the notoriety of getting tagged and noticed on FB. If your name is here and it isn't tagged … it probably means I attempted to tag you but FB stripped it.
Next up?
LPRT's Team Root; Follow LPRT and tuen into their 6/15/21 bracket release show on facebook live!
tags
International Racquetball Tour
LPRT
International Racquetball Federation – IRF
@Pan American Racquetball Confederation – PARC
@Federación Mexicana de Raquetbol
RKT
Hashtags #racquetball #proracquetball #outdoorracquetball #irt #lprt #wor