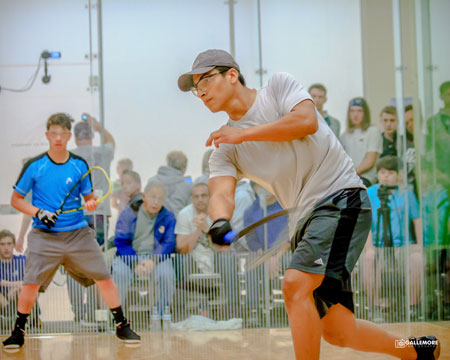 This week and coming weekend features the Federación Mexicana de Raquetbol (FMR)'s Campeonato Nacional (National Championships), being played in Monterrey, Nuevo Leon, Mexico.
This tournament was one of the few to get in before Covid shut down the sport in 2020; it is normally competed in February, and is one of my favorite tournaments to cover, usually filled with amazing upsets and names not well known to the global rball fanbase making big runs (though, more and more these players are becoming household names).
This year will be a bit different for FMR Nationals: they have comparable draw sizes in both the Men's and Women's draws to last year, but the men's draw in particular is missing a TON of big-time names this year. The two finalists from last year are not present ( Alvaro Beltran and Daniel De La Rosa ). Also missing are top names like Alan Natera Chavez and @Gerardo Gerardo Franco Gonzalez and Alex Cardona. No @Eduardo Eduardo Garay Rodriguez, who is I hear is returning to the Mexican fold. No Javier Estrada to make a deep run. No Eduardo Ochoa or Jaime Martell Neri to get big time wins. Lastly, no Alejandro Landa, who is entered into USA's nationals in a month's time after leaving the Mexican federation over some rather short-sighted decisions related to the Pan Am Games roster selection.
So that's too bad …. but it also illustrates just how deep the Mexican player pool is, because the top 8-10 players who are here are solid.
R2 Sports App link:https://www.r2sports.com/tourney/home.asp?TID=36616
Lets preview the Men's Open draw first:
The 32s kick off the event on Tuesday; there shouldn't be too many surprises in the 32s, and most of the top seeds are getting byes. However, some of the below predictions may already be obsolete if we see round of 32 upsets played before you read this…
Matches to look for in the round of 16:
I like 8/9s and I like Daniel Diaz to take out #8 Erick Cuevas in a slight upset. Diaz has been playing a ton of Texas tourneys and should have the chops to take out Cuevas.
#4 Christian Longoria may have his hands full with an under-seeded #20 Jordy Alonso, who I expect to advance here. Alonso beat Lalo Portillo in a local tournament in April, a pretty significant win, and i predict him to build on that victory here.
– #2 Javier Mar versus #15 Jose Ramos, recently graduated out of the juniors. Ramos made the semis of 2019 World Junior 18U, losing a heartbreaker 11-10 to close out his junior career; now he's gotta compete with the pros.
Projected Qtrs: here's where the rubber meets the road.
#1 Sebastian Fernandez, who gets the #1 seed by virtue of being the highest finisher actually present from the Feb 2020 event, projects to face #9 Diaz. Patata has stepped back from racquetball a bit, but still is a major player and should advance here.
#5 @Rodrigo Rodrigo Montoya Solis vs #20 Alonso: how is reigning World champ and reigning Pan Am games champ only seeded 5th? Well, he got beat early last year (by Portillo) and they re-seed every year based on last year's finish. Agree or disagree, it always lends itself to some fun early matchups. Montoya moves on here.
#3 Lalo Portillo projecting against #6 Erick Trujillo; Portillo has been on a big-time roll lately, kickstarted at this event last year with his run to the semis. He moves on here.
#7 Andree Parrilla vs #2 Mar; two of the best seven or eight players in the world right now face off way too early in the quarters here. These two have generally split their matchups, but Mar took their most recent pro meeting at the 2020 Lewis Drug pro-am. I like Mar here.
Semis:
I think #5 Montoya takes out Patata here; just too much firepower for Fernandez to handle.
#3 Portillo over #2 Mar: this is an upset by seeding, and an upset by my personal rankings, but Portillo is trending well right now. He just finished off an event where he topped multiple touring pros to win the IRT Tier 5 in Severna Park, and the last time these two played in a top-level event was in 2017. Lots has changed since. Lalo to move on.
Finals;
– i'm going with Lalo over Montoya (just as he beat Rodrigo in last year's Mexican Nationals) to climb to the top of Mexican racquetball. Mar beats Fernandez for 3rd.
Women's Open preview:
15 women entered, headlined by the top 6-7 Mexican touring pros and then a slew of younger players. Most of the expected names are present, but we are missing a couple of names that usually shake the draw up ( Lucia Gonzalez in particular, but also Ana Laura Flores, Erin Nocamroves Rivera, etc.
Round of 16 matches to watch for: I see no jeopardy of any upsets in the opening round, with maybe the 8/9 being a toss-up.
Projected Quarters:
#1 Paola Longoria vs the winner of Rico/Ortega: should be quick work for the GOAT.
#4 Montse Mejia should make quick work of #5 Susy Acosta, who continues to compete at a high level after more than 20 years of playing professionally.
#6 Alexandra Herrera should start to get her Mexican rankings back in line with where her pro rankings are by taking out #3 Samantha Salas Solis
#2 Jessica Parrilla has a suddenly harder-than-it-looks match against #7 Nancy Enriquez. I think Enriquez looked awesome at the last LPRT tournament and is favored to beat Parrilla.
Semis:
Longoria over Mejia: once again, seedings betray the two best players in Mexico and force them to play one or two rounds early. This should be the final, and was the final a couple years ago when Mejia stunned Longoria to take the 2019 Mexican title. But that's the only time Montse has really threatened Paola, who should win and advance here.
Herrera over Enriquez: there's a reason Alexandra has moved to #2 on tour, and its because she's been getting wins in situations like this; tough wins against fellow top players over and again. She's been consistently in the semis or finals on tour, and will be here as well.
Finals: Longoria over Herrera.
There's only singles this weekend; Mexican doubles either doesn't happen this year (with a FMR-named team) or is yet to be announced. The Juniors are playing … but as far as I know this is NOT junior nationals for Mexico 2021.
Streaming: i'm sure we'll have personal streaming; follow FMR, RKT and the players all week and weekend.
Reminder to Players! Please like and follow this page so that when I tag you, you see it. Facebook will only retain tags of people that like/follow a page, which means lots of you are not getting the notoriety of getting tagged and noticed on FB. If your name is here and it isn't tagged … it probably means I attempted to tag you but FB stripped it.
Tags
International Racquetball Tour
LPRT
International Racquetball Federation – IRF
Pan American Racquetball Confederation – PARC
@Federación Mexicana de Raquetbol
RKT
Hashtags #racquetball #proracquetball #outdoorracquetball #irt #lprt #wor