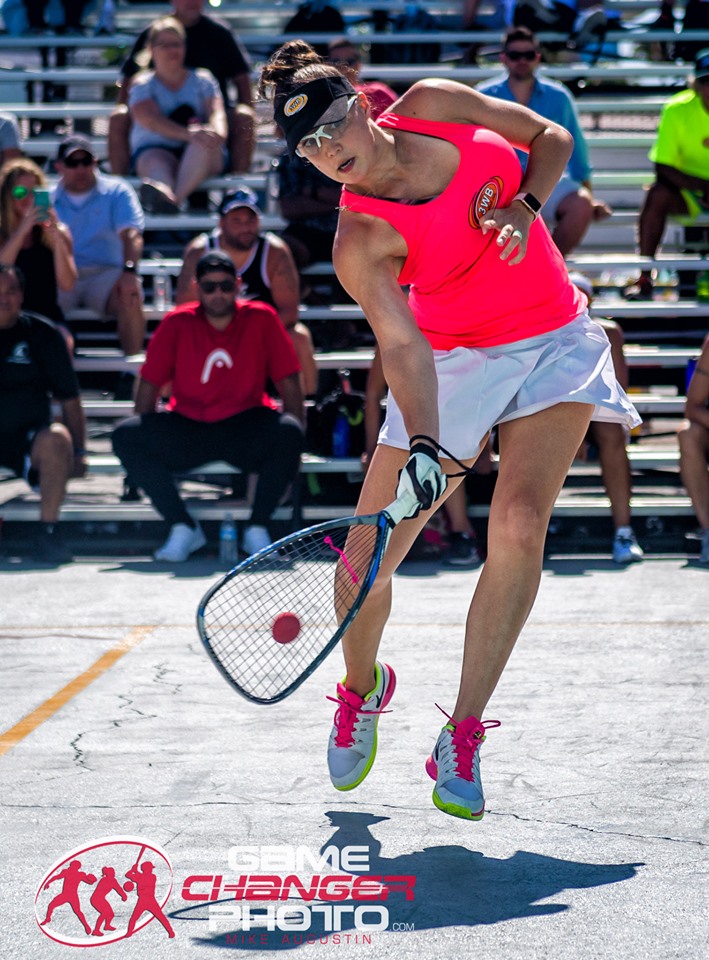 Congratulations to the Pro Champions on the weekend:
Men's Pro Doubles: Jason Geis & Micah Rich
Women's Pro Doubles: Michelle De La Rosa & Carla Munoz
Mixed Pro Doubles: Daniel De La Rosa & Michelle De La Rosa
Men's Pro Singles: Jose Diaz
Women's Pro Singles: Carla Munoz
To review the brackets and results, see here: https://www.r2sports.com/website/event-website.asp?TID=31967
---
Men's Pro Doubles Recap
PRS Match report: http://rball.pro/6F519E

In the 16s, just one upset by seed, with the #10 team of Hall of Famer Freddy Ramirez & former IRT touring pro Nick Riffel taking out the #7 team of tourney director Geoff Osberg playing with 2018 Men's singles pro champ Luis Avila in a tiebreaker.
In the quarters, a star-studded affair ended up going pure chalk, with all four top seeds advancing.
#1 seeds Daniel De La Rosa and Alvaro Beltran got their title defense started with a closer-than-they-probably-wanted win over the tough team of former IRT touring pro and doubles specialist Jose Diaz playing with HB native Patrick Allin. The top seeds advance 13,14.
#4 dark-horse team of Jason Newberg Geis and Micah Rich, who won the February Valentines Day shootout over a number of teams at this event, advanced with ease over #5 Rick Koll and Emmett Coe.
#3 Josh Tucker and HoFamer Greg Solis were stretched to a breaker but moved past #6 team of NYC one-wall specialists Robert Sostre and Benny Goldenberg.
#2 Rocky Carson and tourney co-director Jesus Ustarroz, themselves 3-time prior champs of this event, advanced with ease over the Ramirez/Riffel team.
In the semis, two big upsets.
#4 Geis and Rich took out the defending champs DLR & Beltran with a great win. The #1 seeds fought off multiple game points to take game one 15-14, then Rich and Geis cruised to a game 2 win to push it to breaker. There, the Lefty/Righty team pulled away at the death and DLR/Beltran just could not get enough shots to go down to force the issue. Geis/Rich take the breaker 11-8.
#3 Tucker and Solis played nearly a "perfect Match," going the absolute distance with two-time champions #2 Carson & Ustarroz. Final score: 13,(14),10.
In the finals … veteran outdoor players Tucker/Solis took the first game, but Rich and Geis did not panic, dominating the second game to force the breaker. There, they continued to play smart outdoor racquetball and went on a run at the end to take the breaker 11-5 and take the title. Rich gets his first major outdoor title, while Geis returns to the podium at a major for the first time in a decade (he and Alvaro won the 2010 3WallBall pro doubles title).
Kudos to Rich and Geis, who may not be household names to the larger indoor community but who dominated a star-studded field this weekend.
---
Women's Pro Doubles Recap
PRS Match report: http://rball.pro/39F9C4
The defending champs and #1 seeds Michelle De La Rosa and @Carla Carla Muñoz Montesinos cruised through a 5-team RR draw that featured a slew of draws as the other four teams battled it out for 2nd place. In the end Erica Williams and Katie Neils captured 2nd place on total overall points.
---
Mixed Pro Doubles Recap
PRS Match report: http://rball.pro/23766C
The top two mixed pro teams, who also met for the title in 2019, each cruised through the 5-team RR draw unscathed for their inevitable Sunday morning meeting for the title. There, the husband-wife defending champ #1 seeds Daniel De La Rosa and Michelle De La Rosa squared off against Robert Sostre and Carla Munoz.
In the final, the DLRs defended their title with a close 7,12 win over Sostre and Munoz.
---
Men's Pro Singles Recap
PRS Match report: http://rball.pro/CF8A2A
The Pro Singles featured 8 brave souls attempting to play singles on the cavernous Huntington Beach courts. The top 4 seeds advanced into the semis. There, Jose Diaz upset #1 seed hall of famer Greg Solis, thwarting his quest for an elusive singles crown, while 2018 singles champ Avila downed the left "Sweet" Lou Orosco in the other.
In the final…Jose Diaz added his name to the board of legends who have won Outdoor Nationals pro singles, topping Avila 12,11 for the crown.
---
Women's Pro Singles Recap
PRS Match report: http://rball.pro/F96427
LPRT touring pro Munoz cruised through the 5-player RR draw to capture the 2021 Women's singles Outdoor National championship. Arizonian Katie Neils came the closest to taking out Munoz, stretching her to 14 in one game and finishing in 2nd place in the group.
---
Other Notable Draws:
Men's 100/Centurion Doubles, the largest draw of the event, featured a ton of outdoor racquetball legends competing. In the final #2 outdoor legends Scott St. Clair & Tony Burg topped Rocky playing with @jerry Hall in an 11-10 bruiser.
Men's 75+ Doubles: De La Rosa, playing with HoFamer Mike Peters, cruised to the finals of 75+ doubles, where they got a walkover against #8 Thomas Gerhardt and Benny Goldenberg in the final.
CPRT 40+: Tucker & Solis avenged their loss in the pro doubles by taking the stacked 40+ draw, topping Carson & Ustarroz in the final.
Mixed Centurion Doubles featured the legends Greg & Martha McDonald competing in their 46th outdoor Nationals event; that's right; they were at the very first one in 1974 and have missed just one in their careers (missed in the early 1980s for the birth of one of their sons). However, they ended up coming in 2nd place in the mixed 100+ doubles, getting edged by Butch Fish playing with Laura Morin.
---
Congrats on a successful return to Huntington each to tournament directors Geoff Osberg & Jesus Ustarroz, who have been running the event for years together and did a fantastic job getting sponsors, promoting the event and running the tournament all weekend.
Thanks to all those who streamed on the weekend. Racquetball social media promoter JT R Ball first and foremost, for setting up early, getting great drone/aerial shots, and streaming/commentating all weekend. Thanks also to personal feeds from people like Erica Williams, Ranulfo Alvarez, Frank Biehl, Ruben Antilla, and many others.
Thanks to all 2021 Outdoor National sponsors, listed here https://www.r2sports.com/website/event-sponsors.asp….
A big thanks to the title sponsor Randy Root and his teamroot.com enterprise; Randy continues to be the biggest sponsor of the sport. Major thanks to presenting sponsor Pro Kennex and Mike Martinez, who continue to be a leading voice in the sport and in outdoor.
Thanks to the gold sponsors, including Melissa's restaurant, Gearbox (the official ball of the tournament), Coca-Cola, RH enterprises, 3WallBall, Splathead, Roundabout Entertainment, KWM Gutterman and Keith Minor. Thanks to all silver sponsors including Dale (Valentine) & Todd (Entrikin)'s WTF Racquetball series, Rogue Gallery, (Mark) Bloom Injury Law, the (Rocky) Carson Real Estate Team, and Ustarroz Construction. Thanks to all bronze sponsors including the IRT, the LPRT, the Comfort Inn and Suites, the Springhill Suites of Huntington Beach, Dogz Bar & Grill, Los Compadres Auto Sales (and thanks for all you guys do for the sport yourselves), RYDF, and Alberto's.
Thanks for all the sponsors and all you do; without you, we would not have racquetball events.
Reminder to Players! Please like and follow this page so that when I tag you, you see it. Facebook will only retain tags of people that like/follow a page, which means lots of you are not getting the notoriety of getting tagged and noticed on FB. If your name is here and it isn't tagged … it probably means I attempted to tag you but FB stripped it.
Next up?
Next week, in Des Moines Iowa is National Team Qualifying and Junior Nationals. The draws are up here and play starts on Wednesday.. https://www.r2sports.com/portfolio/r2-event.asp?TID=37673
tags/Sponsor links
@International Racquetball Tour
LPRT
WOR – World Outdoor Racquetball
USA Racquetball
Reaching Your Dream Foundation
Splathead Sportsgear
3Wall Ball
team root/Randy Root
KWM Gutterman Inc./Keith Minor
Hashtags #racquetball #proracquetball #outdoorracquetball #irt #lprt #wor