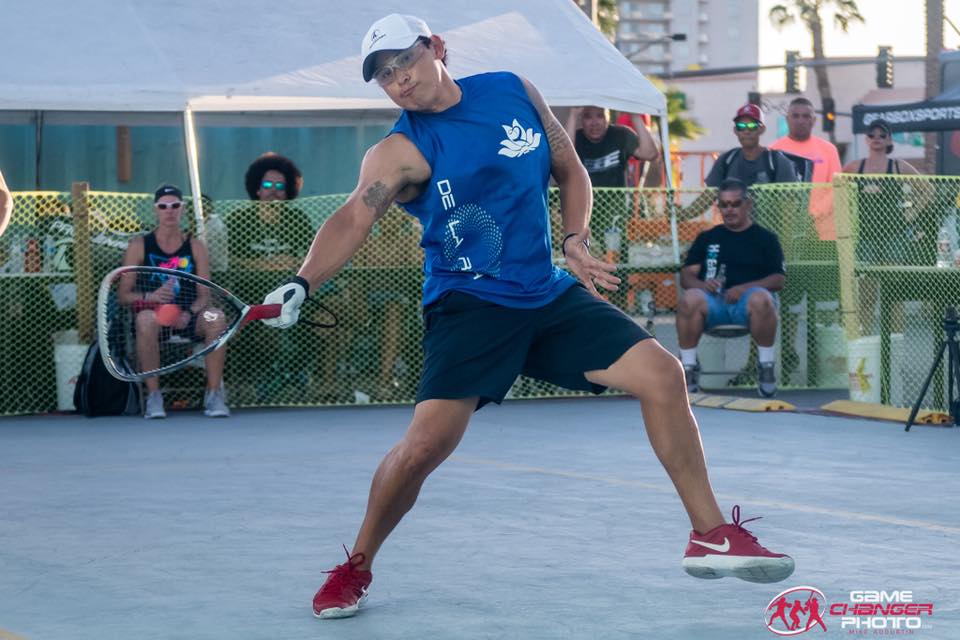 Welcome back Huntington Beach! After a year off thanks to Covid-19, outdoor National is back at Marina Park to host the 2021 Team Root Outdoor Nationals Racquetball Championships presented by Pro Kennex.

A solid draw of 140+ players is in Southern California to compete, and the draw includes a slew of the best outdoor players in the land.
R2 Sports App link: https://www.r2sports.com/website/event-website.asp?TID=31967
Lets do some quick draw previews.
In the Men's Pro Doubles… the big daddy draw, with Defending champs Alvaro Beltran and Daniel De La Rosa seeded 1st and favored to win again. But there's a ton of talented teams here.
In the opening round, i'm looking at close matches in the 5/12 match-up (Emmitt Coe/Rick Koll versus NorCal top pairing of Walter Ramos and Israel Torres) and in the 6/11 match-up (New York one-wall specialists Freddy Ramirez and Benny Goldenberg versus Thomas Gerhardt and Daniel Lavely), but otherwise expect chalk.

In the quarters, I'm projecting a couple of really solid matches but for the top four seeds to advance. I like the #4 Micah Rich/ Jason Newberg team to top the Coe/Koll team in a close one, and i do think #3 Greg Solis and Josh Tucker will outlast the challenge from Ramirez/Goldenberg.

In the semis, i'm predicting Beltran/DLR to outlast Rich/Geis, while i'm predicting an upset in the bottom-half, with Solis/Tucker taking out #2 seeds Rocky Carson and Jesus Ustarroz.
In the final: Beltran/DLR defend their title over fellow so-cal outdoor top players Solis/Tucker.
In the Women's Pro Doubles … Michelle De La Rosa and Carla Muñoz Montesinos are the #1 seeds and defending champs, and should defend their title on the weekend. there are 5 teams entered, and they'll play round robin matchups all weekend to determine the winner. Their toughest competition will come from #2 seeds Amie LeBrun Brewer and Jessica Chen, two traveling players from Washington (DC) and Washington (State) respectively.
In the Mixed Pro Doubles, defending champs/husband wife De La Rosa team will face off against last year's finalists once again in the Munoz/ Robert Sostre team, but a 5-team round-robin competition that features some NorCal flavor in Erica Williams, Walter Ramos, Israel Torres and Jazmin Trevino will spice the mixed draw up all weekend.
In the Men's Singles … the search continues for the successor to the domination of Brian Hawkes and Rocky Carson on the big Huntington Beach courts. Four different players have won the last four Men's pro singles title, and this year i'm predicting a 5th straight winner.
8 players are entered, and I think we get chalk to the semis. There, former IRT touring pro Jose Diaz will give Hall of Famer Greg Solis a run for his money, but I think Solis advances. On the bottom, #2 seed and 2018 singles champ Luis Avila projects to face "Sweet" Lou Orosco for a spot in the final.
I'm predicting Solis, who has never won a singles title, will finally add this title to his resume and take the Men's pro singles title.
In the Women's pro singles, after not having a top-level singles draw for several years there are 5 women entered into the Pro/Open singles draw. They are headlined by LPRT touring pro and heavy favorite here Carla Munoz, who will play RR competition against several competitors for the title. I'm predicting Munoz finishes the weekend unvanquished and adds an Outdoor Singles title to her collection of trophies.
Other Notable draws: the biggest draw on the weekend is the Men's Centurion (100+) division, with 19 teams competing. A slew of hall of famers and former touring pros are entered into this event, and it should be fun. Look for HoFer Mike Peters to make some noise, get a chance to watch former IRT touring pro Todd O'Neil, and especially watch for the McDonald crew (@greg mcdonald and his son Jack), who are here (along with Martha McDonald) to support the tournament from Florida as they've done nearly every year since 1974.
Look for Streaming this weekend from JT R Ball and in the various outdoor racquetball groups. If you're not a member, consider following pages/groups like the main WOR page or groups like Underground Racquetball, which covers SoCal outdoor.
Thanks to the Tourney Directors Geoff Osberg and Jesus Ustarroz for putting this event on! This is the culmination of months of hard work for Geoff and Jay and I wanted to commend them for making the return to HB a success.
Reminder to Players! Please like and follow this page so that when I tag you, you see it. Facebook will only retain tags of people that like/follow a page, which means lots of you are not getting the notoriety of getting tagged and noticed on FB. If your name is here and it isn't tagged … it probably means I attempted to tag you but FB stripped it.
Tags/Sponsor links
@international racquetball tour
LPRT
WOR – World Outdoor Racquetball
USA Racquetball
3WallBall Outdoor World Championships
@Reaching Your Dream Foundation
Splathead Sportsgear
Randy Root
KWM Gutterman Inc.
Keith Minor
Hashtags #racquetball #proracquetball #outdoorracquetball #irt #lprt #wor