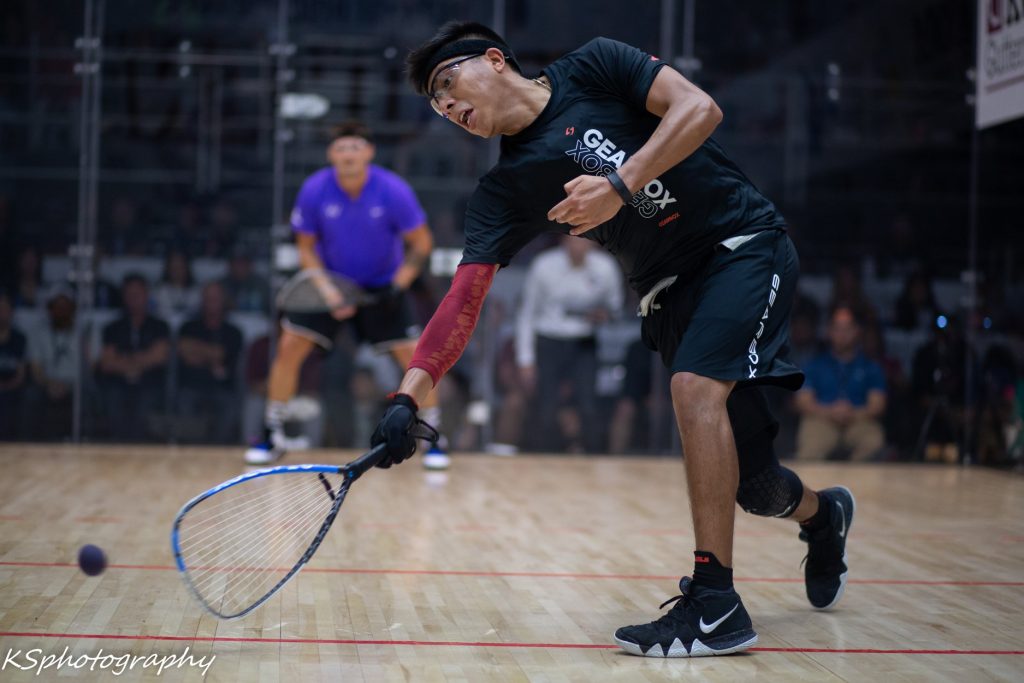 Hello all. We are back, and this week coming up we have a massive tournament that has been months in the making in the World Singles & Doubles championships in Denver. More than 300 players are here, and the tournament includes an absolutely massive Men's IRT draw, and equally huge women's LPRT pro singles draw, plus the namesake Doubles events that have quickly made this one of the biggest events on the annual racquetball calendar.
Tournament Director and primary sponsor Jim Hiser first put on this event in May of 2018. After a year hiatus, Covid forced the cancellation of the 2020 iteration and months of delays in the 2021 event. But we're here now, and fans are going to be better for it.
Today we will preview the Men's and Women's Pro singles draws, with Doubles previews coming later this week.
R2 Sports App link: https://www.r2sports.com/tourney/home.asp?TID=30515
First, lets preview the Men's IRT Pro Singles draw.
There are no less than 53 players competing in this draw, the largest non US Open draw we've seen in more than a decade on the Men's tour. 18 of the top 20 players are present, with #20 Gerardo Franco Gonzalez missing (he is rumored to be stepping away from the sport). The other glaring omission here is #1 Kane Waselenchuk, who also missed the Atlanta pro event earlier this year. His absence here will cause additional speculation as to his future in the sport; he continues to play and do clinics with Sudsy Monchik but has not played competitively in an IRT event since March of 2020. But the writing seems to be on the wall; we'll have to see what happens when the US Open rolls around.
Lets preview the draw. Because of the size of the draw, there are several rounds of qualifying to get into the main round of 32. We even have a handful of round of 256 matches, mostly between players making their IRT debuts.
We'll start in the round of 128: Here's some interesting 128 matches to look for:
#25 Andres Acuña is the highest seeded player to miss out on a bye into the main draw and gets two extra matches for his troubles; he starts out with an international-flavored match between the winner of Ecuador's Juan Francisco Cueva and Bolivia's Hector Barrios.
Former Mexican National team member Abraham Peña faces off against Scott McClellan, a tough opener for the IRT's primary referee and one that could end his tournament quite early.
#27 Carlos Keller Vargas, fresh off a double-qualifying Bolivian Nationals tournament, seems set to face Bolivian Junior Adrian Jaldin in his opener. Fly all the way to the USA, play the guy from down the street.
#30 Alan Natera Chavez faces a very tricky opener against Texan Ruben Baez, who beat Jake Bredenbeck and nearly topped Bobby Horn in the PAC shootout in Mar 2019. Upset watch here.
#34 MoMo Zelada faces a really tough opener in Guatemala's #1 Javier Martinez.
In the round of 64, some great potential matches:
Acuna versus Colombia's Andres Gomez could be full of fireworks. Gomez is no slouch and Acuna is going to have to work to get into the main draw.
Kadim Carrasco projects to face off against Pena, and I think Pena can advance into the main draw. Fatigue may work against the veteran Mexican, but he's a workout-fiend and should have the fitness to advance.
Vargas potentially faces off against former IRT touring pro Nick Riffel in an interesting tactical battle.
An interesting all South American battle between Zelada and long-time Colombian national team member Set Cubillos Ruiz could be in play depending on earlier rounds.
Interestingly, I think by and large the 128s are all tougher for these players than their projected 64s to get into the main draw.
Projecting the 32s: here's some possible matchups, though the depth of this draw could make for some upsets and make these predictions moot:
#17 Acuna vs #16 Adam Manilla; an interesting one; Manilla had some breakthrough wins just before the tours had to stop, but so did Acuna. I favor Acuna in my world talent rankings, and i'll take him here in the upset.
#9 Jake Bredenbeck projects to face qualifier Pena in the 32s. Both players hit with a ton of pace, but I don't believe Pena's acrobatics will take him past the stronger and younger Jake here.
#13 Javier Mar, who always seems to run into tough players during qualifying, projects to take on fellow Mexican qualifier Javier Estrada at this juncture if results hold. And this spells bad news for Mar, because Estrada has beaten him multiple times in the past couple of years. Estrada doesn't always travel well, but has wins over Mar on home soil plus in two RKT events in the latter part of 2019. I think Estrada wins again here.
#14 Thomas Carter projects to face off against Bolivian #2 Vargas at this juncture, and I think Vargas moves past the veteran lefty.
#11 Mario Mercado projects to face Natera coming out of the qualifiers, a potential barn burner of a match. Mercado has topped Natera twice in top-level meetings in the past, but I have Natera ranked higher personally. Natera can be hit or miss, with great wins and curious losses … but the same can be said for Mario. I'll go with the seeded player here.
#10 Sebastian Franco set to face qualifier Zelada here … two players who are quite familiar with each other from years of both living near each other in the Baltimore suburbs. Franco is the better player and will be fresher and will move on.
#15 Eduardo Garay Rodriguez set to take on #18 Sebastian Fernandez, a potentially awesome match to watch. Fernandez has been stuck right in this 16-18 range for quite a while, and tournament after tournament it seems to bite him with tough match-ups. This time is no different, with Garay coming in hot. A contrast in styles here; Patata plays casual and tactical, while Garay plays balls-out 110% power. Look for Garay to move on here.
Round of 16: I project plenty of upsets in the play-in, so here's my projected 16s.
#1 Alejandro Landa over #17 Acuna: While Acuna topped Landa at PARC a couple years back (a result that led to Landa's removal from the Pan Am games team and his subsequent defection to the USA…) Landa dominates Acuna when "it counts" on tour. Landa moves on quickly here.
#8 Lalo Portillo over #9 Bredenbeck: Lalo has beaten Jake a couple times in the past relatively easily, and should again here.
#5 Andree Parrilla vs #12 Montoya: these two have played so many times in the past (they're the exact same age and traded off Mexican Junior National and World titles for years). Montoya has had the slight upper hand lately at the Mexican Adult and Pro level, including a win over Andree in the Mexican Nationals final earlier this summer. Advantage Rodrigo.
#4 Daniel De La Rosa vs Estrada. DLR probably would rather face Estrada versus Mar, but Estrada's amazing 2019 Black Gold cup win included a h2h win over Daniel. So the history is there, but DLR has turned around his pro career lately and should advance here.
#3 Samuel Murray, the champion of the most recent IRT event, should not be troubled by Keller and should move on.
#6 Alvaro Beltran projects to face Mercado, a player who he's faced a number of times both internationally and professionally and should have no trouble advancing past here.
#7 Conrrado Moscoso, fresh off another Bolivian national title, set to face #10 Franco. Power versus … more power, and Moscoso should move on here.
#2 Rocky Carson, fresh off his 8th US national title, set to face the hard hitting Garay. This is not the match-up Carson would have wanted here; the last time these two played it was an 11-7 gutted out win for Carson, and that was in Mar 2020. Carson is a year older, Garay is a year more experienced. Upset watch here.
Projected Qtrs:
Landa over Portillo: Lalo has been playing well, but not well enough to top landa.
DLR over Montoya: this could be fantastic match. DLR has two successive pro wins over Rodrigo, but Montoya has some dominant wins over DLR in the past as well. Any given sunday, but for me DLR on the day.
Beltran over Murray: yes Murray won the last event and is the #3 seed, but Beltran has never lost to Murray professionally, and most of his wins have been lopsided. Plus, I always pick against Alvaro and its time he gets his due.
Moscoso over Carson. Moscoso has played a grand total of 10 IRT tournaments in his life .. and in three of those, he's taken out Rocky. Well, he'll make it 4-4 here, as he'll be on a mission in a Kane-less field to win the title.
Semis:
Landa over DLR: Landa has DLR's number lately, beating him the last 7 times they've played in top level matches that I track. But these matches are often close. There's little between these guys, but without Kane in the field Landa will be looking to pad his title count.
Moscoso over Beltran: Conrrado has topped Alvaro both times they've met professionally, but Alvaro the crafty veteran can hang with the hard-hitting Bolivian and make him earn it.

Finals; Moscoso over Landa: they met in the Bolivian Grand Slam and a streaky Moscoso blanked Landa in the breaker for the win. I think that Conrrado, day in and day out, is the 2nd best talent on the planet and is always a favorite against anyone not named Kane, and i'll take him here.
---
LPRT Pro Singles Review

As with the Men, there's a robust draw of 34 ladies pros this weekend, right in line with the last handful of major events.
Thanks to her duties covering the Olympics for a sport channel in her home country, #1 Paola Longoria is not in Denver. This means a first-even #1 seed for Alexandra Herrera. Other top 20 pros missing include #15 Kelani Lawrence and #16 Adriana Riveros for a pretty solid 17 of top 20 present.
No qualifying here; a straight draw from the 64s onward. Here's some early round matches to look for:
In the 64s…
top Ecuadorian vet Maria Paz Munoz is here (at least, I think that's who is here), playing in the round of 64 because of having zero points. Its unfortunate she plays into the #1 seed Herrera, because she could have done some damage with the right seeding.
Also, welcome back to Ladies pro racquetball Aisling Hickey, who has represented Ireland on the international stage previously.
#16/#17 features two top Americans pitted against each other early in Sheryl Lotts and Hollie Scott. Look for Scott to move on.
#13 Amaya Cris takes on #20 Susy Acosta in an interesting battle between long-time LPRT touring veterans.
#19 Micaela Meneses Cuellar, fresh off her double qualification weekend at the Bolivian Nationals, faces #14 Maria Renee Rodríguez in a really tough opener for both. Meneses can win this match, thought MRR has been steadily improving.
#22 Lucia Gonzalez matches up with #11 Nancy Enriquez in a brutal first rounder for both. The last time they met, Gonzalez blasted Enriquez in the 2020 Mexican Nationals. But Enriquez has been playing very strongly since. I have Lucia as one of the top 7-8 players in the world … but she keeps running into top players early in pro draws; can she get a couple of signature wins here?
– #15 Brenda Laime Jalil taking on #18 Masiel Rivera Oporto; two players who play frequently and who match up pretty well meet, fittingly, in the 15/18 matchup. I have Rivera slightly ahead of Laime in my personal rankings, but to me this is a tossup.
Some great projected round of 16s here:
#1 Herrera should move past #17 Scott, but it might be close.
#8 Valeria Centellas should top veteran #9 Rhonda Rajsich, who is in danger of dropping out of the top 10 for the first time in 20 years.
#5 Natalia Mendez Erlwein should top #12 Carla Muñoz Montesinos; they've met 5 times previously in top-level events and Mendez is 5-0 over the Chilean.
#4 Samantha Salas Solis should dominate whoever comes out of the Amaya/Acosta match.
#3 Maria Jose Vargas Parada should move past the Bolivian junior Meneses, still playing 18U despite finishing runner-up at their Nationals.
#6 Jessica Parrilla ended Gonzalez' 2020 Mexican Nationals run, and will do so again here. I think Parrilla has a bit too much power and game flexibility for Lucia to handle.
#10 Ana Gabriela Martínez over #7 Angelica Barrios – Raquetbolista; an upset by seed, but probably not by talent. last time these two met was at Junior worlds in 2017, a win for Martinez in the RR stage. It is good to see two young players making such inroads to the sport and these two project to be at the top of the sport for years.
#2 Montse Mejia should cruise past the winner of the Laime/Rivera match.
Quarters:
I think #8 Centellas can take out #1 Herrera. They've never met in a top level event, but i've got Valeria slightly ahead of Alexandra in my personal rankings. We'll see; this is a great test for Herrera, who has managed to avoid frequent match-ups with the young starlets on tour such as Barrios, Centellas and Mejia.
#4 Salas just topped #5 Mendez in Kansas City and will do so again.
#3 Vargas versus #6 Parrilla; tough one. On paper normally this is Vargas all the way, but she's still working back from time-off for childbirth. I think Parrilla can take this one.
#2 Mejia versus #10 Gaby; for me, the top two players in the world not named Paola, meeting in the quarters. That being said, Mejia has dominated their recent meetings and hasn't lost to Gaby since 2016 16U worlds. They met in KC a few months back and Mejia dominated in winning 8.6. Mejia tops again.
Semis:
#8 Centellas over #4 Salas; they've only met once, a Salas win a few years back, but that was before Salas hit her rough patch of form. Centellas has ascended since and is in a prime spot to make the final.
#2 Mejia over Parrilla; the two Mexican rivals have met several times in the past, with Leoni winning all of them, including a big upset at the 2020 Mexican Nationals, but that was before Mejia found her current gear. She topped four of the world's best in order in straight games to win in KC, and she won't be stopped here.
Finals: a rematch of the KC round of 16 that Mejia won handily 9,8 happens in the final, and Mejia takes her second straight LPRT title.
---
Who is Streaming this weekend? The IRT crew Dean DeAngelo Baer and Pablo Fajre are heading to Denver to stream this weekend, so stay tuned to the IRT feed for all your streaming options.

Reminder to Players! Please like and follow this page so that when I tag you, you see it. Facebook will only retain tags of people that like/follow a page, which means lots of you are not getting the notoriety of getting tagged and noticed on FB. If your name is here and it isn't tagged … it probably means I attempted to tag you but FB stripped it.
Tags/Sponsor links
@International Racquetball Tour
LPRT
USA Racquetball
Racquetball Canada
@Federación Mexicana de Raquetbol
@Federación Boliviana De Raquetbol – Febora
@Federación Boliviana de Racquetball
Racquetball Colombia
Federacion Colombiana de Racquetball
Federación Costarricense de Racquetball
Asociación Argentina de Racquetball
Federación Chilena Racquetball
Racquetball Rancagua, Chile
@ASOCIACION DE RAQUETBOL DE GUATEMALA
Ferac Racquet
@Federación Ecuatoriana de Racquetball – FERAC
@Reaching Your Dream Foundation
Formulaflow
Hashtags #racquetball #proracquetball #outdoorracquetball #irt #lprt #wor