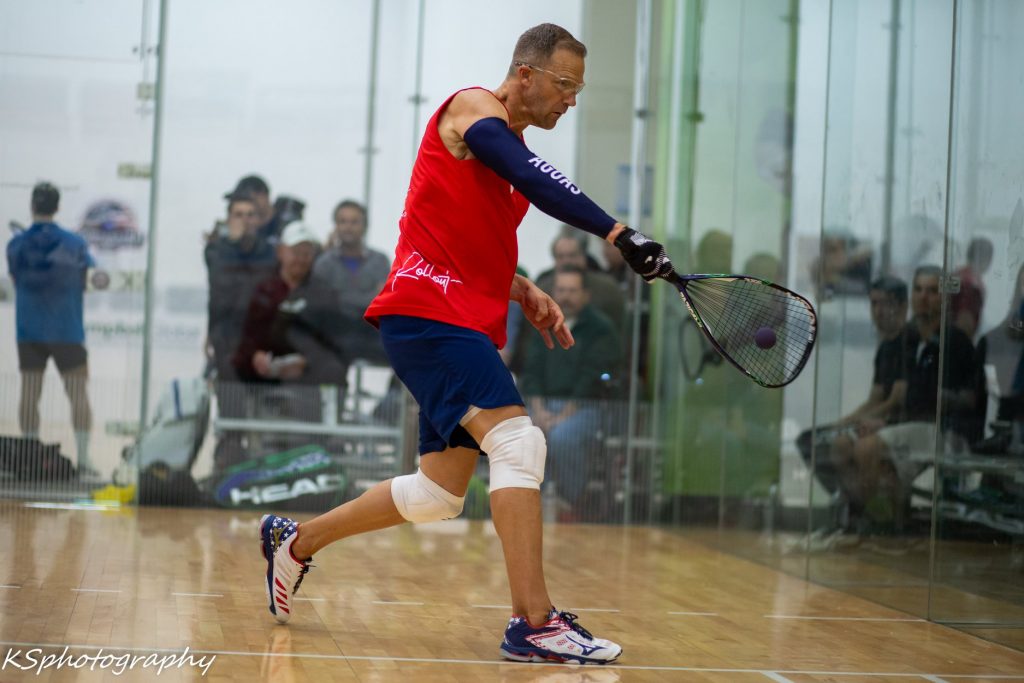 Congrats to your winners and US National team qualifiers on the weekend:
Men's Singles: Rocky Carson over Alex Landa
Women's Singles: Erika Manilla over Rhonda Rajsich
Men's Doubles; Rocky Carson/Charlie Pratt
Women's Doubles: Holly Scott/Kelani Lawrence
Mixed Doubles: Alex Landa/Michelle De La Rosa

These players qualify to represent the USA at the upcoming 2022 World Games in August in San Luis Potosi, Mexico, and at the 2023 Pan American Racquetball Championships (PARC) to be held in April 2023 at a site yet to be announced. (Note: the 2022 World Games participants were determined from the finishes of last year's Worlds).
R2 Sports App home page for event: https://www.r2sports.com/tourney/home.asp?TID=38797
Lets review the draws and give out the direct links into the database for the full draws of results.
Men's Singles Recap:
PRS Match Report: http://rball.pro/F7A26D
Seeds held to the quarters (though #6 seed Thomas Carter was a no-show), with only one close match in the 16s, that being #7 Sam Bredenbeck going the distance to take out #10 Danny Lavely in five.
In the quarters, no real surprises as the top 3 seeds advanced. #5 Manilla got a mid-game injury retirement after #4 Horn pulled something in his leg.
In the semis; chalk. Manilla kept it close but #1 Carson won in three, while #2 Landa dominated #3 Bredenbeck to return to the US National team.
In the final, Carson secured his 9th ever US National title, most ever for American Men, by topping Landa in 4. Click here http://rball.pro/455001 for a list of all National title winners across all countries.
Women's Singles:
PRS Match Report: http://rball.pro/173522
7 of the top 8 seeds advanced to the quarters without dropping a game; the sole upset by seed was #10 @Shane Diaz, who took out #7 seed @Graci Wargo in three.
In the quarters, chalk, as only one top four seed was extended by a game. Up and coming junior @Annie Roberts took a game off of Manilla, otherwise the top US women cruised into the semis as expected.
In the semis, Manilla was taken to 4 games but advanced past Scott, who continues to look for her first US title. On the bottom side, a big upset as #2 Lawrence (who had made the final of the last three nationals) was taken out by #3 Rajsich. These two had met as recently as the last LPRT stop, where Kelani dominated Rhonda, but the tables were turned today.
In the final, Manilla finished her official ascension to the top of US racquetball with her first National title, a dominant 7,8,1 win over Rhonda.
See here http://rball.pro/8C6DC2 for a list of all US national titles.
Rajsich made her 13th national singles final, and guaranteed making the team yet again.
Men's Doubles:
PRS Match Report: http://rball.pro/92C865
The top 4 seeds advanced to the semis without dropping a game.
In the semis….chalk, but not without some excitement. #1 Carson/Pratt advanced in four over Manilla/Horn at the top, while #2 Bredenbecks' staved off three match points in games 4 and 5 to shock the 2020 National titlists and tournament favorites Landa/Monchik 13-11 in the fifth.
In the final, the veterans dropped the first game but took the next three to repeat as champions, take their 3rd title together, and for Rocky secure his 13th US doubles title.
Click here for a list of all USA Men's Doubles champs, dating to 1968: http://rball.pro/589110
Women's Doubles:
PRS Match Report: http://rball.pro/B31897
Seeded teams 1,2,3, and 5 advanced into the semis; the sole upset in the opening round was #5 @Lexi York/@Michelle De la Rosa taking out the #4 seeded U21 team of @Annie Roberts/@Alondra Canchola in four games.
In the semis, the #3 seeds scored a mini upset when the 2020 champions @Aimee roehler and @Erika Manilla upset the #2 seeds @Rhonda Rajsich/@Sheryl Lotts. The #1 seeded team of Scott/Lawrence, who eneted the event ranked #1 and #2 in USA Women's doubles, dropped a game but advanced over York and De La Rosa.
In the final, #1 took out #3 in four games, giving Scott her first ever National doubles title.
Click here http://rball.pro/8F8065 for a list of all USA Women's Doubles champs dating to 1972.
Mixed Doubles:
PRS Match Report: http://rball.pro/04FD8B
Seeded teams 1,2 and 4 advanced to the semis with relative ease, but a big upset in the 3/6 quarter final, as my pre-tournament favorites #3 @Sudsy Monchik and @Kelani Lawrence were upset 11-9 in the fifth by #6 @Sam Bredenbeck and @Lexi York.
In the semis and finals, seeds held to form as #1 Landa/De La Rosa took out the Manilla siblings to claim the first ever Mixed doubles USA crown.
Thanks for all the streaming on the weekend, especially from broadcasters @Tony Prater and newly elected USAR Board President @Stuart Soloman , plus Team Dovetail's @Kyle Artzman, who streamed the secondary court for us at home all weekend, plus a shoutout to everyone else who broadcast live off their phones.
Thanks to the Tourney Director and USAR National events coordinator Connor Shane for putting this event on!
Reminder to Players! Please like and follow this page so that when I tag you, you see it. Facebook will only retain tags of people that like/follow a page, which means lots of you are not getting the notoriety of getting tagged and noticed on Facebook. If your name is here and it isn't tagged … it probably means I attempted to tag you but Facebook stripped it.
Next up?
Per our handy master racquetball calendar …
https://docs.google.com/…/1V6OTid6rZ356voXVkoV2sN7KMMb…/
Next weekend is the big Capital City WOR championships in Stratton Woods outside of DC, and then the week after is the big Supermax LPRT Grand Slam in Kansas City, the final event of the 2021-22 LPRT season.
We'll recap Canadian Nationals tomorrow!
tags