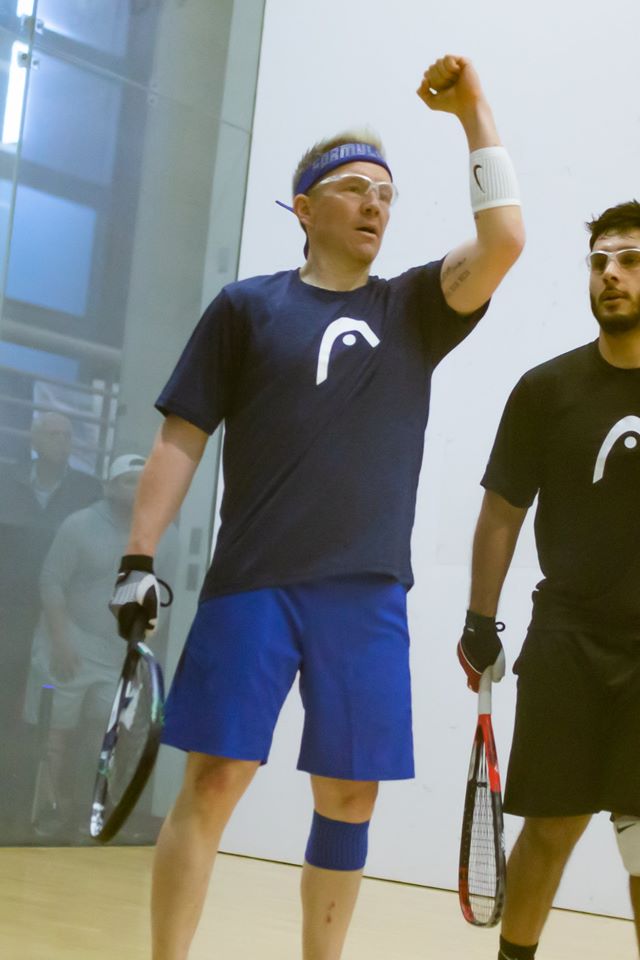 Welcome to the 53rd Annual USA Racquetball National Singles championships!
2019 was the 52nd, then Covid knocked this event out for the last two years. Prior to that, it had been held every year since the first one in 1968 in Milwaukee.
But we're back, and so are the players. 246 participants are entered in Texas, which is the highest National Singles turnout since 2016. That's great news and a nice sign that perhaps tournament players are ready to come back.
The qualifying team draws are stacked, and the event should be a ton of fun with the inclusion of Mixed doubles and the return of some big names.
Reminders:
the national team qualifiers will play IRF rally scoring rules, including the "immediately stop on appeal" rule, as much as we may not like them. 3 out of 5 games to 11, win by 2.
the rest of the tournament still plays classical USAR rules.
Seedings were done in singles purely by rank, while Men's/Women's doubles gives priority to last year's finalists if they have returned as a team. There's no "last year" for Mixed, so its seeded entirely by rankings.
R2 Sports App link: https://www.r2sports.com/tourney/home.asp?TID=38797
Lets preview the draws. I talked through the draws with @Sudsy Monchik on Monday 5/23/22 (see here for that link:
https://www.facebook.com/RacquetballGuy/videos/1451019748650331 )
So, I'll do some quick predictions here instead of re-hashing an hour long conversation.
Men's Singles
19 entered, headlined by last year's finalists #1 @Rocky Carson and #2 Alex Landa .
There's some intriguing round of 16 matches to watch for: look for close matches in the 8/9 Robbie Collins / Nick Riffel match, and in the 7/10 match between Sam Bredenbeck and Danny Lavely , an accomplished player who hasn't played US Nationals in more than a decade.
In the quarters, a potential 4/5 match between @Bobby Horn and @Adam Manilla looks really tough; the two are doubles partners here and are also business partners in their new online training/coaching venture. I think Manilla gets the upset.
Semis and Finals: I'm going chalk, with a repeat of last year's final between Carson and Landa. I can't quite see either Manilla or Horn topping Rocky, nor can I see @Jake Bredenbeck beating Landa. Rocky to repeat, since getting onto the team is seemingly more important than winning the title.
Women's Singles:
The US Women's game has four top competitors in Manilla, Scott, Lawrence, and Rajsich … then a gap to the rest of the field. While there's some compelling early rounders (Ros vs Roberts and Diaz vs Wargo in matches of rising juniors), the semis were always going to be the "big four" here.
Matchups matter: in the 1/4 Scott and Manilla will battle it out in a match that could go either way; the two have split their only two adult meetings, and despite Manilla's run into the LPRT top 10 she lost badly in the last pro event. Meanwhile in the 2/3 matchup Lawrence has the upper hand against long-time rival Rajsich. Rhonda beat Kelani in 8 of their first 9 meetings, but Kelani has won the last three, including an 0,9 beating at the SC pro stop a few weeks ago.
Look for Manilla vs Lawrence in the final and a first ever national title for Manilla.
Men's Doubles review
Last year's finalists (Carson/Pratt and the Bredenbeck brothers) are back as the #1 and #2 seeds, with 2020's champions (Monchik/Landa) pushed to #3. The Bredenbecks may be pushed a bit in the quarters against Diaz/Hansen; Diaz and Jake were long-time playing partners and know each other's game well, but the seeds should hold to the semis.
In one semi, Manilla/Horn have a great shot at upsetting Carson/Pratt; all four players are accomplished veterans, cerebral on the court. In the other semi, we should see a return to the final for Monchik/Landa.
Finals prediction; a repeat of the 2020 semis, with Monchik/Landa topping Carson/Pratt in a tight one.
Women's Doubles Preview:
This draw is all about who's coming in second, because the #1 seed are the top two female doubles players in the land right now in Scott & Lawrence, and they're going to win this draw.
The 2/3 semi to determine who makes the final will be intriguing, with Manilla and hall-of-famer Roehler (she the owner of 13 national doubles titles) taking on the veteran Rajsich and Lotts. I like Manilla/Roehler here to make the final, but not to realistically push Scott/Lawrence once t hey get there.
Mixed Doubles Preview
Perhaps the most fun draw to preview in a while, since there's almost no history of these players playing mixed doubles at a high level. We just do not know how the teams will gel, who is better at Mixed than their ranking may indicate, and who isn't.
The quarters will be interesting from the top down, with #1 Landa/De La Rosa getting challenged by Jake and Roehler and #2 Manilla Siblings projected to face veterans Diaz/Rajsich. While we could see some breakers here, i'd expect the top four seeds to the semis.
From there, we could see some upsets. I can see #4 Horn/Scott taking out Landa/mDLR, and I can see #3 Monchik/Lawrence topping the Manillas. But I can also see the reverse; we could see 1 v 2 in the final, or 3 v 4 in the final.
I'm picking Monchik/Lawrence to take it over Horn/Scott in the final.
Look for Streaming on USA Racquetball's page, with a rotating crew of broadcasters for this event to include current USAR board member @Stuart Solomon at the lead.
We'll preview the other big National event in Canada later this week, once they get through their RRs and have a knockout bracket set.
Associations
International Racquetball Tour
LPRT
Countries
USA Racquetball