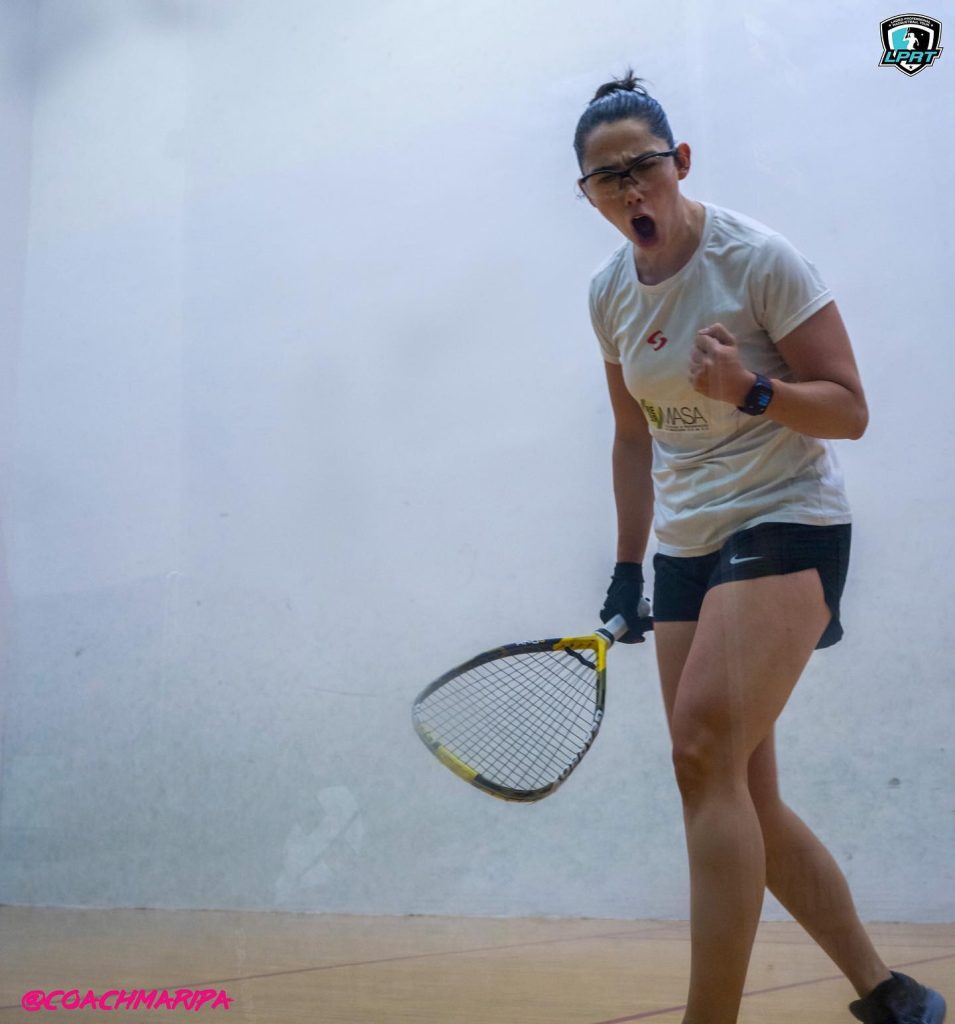 Congrats to your winners on the weekend:
– Singles: Montse Mejia
– Doubles: Montse Mejia & Alexandra Herrera
For the first time since June of 2011, the LPRT has a new #1 as the LPRT wraps up its 2022-23 season. More on that later. Here's the list of all LPRT #1s heading into this season, to which Mejia has now added her name:
R2 Sports App home page for event: https://www.r2sports.com/website/event-website.asp?TID=31744
——————
Lets review the notable matches in the Singles draw.
Singles Match report in the PRS database: https://rball.pro/3ua
—————-
In the 16s:
– Jessica Parrilla got a nice win over Natalia Mendez in the 8/9 game. Mendez sinks to her lowest ranking since her debut season in 2016-17.
– In one of the matches of the round, #12 Maria Jose Vargas comes back from a game down to topple Brenda Laime , who had made the finals of the two previous pro events. From finals to one-and done, that's what the depth on tour is starting to look like.
– #13 Kelani Lawrence dominated #4 Erika Manilla 3,7 on her home courts to move on. Manilla has to be wondering what happened; the cement courts in Chesapeake should have worked to her favor, even if she was playing someone who grew up on those courts.
– #14 Valeria Centellas beat #3 Alexandra Herrera for the second time in three months, matching her career best win.
– #6 Angelica Barrios continues to show why she's a player nobody wants to face, taking out the previous event's champion Ana Gabriela Martínez in the 16s in a tie-breaker.
– #7 Carla Munoz ground out a solid win over #10 Samantha Salas Solis 11-9 in the breaker to put a cap on her best ever pro season.
—————-
In the Quarters
– #1 @Paola Longoria , who knowingly went into this event knowing only a better showing than Mejia would retain her crown, dominated #8 Parrilla to move on.
– #12 Vargas made fast work of home-town favorite Kelani 7,1 to setup a crucial semi-final showdown with Paola.
– #6 Barrios shut down any chance of a deep run from Centellas, defeating her fellow Bolivian native 13,8 to move into the semis.
– #2 Montse Mejia , who is also perfectly aware of the stakes in Virginia, held serve 12,12 against a very solid Munoz to move into the semis and keep the possibility of a winner-take-all final alive.
—————
In the Semis, a heartbreak and a new champion is crowned:
– Vargas took out Longoria for the 2nd time this season in a close 14,12 match. Heartbreak for Longoria, as the loss costs her the title.
– Mejia dominated games one and three, losing focus in game two, and advances over Barrios 3,(13),1.
Mejia played her semi final before Longoria, so upon hearing of Paola's loss, Mejia knew she had guaranteed herself the year end title. The LPRT has a new #1 player.
—
In the Finals, Mejia handled Vargas in game one, capitulated in game two, then dominated her in game three. Final score: 7,(3),3
—————-
Points Implications of results
As noted, Mejia moves to #1 for the end of the season. Vargas' result moves her well up from #12 for the year end results. There's not a ton of movement in the last event among the rest of the tour regulars. We'll save the analysis for our season-ending recap post.
—————-
Doubles review
Match report in the PRS database: https://rball.pro/gvs
Mejia & Herrera finished the season the same place they started it; with a doubles title. They saved match point against in the final against team Argentina Vargas & Mendez, then blew them away in the breaker to give Mejia a double for the weekend.
—————-
Open Singles, other notable draws
– Amaya got a nice win over Centellas to claim the women's Open singles title.
– There was a 10-team Mixed pro exhibition that featured a ton of the ladies pros playing with local Men; Gaby Martinez and Natalia Mendez made the final with partners James Stone & Doug Innanen respectively, then shared the title.
– @Dylan Pruitt took out Rich Benderoth in the men's open singles final.
– Abraham Pena & @Dj Mendoz took a solid Men's open doubles draw.
—————–
Thanks for all the streaming on the weekend, especially from broadcasters Timothy Baghurst , Jerry J Josey Jr. ., and Tj Baumbaugh
Thanks to the Tourney Director Malia Bailey for putting this event on!
Reminder to Players! Please like and follow this page so that when I tag you, you see it. Facebook will only retain tags of people that like/follow a page, which means lots of you are not getting the notoriety of getting tagged and noticed on Facebook. If your name is here and it isn't tagged … it probably means I attempted to tag you but Facebook stripped it.
——————
Next up?
Per our handy master racquetball calendar …
Next up is USA Junior Nationals, being held this year in Pleasanton, CA. Then, July features the Central America & Caribbean Games, WOR Outdoor Nationals, and the National Senior Games in Pittsburgh.
We will print up a recap of the 2022-23 LPRT season once the final season standings are published, as we do every year.
——————-
tags