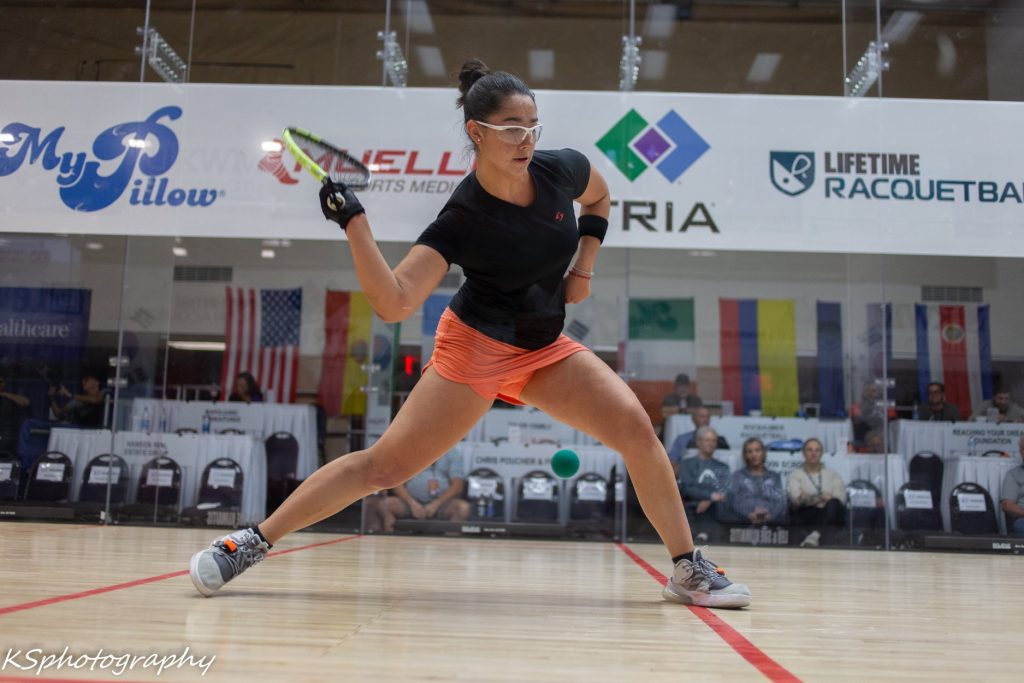 (apologies for the late preview; i know that the matches have already started by the time you read this)
Welcome to the 2022-23 season-ending LPRT tournament, the 2023 LPRT Battle at the Beach in Chesapeake VA. This is Hall of Famer Malia Bailey 's long-time home club and where current US national team member Kelani Lawrence grew up playing, and has long been a great tournament host for Virginia and regional events.
The 2023 pro stop brings on significant additional weight: for the first time in more than a decade, the title race comes down to the final event of the season. Current #1 Paola Longoria still sits at the top spot, but she's behind #2 Montse Mejia in "season to date" points, and thus the pressure is on for this event. There's just a 26 point difference between the players heading into the event, which implies that Longoria must basically finish one round better than Mejia to take the title. In other words, if Mejia loses in the quarters, Longoria must make the semis at least to take the title. If both players lose in the same round, Mejia will take the crown.
The last time the LPRT title race was this close was 2010-11, when Rhonda edged Paola by 27 points … but the kicker was that Paola missed one event that season to receive the Athlete of the Year in Mexico. The last time the IRT was this close was in 2006, when the entire season came down to the last match of the last tournament (when Kane Waselenchuk topped Jack Huczek to claim the title).
Racquetball fans are hoping for a similar situation this weekend; 1 v 2 for the season title.
R2 Sports App link: https://www.r2sports.com/website/event-website.asp?TID=31744
There's 22 players in the event, a bit small for a grand slam draw but in line with the 20-25% reduction in pro draws we've seen this year as our sport continues to transition to a new phase..
Of the top 20 in the world currently, the entire top 10 is here as expected. Several players in the 15-20 range are missing, including Hollie Scott (w/D with late injury), Lotts (who has not played in a pro or top amateur event since Dec 2022), MRR, and Enriquez.
——————————
Lets preview the singles draw. ther'es 5 round of 32 matches, only one of which looks like it could be competitive (Lawrence vs @Maricruz Ortiz). We'll pick up in the 16s.
We're now to a point in the tour where there's at least 5 players who I feel can win week in/week out (Longoria, Mejia, Herrera, Gaby, and Vargas). And then there's 3 other women who have made finals this season (Laime, Manilla, Barrios). That's a great depth on tour we havn't really seen in a while.
——————————-
round of 16:
– In the 8/9 match we get Natalia Mendez versus Jessica Parrilla ; both players were top 4-5 players but have been pushed down this year thanks in part to unlucky matchups with players like Vargas returning to the fold, but also just getting pushed down slightly by the rise of players like Laime this year. Leoni has owned their h2h recently so I'll go with the Mexican to advance.
– The match of the round will be #5 Brenda Laime vs #12 @Maria José Vargas . Both are finals-quality opponents, only one can advance. I'll go with Vargas, despite Laime having the hot hand and making the finals two events in a row.
– #4 Erika Manilla takes on #13 Lawrence on her home courts: Manilla should advance but Kelani at home is tough. Expect a breaker here.
– #6 Angelica Barrios vs #11 Ana Gabriela Martínez ; another solid round of 16, very IRF-style match between two players who have both won major international singles titles. I'll go with Gaby here.
– #7 Carla Munoz vs #10 Samantha Salas ; Munoz has beaten her twice in a row, but both were close breakers and I feel like Salas has caught her breath and is holding steady after a couple seasons of decline. Look for another 11-8 breaker.
——————————
Projected Qtrs:
– Longoria over Parrilla; Paola is 18-0 over Parrilla in all competitions lifetime.
– Vargas v Manilla; they've met at this juncture in the last two LPRT events, a Vargas blowout and then a scintillating 11-10 Manilla win. What happens now? Chesapeak is cement courts, which favors the power players, but both are power players. Vargas has great history here; she won in 2019 on these courts. I'll go with Vargas.
– Herrera vs Gaby: I sense a lost season for Herrera, who went from the heir apparent to an also ran inside of 9 months. Not sure where she goes from here.
– Mejia over Munoz: in limited history, Mejia is 3-1 lifetime.
Semis:
– Longoria over Vargas: I think Paola rises to the pressure and puts the onus on Mejia to beat her for the title.
– Mejia over Herrera: these two long-time doubles partners know each other well, but Mejia has come to rule their h2h recently.
Finals;
we get 1 v 2 for all the marbles, and I think Montse takes it.
——————————-
Doubles review
10 teams playing doubles in Chesapeake, including the two top teams Longoria/Salas and Mejia/Herrera. We don't track doubles rankings as closely, but it seems like a long shot that Paola/Sam will be caught for the 2022-23 doubles title irrespective of what happens here. Despite pipping the two veterans for the Mexican national title earlier this year, Montse/Alexandra have just one pro doubles title this season.
———————————
Look for Streaming in the regular places; follow the LPRT on Facebook and sign up to get notifications when they go Live.
Look for Timothy Baghurst , Jerry J Josey Jr. ., and Tj Baumbaugh on the mike, calling the shots!
Thanks to the Tourney Director Malia for putting this event on!
Associations