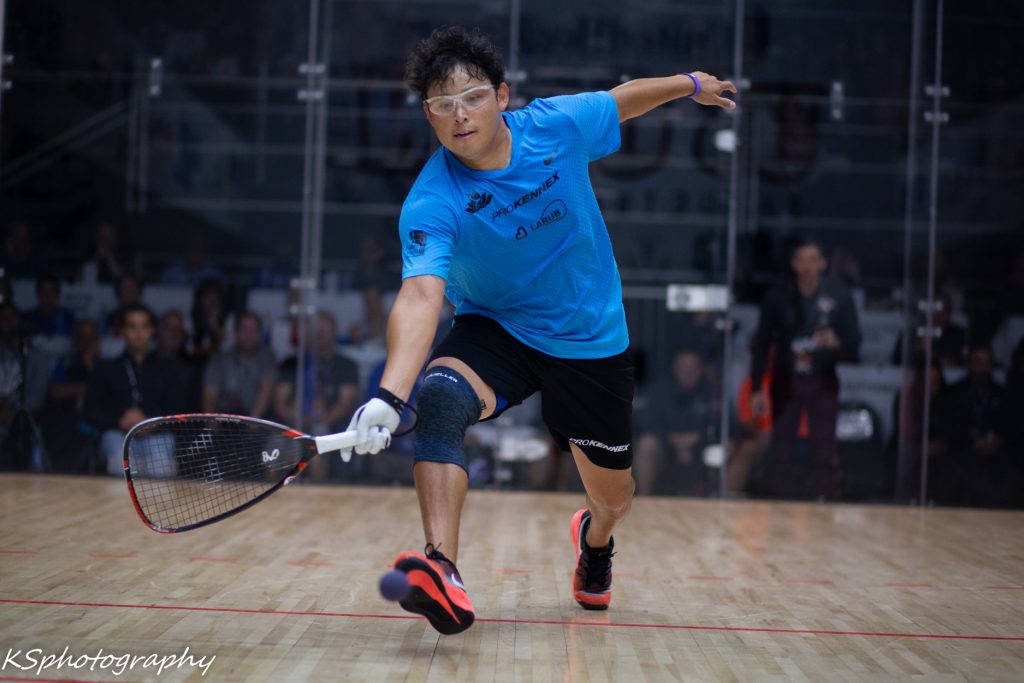 Congrats to your pro winners on the weekend:
– Singles: Daniel De La Rosa
– Doubles: De la Rosa & Alex Landa
A double on the weekend for DLR, which couldn't come at a better time as the 2023 season nears its close and he tries to go for a 3rd straight pro title.
R2 Sports App home page for event: https://www.r2sports.com/website/event-website.asp?TID=41552
——————
Lets review the notable matches in the Singles draw.
Singles Match report in the PRS database: https://rball.pro/4gk
In the 32s, the only real notable match was the strong return to the singles court of @Alvaro Beltran , who took out #13 Robert collins with ease 2,11. While we've seen Alvi play some doubles since his shock elbow injury last October, this is the first time he's taken the singles court on the IRT since last October.
—————-
In the 16s:
– In the always close 8/9 match, @Samuel Murray took out Alex Landa in a battle of former top 4 players who have both slipped down the rankings as of late.
– #5 Eduardo Portillo had to dig deep to top the red-hot #12 @Alan Natera in a breaker.
– #3 DLR was surprisingly taken to a breaker by his young Mexican rival Erick Cuevas before moving on.
– #11 Thomas Carter shocked #6 Andree Parrilla 15-2 in the first game, but Parrilla rebounded to advance.
– #7 Adam Manilla got a tie-breaker win over #10 Andres Acuña to move on and solidify his ranking on tour.
—————-
In the Quarters
– #9 Murray continued his years-long mastery of #1 Conrrado Moscoso 's game, topping him 12,13 to move on and put a serious dent in Moscoso's chance of winning the year end title. Murray is now 5-4 lifetime against Moscoso across competitions dating to 2018.
– #4 Rodrigo Montoya and Portillo played a close one, with Montoya taking the breaker 11-9 to move on.
– #3 DLR advanced past Parrilla by the closest of margins, winning 13,14.
– #2 Jake Bredenbeck avenged a US National team qualifying loss to Manilla, winning in a tie-breaker.
—————
In the Semis
– Montoya improved to 4-2 lifetime over Murray with a straightforward 12,9 win.
– DLR made it two in a row over Jake, winning in a tie-breaker to move into the final.
In the Finals, DLR made relatively fast work of Montoya, improving to 9-4 lifetime across competitions with the 2,11 win.
—————-
Points Implications of results
During the tournament, I confirmed that the IRT remains on an 11-tournament rolling schedule for its rankings, having flirted with the idea of pivoting to a 365-day calendar earlier this year but ultimately staying with the same system that was put in place in mid 2020 during Covid. By the end of 2023, it won't matter, because there will be exactly 11 events in the calendar year (assuming no more cancellations of the 3 remaining events on the books).
What i'm not sure about is the mechanism for counting these last 11 events; is it cumulative last 11 or is it "last 11, dropping the lowest." Because in the short term, that'll make a huge difference as to what happens at the very top of the tour rankings as soon as this event is put in. By my records, if all 11 tournaments are counted w/o dropping the lowest score, Jake Bredenbeck will ascend to #1 by the slimmest of margins over #2 DLR, with Conrrado falling to #3. However, if its "top 11 drop the lowest" then DLR will drop a zero-point score and ascend back to #1, with Moscoso #2 and Jake #3.
Either way, The Tracktown dropped the 2022 US Open, which costs Moscoso 600 points, but two of the next three events to drop were events towards the end of 2022 that DLR missed, meaning everyone else likely is playing for 2nd place unless DLR takes some shock early losses in the last couple of events.
Does DLR's Pickleball commitments play a role here? Maybe. The 3 remaining events on the IRT schedule are:
– 11/12 in Boston
– 12/3 in Portland
– 12/10 in Pleasanton.
Pickleball events on the schedule for those weekends?
– 11/12: USAP Nationals, a huge event underwritten by the PPA
– 12/3: San Clemente PPA season finals.
– 12/10: MLP Season 3, event 3; the last event of the 2023 MLP season.
Wow. So DLR has a MLP event the same weekend as the IRT event in Pleasanton that could decide the tour. Phew. Something's gotta give there.
—————-
Doubles review
Match report in the PRS database: https://rball.pro/3l5
Former #1 Kane Waselenchuk was in Eugene this weekend, but only playing doubles. He and fellow 40-something Beltran teamed up and won a round, but fell in the quarters to the #1 seeds Manilla/Parrilla.
In a testament to how close these doubles teams are, every match in the quarters and semis went to tie-breaker as the top two seeds advanced to the final.
#2 DLR/Landa, the US National team for Chile's Pan Am games, topped the likely Bolivian doubles team Moscoso/Kadim Carrasco in one semi, then took out Manilla/Parrilla for the title.
—————-
Open Singles, other notable draws
– Victor Camacho took out Texas junior @Cole Sendrey for the Men's Open title.
– SoCal players @Iain Dunn and Paul Saraceno took out @Israel Torres and @Steve Lewis in the Men's Open Doubles final.
—————–
Thanks for all the streaming on the weekend, especially from broadcasters Favio Soto, Pablo Fajre and the IRTLive crew
Thanks to the Tourney Director Wayne Antone for putting this event on with such short notice. It was great to see a new event on the schedule and I hope you can make it an annual one.
——————
Next up?
Per our handy master racquetball calendar …
Unless we get another event on the books last minute, the next big thing is 3WallBall in Las Vegas the first week of October! I'll be there, on the mike and covering the event. Maybe even playing (hah, probably not).
——————-
tags