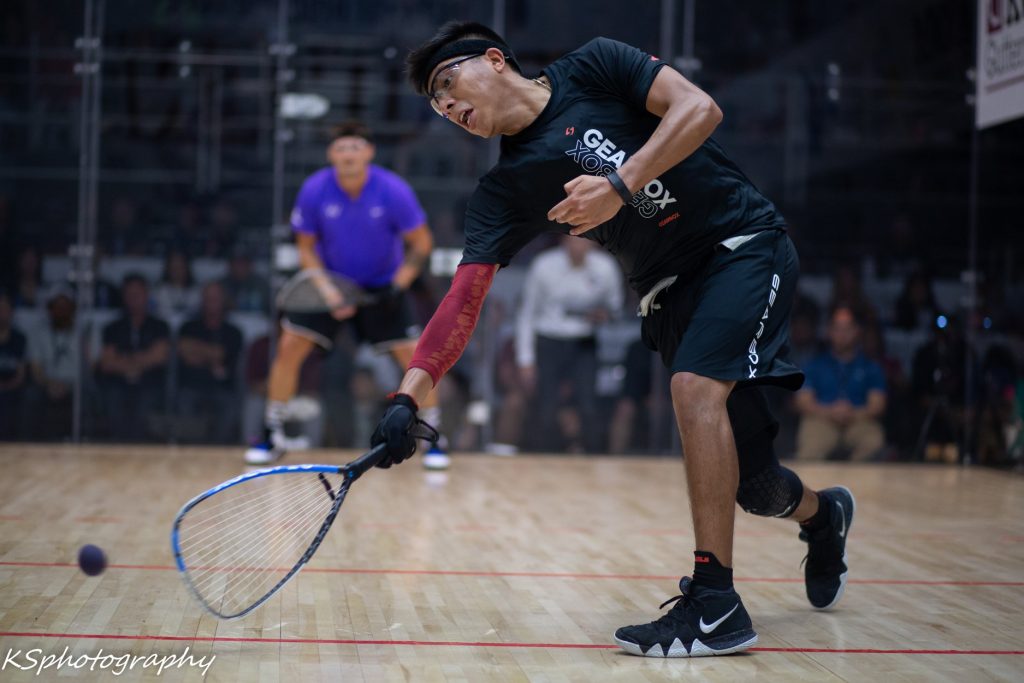 Welcome to the business end of the 2023 IRT season. After a fun event in Denver (thanks again Jim Hiser !) the IRT is back in action at an event just recently added to the schedule. The IRT has this event, a Boston stop in November, a satellite event in Portland, and then Bobby Horn/Adam Manilla's Pleasanton stop in early December and that's it for the season. Every points counts.
Thanks to the hard work of Oregonian Wayne Antone , US National doubles finalist earlier this year, along with Portland native and resident Charlie Pratt , longtime US National team member, touring pro, USA Racquetball board member and former US Junior National team coach, we have the IRT visiting Eugene for the very first time.
Eugene, of course, is the home-town of Nike, hence the name of the event "Track town." Racquetball has an interesting tie-in to Nike and the running world; Linda Prefontaine, sister of the famous runner Steve, was a top racquetball player in the late 70s/early 80s and competed in multiple pro events. See https://rball.pro/yku for her career record.
R2 Sports App link: https://www.r2sports.com/website/event-website.asp?TID=41552
I'm a little late to the preview, so the draw has already started. So i'll do a quicker summary than normal.
——————————
Lets preview the singles Draw
– Murray-Landa in the 8/9 spot used to be in the 4/5 spot; both players are slipping down the rankings tourney by tourney. Landa was sick and missed Colorado, and has had one thing or another bug him for a while.
– Natera looked great in Denver; can he turn that into performance in Eugene?
– Manilla-Acuna in the 16s is tough.
– Beltran is back and topped Collins in the 32s with ease. Great to see.
– DLR-Parrilla quarter will be a test, as will Jake-Manilla. Adam took out jake at US National singles, basically eliminating Jake from the team for Pan Am games, so we know he can win, but Jake's #2 for a reason.
– Its hard to see anything other than a repeat of the semis from Denver, as we now have a real separation between the top 4 guys (Moscoso, Jake, DLR, Montoya) and the rest of the tour.
– I think we see another DLR-Moscoso final, and this time a non-injured DLR may very well take it.
——————————-
Doubles review
– Waselenchuk is here, but only playing doubles. He and Alvi won their opener and have a good shot at #1 Manilla/Parrilla based on Beltran's form and the fact that neither 40-something pro has to cover the whole court
– The 2/3 semi on the bottom could be great: Jake/Murray vs DLR/Landa. Two power hitters versus two control players who also happen to be your US National doubles team at the Pan Am Games.
– I like Montoya and Natera to get to the final, but to then lose to DLR/Landa.
———————————
Look for Streaming in the regular places; follow the IRT on Facebook and sign up to get notifications when they go Live. Look for Favio Soto, Samuel Schulze, Pablo Fajre and the IRTLive crew all weekend on the mike, calling the shots!
Reminder to Players! Please like and follow this page so that when I tag you, you see it. Facebook will only retain tags of people that like/follow a page, which means lots of you are not getting the notoriety of getting tagged and noticed on Facebook. If your name is here and it isn't tagged … it probably means I attempted to tag you but Facebook stripped it.
Associations