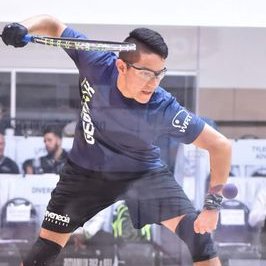 While the Pan American Games team events were wrapping up last weekend, there was a nice little Tier 5 IRT event happening in San Luis Potosi, SL Mexico with some top Mexican players. Here's a quick wrap-up of the Men's and Women's draws.
R2sports home page: https://www.r2sports.com/tourney/home.asp?TID=31070
Men's Singles: there was a 20-man IRT pro draw, with the top 8 being household names to IRT regular fans. There were no upsets to the quarters, so we'll pick up the draw review there.
– #1 Andree Parrilla topped #8 Alan Natera Chavez in a tie-breaker. As is often the case with Natera, he's under-seeded in these events and has good wins on his resume and stretched the top seed in an early round.
– #4 Eduardo Garay Rodriguez topped #5 Jordy Alonso in two tight games 13,11. Alonso has been playing well lately but couldn't top Garay on this day.
– #3 Eduardo Portillo Rendon topped #6 Ernesto Ochoa in a tiebreaker, a great win against a dangerous opponent.
– #7 Javier Estrada took out #2 Gerardo Franco Gonzalez in a tiebreaker, a tough match-up in the quarters for Franco.
In the semis:
– #1 Parrilla outlasted Garay in two
– #3 Portillo got a great win, trouncing Estrada 2,7
In the final, Parrilla dominated his younger countryman, winning the title 4,9.
Parrilla gets a nice jump start to the season; the odds of this tier 5 factoring in the 2019-20 race seem pretty small; Parrilla gets just 30 rankings points for winning a Tier 5 … he'll get three times that just for showing up in the first Tier 1 next month.
—————
Women's Singles
The Women's Open draw featured a smaller draw of mostly younger Mexican women and included 3 recent Mexican 18U junior national champs. The draw when chalk to the semis….
In the semis
– #4 Ana Laura Flores Saavedra topped #1 Montse Pérez Castañeda in a tiebreaker
– #3 Jessica Parrilla, still working her way back from injury, topped #2 Erin Groves in two tight games.
In the final, Flores came back from a game one deficit to trounce Parrilla in the 2nd and 3rd games to take the title.
—————
In the Men's pro Doubles: Parrilla & Portillo beat Natera and Garay in the Men's doubles final.
Fun note: it was a Parrilla family affair, with father, son and daughter all competing. Fabian Parrilla
——————–
Next up on the racquetball calendar:
– The Alex Landa Tier 2 in Juarez this coming W/E
– the first LPRT event of the season, the Paola Longoria Grand Slam in San Luis Potosi
– then, after a break, the International Racquetball Tour slate begins with the season opener in Atlanta while the @LPRT heads to my home state of Virginia for an event in Chesapeake at the home club of former top touring pro Malia Kamahoahoa Bailey …. and the hometown of reigning US national champ Kelani Lawrence.
can't wait to get started in on the new pro seasons!
————————–
RKT
Federación Mexicana de Raquetbol