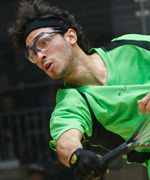 Here's a quick preview of this weekend's Alex Landa event, being held in Juarez, CH, Mexico.
r2sports home page: https://www.r2sports.com/tourney/home.asp?TID=31049
Like last week's event in SLP, there's a solid Men's Pro draw (18 players). its also an IRT sanctioned event; a Tier 2, meaning the winner does get a somewhat significant number of rankings points (120 points).
——————-
Men's Pro Singles draw
Lets pick up a preview at the quarter-final levels, given that it seems unlikely to have any upsets prior to that stage.
Projected Quarters:
– #1 Alex Landa likely faces #8 Ruben Estrada, brother of Javier (who is also in the draw). Ruben was a force in Junior racquetball in the early 2000s, winning multiple Junior world titles but an accident in the late 2008-early 2009 time-frame derailed his promising career. He returned to pro racquetball in 2015 and has played sporadically since.
– #4 Ernesto Ochoa vs #5 Alan Natera Chavez; a great match-up between two dark horses in pro racquetball. Natera's win over reigning Pan Am Games champ Rodrigo Montoya Solís earlier this year at Mexican Nationals represents the potential of his game. They've played before and I favor Natera here.
– #3 Javier Estrada vs #6 Alex Cardona: a tough one to predict, given that Cardona has really stepped back in his pro touring. I'm going to predict Cardona gets the upset here.
– #2 Eduardo Garay Rodriguez vs #7 Polo Gutiérrez; I can't wait to see what Polo has left in the tank after a long international career and having recovered from an arm injury. I suspect Garay is the favorite here.
Projected Semis:
– Landa vs Natera: here's some of the players Natera has beaten this year: Montoya, Estrada, Cardona, Gerardo Franco, Sebastian Franco and Charlie Pratt. That's a lot of talented players. This is no cake walk for Landa, who I think should advance in a breaker but don't be surprised by an upset.
– Garay vs Cardona: Despite Garay's resume of recent accomplishments, i still like Cardona here.
Finals: Landa over his doubles partner Cardona in a rematch of their every tuesday night league night.
——————-
They're also playing doubles at the events; 7 teams. The top seed is Landa/Cardona, the 2nd seed is the solid Garay/Natera team (who made the finals last weekend). Also in the Mix is the Ochoa/Estrada team.
I like the draw to go chalk; both Cardona and Landa are solid doubles players.
———————
International Racquetball Tour
RKT
Federación Mexicana de Raquetbol