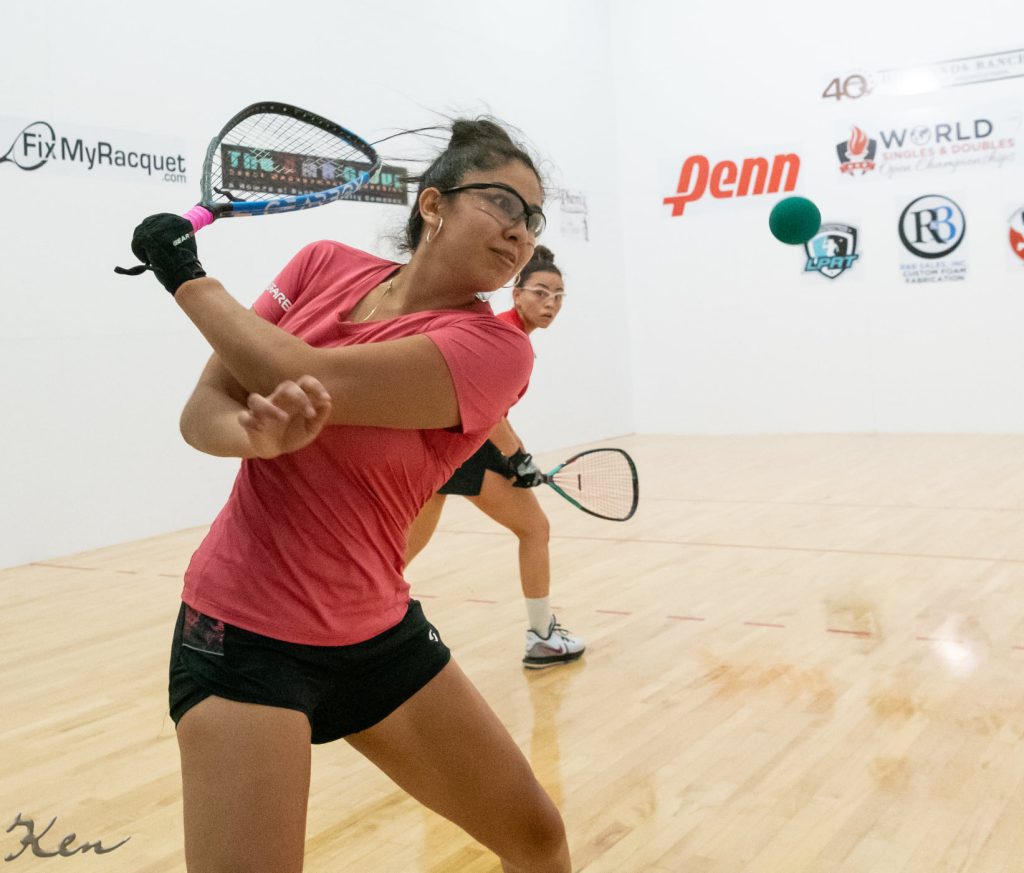 Congrats to your winners on the weekend:
Singles: Alexandra Herrera
Doubles; Herrera & Montse Mejia

A career weekend for Herrera, who vanquished both her top rivals Vargas and Longoria on the weekend to take her first professional singles title. Heading into this event, Herrera was a career 0-18 against Paola and 1-9 against Vargas; she beat them both to secure her first pro win. She becomes the 30th known champion on the women's professional tour.
R2 Sports App home page for event: https://www.r2sports.com/website/event-website.asp?TID=38227
Lets review the notable matches in the Singles draw.
In the 32s, there were a couple of upsets by seed and a couple of surprising results.
#17 Cris Amaya played #16 Hollie Scott as closely as you could expect, losing an 11-9 breaker. We always get great 16/17 matches and t his was no different.
#13 Kelani Lawrence advanced past hard-hitting Mexican 18U junior Daniela Rico 6,9. Rico continues to play LPRT veterans tough on tour but is still searching for a break-through win.
#14 Maria Renee Rodriguez cruised past Mexican lefty @Montserrat Perez 7,6. MRR really controlled this game and snuffed out any thoughts about an upset.
#22 Veronica Sotomayor upset #11 veteran @Nancy Enriquez in a come-back, hard-fought match 11-9 in the breaker. Sotomayor continues to show she's in her former top-10 form but needs more tournaments to get the points she needs to be ranked suitable to her talent level.
The Biggest shock of the round was Bolivian veteran @Jenny Daza Navia upsetting #10 Carla Munoz in a breaker 11-6. Daza (who was in the same "junior class" as Longoria) has been playing internationally for a decade and a half representing Bolivia but is an infrequent participant on the LPRT. However, she continues to show she's a dangerous opponent when she does play, adding another top-10 scalp to her resume.
– Reigning 18U World junior champion Bolivian Micaela Meneses made quick work of #15 Sheryl Lotts 6,7 to move into the 16s. Meneses improves with every tournament, and is the kind of gym rat that you know is going to get tougher every time she plays.
In the 16s, some significant results with major upsets.
#1 Paola Longoria cruised past #16 Scott in game one, then Hollie really made a game of it in game two before falling 15-14.
#9 Brenda Laime blasted #8 Rhonda Rajsich in game one then held on in game two for a statement win 3,12.
#12 Erika Manilla got another statement win, taking out #5 Angelica Barrios in a straight-forward 12,9 win. This is the fourth tournament this season where Erika has toppled a top-5 seed to advance, and its just a matter of time before she herself is a top-5 seed.
#13Kelani LawrenceKelani Lawrence got a career-best win, beating #4 Mendez in two straight. She sets up a meeting against countrywoman Manilla for a shot at the semis.
#3 Maria Jose Vargas made quick work of MRR 8,2 to setup a key quarter final match.
#6 Montse Mejía played a really comprehensive game to blast the upstart #22 Sotomayor 4,9 to move on. Mejia controlled the game from the start and was never in danger of losing. She'll be tough to beat this weekend if she plays like this the rest of the way.
#7 Jessica Parrilla suffered an injury that took her out of both singles and doubles, giving Daza a walkover into the quarters. It's just the 2nd time ever that Daza has made a pro quarterfinal.
– #2 Alexandra Herrera blitzed the junior Meneses 8,2, showing the gulf in talent that the young Bolivian has to make up.
In the Quarters
Longoria made quick work of Laime 7,0.
Manilla made a statement both on tour and in the national pecking order by cruising past her countrywoman Lawrence 7,13 to return to the semis for the second time this season.
Vargas was stretched thin by Mejia in a battle of perhaps the 2nd and 3rd best players on tour, but Vargas held on in the breaker to advance.
– Herrera outclassed the Bolivian veteran Daza 4,2 to move into the semis.
In the Semis
For stretches of this match, Manilla hung with Longoria and matched her punch for punch. But then for stretches Longoria does what she always does: consistently makes shots, rolls balls out, and relentlessly keeps the pressure up, which drives her to victory. Longoria advances in a hard-fought 11,6 match.
Herrera absolutely crushed her closest rival Vargas 3,8 to move into the final. This was never close from the get go, and whatever changes Alexandra has been making are working. She looks to be playing the best ball of her career.
In the Finals, a shock result. Herrera and Longoria traded off stretches of dominance, each running off multiple points in a row with excellent play and long rallies. In both games, Herrera mounted game-saving comebacks to win a two-game 14,13 thriller was just as close as the scores suggest. Herrera showed mental confidence and stayed in points and rallies, forcing Longoria into rare errors and pressure.
Points Implications of results
Herrera and Vargas should switch spots at 2/3, but not much else changes in the top 10.
Manilla continues her climb up the rankings; she should now improve to 14, meaning she's getting close to a top 10 seed with the expected absences each event.
Centellas dives down, now at #13 with several early losses and a missed event.
– Daza doubles her existing points total and jumps 12 spots.
Doubles review
The doubles tournament was an interesting case study of how far Longoria could advance with a brand new partner with whome she had never played …the answer turned out to be the final, where she and MRR were vanquished with relative ease by Herrera/Mejia.
Herrera wins the double on the weekend, and Longoria loses two finals in an event for the first time in recorded/known history.
Thanks for all the streaming on the weekend, especially from broadcasters Timothy Baghurst , Jerry J Josey Jr. ., and Tj Baumbaugh .
Thanks to the Tourney Directors @sudsySudsy Monchik and his wife Veronica for putting this event on! It was an excellent time, great matches, the courts looked great, and thanks to all the sponsors.
Reminder to Players! Please like and follow this page so that when I tag you, you see it. Facebook will only retain tags of people that like/follow a page, which means lots of you are not getting the notoriety of getting tagged and noticed on FB. If your name is here and it isn't tagged … it probably means I attempted to tag you but FB stripped it.
Next up?
Per our handy master racquetball calendar …
https://docs.google.com/…/1V6OTid6rZ356voXVkoV2sN7KMMb…/
Next weekend there's a lower tier IRT event in Atlanta and an experimental tournament in Tallahassee being run by Baghurst that will feature variants of the sport and rally scoring.