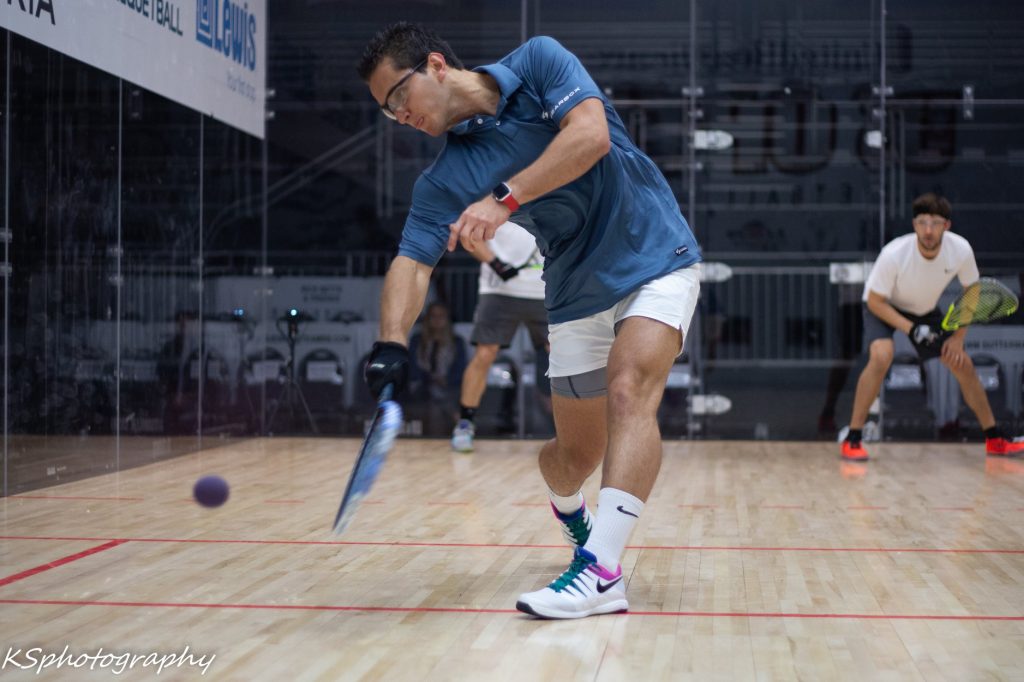 In addition to the LPRT Boston Open, there were a slew of other events this past weekend worthy of mention. Here's a quick run through of what was a very busy weekend globally for racquetball.
---
US High School Nationals.

r2sports site: https://www.r2sports.com/tourney/home.asp?TID=38151
One of the biggest tournaments of the year (by pure attendance) was held last weekend: the 2022 @USA Racquetball High School Nationals event, held at the Vetta Sports clubs in St. Louis.

Nearly 350 High School players from around the country were in St. Louis to compete for singles, doubles, and team competitions. Here's a recap of the #1/Gold competitions on the weekend…
Boys #1 Gold Singles: #1 @Josh Shea from New York topped #2 @AnAndrew Gleason from Iowa. In a likely precursor to the 18U Junior Nationals final later this year, Shea won the first HS title for a New Yorker since … @sSudsy Monchik won in 1991.
Girls #1 Gold Singles: #2 @Naomi Ros from San Antonio upset #1 seed @Heather Mahoney. Ros recently relocated from Mexico and topped Mahoney in the 2021 Junior Nationals, setting up a rivalry that is set to run for a couple more years on the US junior national scene. She becomes the first ever titlist from a Texas HS on the girl's side.
Boys #1 Doubles: Jacob Schmidt / Gabe Collins from Christian Brothers College High School in St Louis cruised to the title as the #1 seed.
Girls #1 Doubles: Heather Mahoney / Ava Naworski from Casa Grande High School outside of Santa Rosa HS took the title as the #3 seeds.
Mixed #1 Doubles: Ros teamed with DJ Mendoza (the #4 seed in Boys #1 gold) to cruise to the Mixed doubles title.
The team competition was dominated by Missouri/St Louis area high schools:
Boys' Team: St. Louis University HS
Girl's Team: Lafayette HS
Overall Team: Kirkwood HS
Congrats to everyone who played, organized and participated. Thanks to @LLeo Vasque 's tireless work on the stream all weekend.
---
LPRT Boston Open Draws
r2sports site: https://www.r2sports.com/website/event-website.asp?TID=38579

Connecticut's top player @Jose Flores upset the #1 seeded @John Behm to take the 24-man Open draw from Boston this weekend.
Women's Open: as noted in the LPRT wrap-up, Micaela Meneses had a great women's Open tournament, topping LPRT regulars Lotts, Lawrence and Munoz to take the title.
---
PAC Pueblo Athletic Shootout IRT recap
r2sports: https://www.r2sports.com/website/event-website.asp?TID=38852
Several IRT touring regulars traveled to Colorado to compete in the PAC shootout.
The four IRT regulars all advanced to the singles semis as expected. From there, #1 Andree Parrilla topped #4 @NNick Riff while @David Horn took out his colleague @Adam Manilla in the other semi to setup an All-WRT alumni final.
In that final, Parrilla cruised to the title, topping Horn 2,5.
In doubles, Horn and Manilla were unstoppable, cruising to the pro doubles title over #2 seeds Riffel and @Mike O'Brien in the final.
---
Minnesota Hall of Fame IRT Tier 3
r2sports: https://www.r2sports.com/website/event-website.asp?TID=38807
A solid mid-western flair draw of top players descended to Fridley over the weekend for the Hall of Fame tournament. This included the IRT broadcast team of @DeDDean Baer and @PFPablo Fajre , who made friends with a local kangaroo and called some matches.
r2sports site: https://www.r2sports.com/website/event-website.asp?TID=38807
Congrats to local open amateurs @John Goth , Blake Hansen , and Lee Meinerz , who joined the 5 touring pros in the pro quarters.
From there, Canadian #1 @Samuel Murray topped #5 Jordy Alonso in one semi, while #3 @Andres Acuña upset home-town favorite @Jake Bredenbeck in the other semi.
In the singles final…Acuna played solid ball to top Murray 10,7 to take the singles title.
In the Doubles draw, the Bredenbeck brothers took out Murray playing with Canadian Ledu Michael in the final.
---
Lastly, several countries have been holding Nationals events or National team selection events ahead of next month's Pan American Racquetball Championships. Results are a little hard to come by since no international countries use r2sports outside of the "big 3" … but here's what we've been able to glean from various Facebook Posts:
Costa Rica held their men's championships last weekend; in the men's final: Andres Acuna d Gabriel Garcia 6,7,5. This is somewhat of a changing of the guard, as @FelipFelipe Camacho has represented the country for many, many years.
Colombia held a Men's Selection event in Pereia, COL over the weekend.
Guatemala held their Men's Selection event this past week and weekend (Women's will be next weekend). The 4 semi finalists competed (presumably) in a RR draw; here was the results:
@EdwEdwin Galicia
@Juan Jose Salvatierra
Christian Wer
Geovani Mendoza
The top 3 will represent Guatemala, with Mendoza as the alternate.