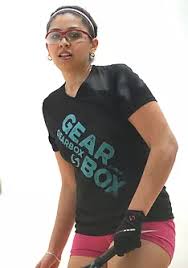 Congrats to your winners on the weekend:
Singles: Alexandra Herrera
Doubles: Paola Longoria & Samantha Salas
R2 Sports App home page for event: https://www.r2sports.com/website/event-website.asp?TID=38579
Lets review the notable matches in the Singles draw.
Singles Match report in the PRS database: http://rball.pro/F91610
In the 32s:
@Hollie Scott and Maria Renee Rodriguez split two close games in their 16/17 match-up before Scott pulled away with a dominant 11-1 tiebreaker win.
The ever improving junior Micaela Meneses took a game off of #13 @Erika Manila before falling in a breaker.
@Crist' Amaya got a solid win over fellow veteran tour player @Nancy Enriquez 11-5 in the breaker.
– #11 @Carla Munoz reversed the script against @Jenny Daza , topping her 9,9 to move on. Daza had gotten the big upset over Munuz in this round just last tournament.
In the 16s:
Scott made #1 @Paola Longoria work for her round of 16 win, pushing the top player 12,11 in their round of 16 matchup.
#5 @Natalia Mendez was challenged by her younger Argentinian rival @Valeria Centellas before advancing 11-7 in the breaker.
#13 Manilla got her fifth win over a top-5 seed on tour since October, downing #4 @Gaby Martinez in a hard-fought close match. She took the first game 15-13, then Gaby raced to a huge lead in game two before Erika pulled it all the way back. They traded blows at match point before Gaby's athletic exploits pushed a tiebreaker. There, Manilla looked to run away with the breaker before Gaby scored 7 unanswered to push for an amazing comeback … but Manilla got the 11-8 win.
#3Maria Jose Vargas battled through some illness and outlasted the veteran Amaya in a tiebreaker.
– #7 @Montse Mejia put a statement down , crushing #10 @Brenda Laime 8,1 to move into the quarters.
In the Quarters, a couple of surprising results.
#1 Longoria made fast work of her doubles partner Salas 5,7
#5 Mendez avenged herself in a rematch against Manilla, winning in a tie-breaker to avoid two upsets in two tournaments.
#3 Vargas could not overcome both illness and #6 Barrios, losing in a tie-breaker.
– #2 Herrera outlasted her doubles partner Mejia, dropping the middle game but running away with it in the tiebreaker.
In the Semis
Longoria made quick work of Mendez 7,5 and was in cruise control for most of the match.
Herrera was not troubled by the young Bolivian Barrios 6,5 and setup the anticipated rematch of last week's final in Vero Beach.
In the Finals…. another shocker. Herrera dominated in game one 15-8, then for a while it looked like Longoria had found another gear, racing to a 12-1 game two win. Instead of packing it in, Herrera fought back and saved game points against to take game two 15-14 in a pretty amazing comeback win.
Herrera's second career win moves her into the top 20 all time of tour wins. Longoria loses in the final for the second tourney in a row … something that hadn't happened since the fall of 2010, when she lost two successive finals to Rajsich (also the last time she lost to the same person in two straight events). Is this a changing of the guard? Or a blip on Longoria's resume?
Points Implications of results: I don't see a ton of movement in the top 10 after this tourney. Herrera solidifies her grip on #2 and closes the gap a bit on #1. Gaby maintains a slight lead on Mendez for #4.
Further down, some more significant movement. Manilla should move up to #12 and Lawrence should move to #15, edging slowly to the top 10. Meneses continues to rise; she's nearly in the top 20 now. Lastly two more appearances for Daza and Rico have them both inside the top 30.
Doubles review.
Hollie Scott had the tournament of her career, driving the all-American duo of Scott & Lawrence to the pro doubles final. They took out Vargas & Mendez in the quarters, then Herrera/Mejia in the semis. In the final though, they couldn't overtake the #1 duo of Longoria/Salas, falling in a breaker.
Longoria & Salas win their 35th pro doubles title together since August 2014. Amazing.
Match report in the PRS database: http://rball.pro/F5E7DA
Women's Open
Meneses may have lost in the first round of pros to Manilla, but she took out several pros en route to the Women's Open title. She took out local player @Jolene Sullivan in the round of 16, then beat Lotts, Lawrence, and Munoz for the title. Great wins.
Thanks for all the streaming on the weekend, especially from broadcasters Timothy Baghurst , Jerry J Josey Jr. , @JT R Ball , and Tj Baumbaugh
Next up?
Per our handy master racquetball calendar …
https://docs.google.com/…/1V6OTid6rZ356voXVkoV2sN7KMMb…/
Nothing domestically, but a couple of countries are having National selection events to pick their teams to go to PARC. We'll try to decipher Facebook postings to figure out who has won.
tags
@LPRT