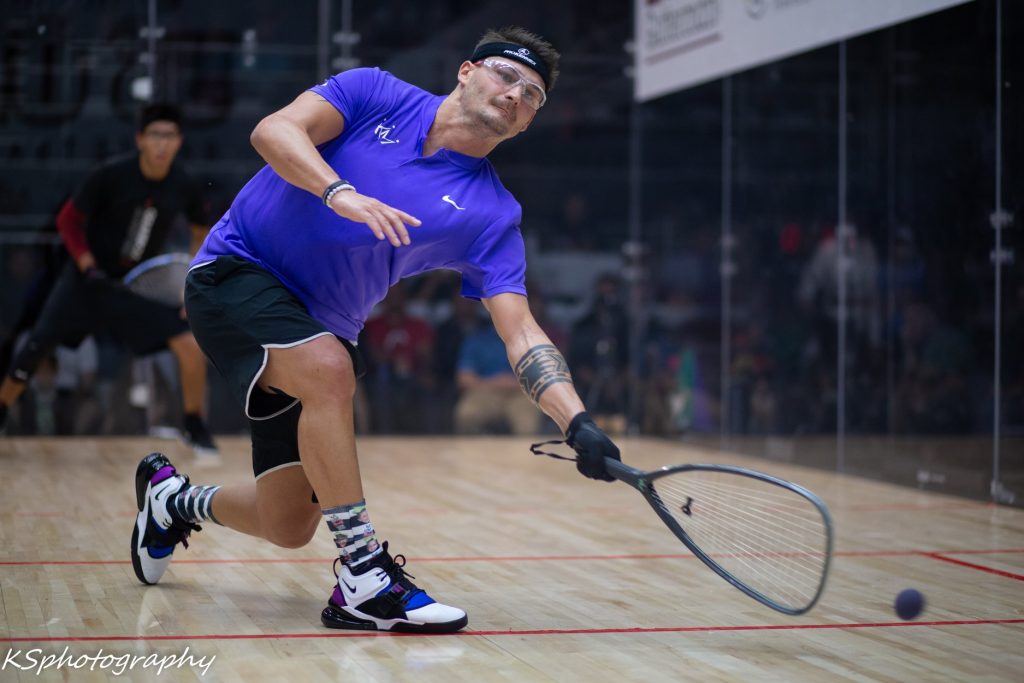 We are back in Chicago for the latest IRT event, and it looks to be a doozy. The 37th annual Shamrock shootout is back in its normal spot around St. Patricks' day, and the tour is happy to be back in Chicago as well.
R2 Sports App link: https://www.r2sports.com/website/event-website.asp?TID=38590
There's 31 men's pros entered here this weekend, the weekend after many countries held their national selection events ahead of next month's Pan American Racquetball Championships (PARC) in Bolivia. This has caused some of the normal international players to take the weekend off.
Top players missing from the draw include #12 Carlos Keller (fresh off his finals appearance in Bolivian Nationals), but he's the only player in the top 20 missing here. A great draw. We see a return to action of @Javier Mar, who was nursing an injury for months that kept him out of singles action. We also see @Educardo Garay back in action after missing the past couple of events.
Lets preview the draw. With only 31 players, there's two qualifying rounds. I see mostly straightforward wins from expected winners in the first round, so lets pick up with the Round of 32. Nearly every round of 32 match is going to be compelling, with interesting storylines.
Here's what i'm looking forward to there:
#16 v #17 Garay versus @Thomas Carter . Garay probably is the better player, but hasn't played in months on tour. Can Carter pull an upset?
#9 @Jake Bredenbeck takes on @Jordy Alonso, a dangerous lower seed who can play well above his ranking. I don't think this is an upset, but Alonso may push him.
#12 @Sebastian Franco is an upset watch against up and coming Mexican junior @Erik Trujillo. He'll look to setup a rematch against a top 8 pro in the 16s.
Two American lefties take on each other as @Adam Manilla and @Robert Collins battle it out. Look for the Colorado pro to take out the Hawaiian pro.
In Mar's return to action, he faces a tall task in the fast improving #14 @Andres Acuna. Acuna is fresh of a title in Minnesota where he topped two top-10 players, and Mar's rustiness probably prevents him from playing up to his normal top levels. Look for Acuna to move on.
– In my favorite match of the round, @Rodrigo Montoya takes on @Sebastian Fernandez in what should be an enjoyable shootout of power and athleticism. On paper Montoya is the better player, but Fernandez has the capabilities to move on.
round of 16:
#1 @Daniel De La Rosa should move on easily from Garay or Carter.
#8 @Rocky Carson faces a tough opponent in Bredenbeck. They met in Atlanta, a close 14,11 win for Rocky. Can Jake close the gap? Look for the veteran to move on again.
#5 @Samuel Murray gets started against the Franco/Trujillo winner, and should move past either player.
#4 @Alex Landa likely faces lefty Manilla in the 16s, a tricky match for the former #1. Manilla's online training gig has him on the courts a ton, whereas Landa is seemingly at a career cross roads. Upset watch here.
#3 @Kane Waselenchuk was a last minute confirmation for the event, and is inarguably a favorite. He starts off against a friendly face in Acuna, who may get some points but will serve mostly as Kane's warmup for the latter rounds despite his recent successes.
#6 @Eduardo Portillo is back in action after a knee injury suffered in Atlanta kept him out of action for 2 months. He is set to face the veteran Beltran, who can still play. Where is Lalo in his recovery? If he's still a step slow, Beltran's crafty game will be hard to beat. Upset watch here.
#7 @Conrrado Moscoso is fresh off his latest Bolivian National title, but faces a very tricky opponent in Mercado here. Mercado plays him tough every time; expect two tight games.
– #2 @Andree Parrilla is Mr. Chicago: his first ever pro final was here in 2017, and his first ever pro win was here in 2018. He's made the semis the last three years after that. He loves this court and will be hard to beat. But his projected round of 16 opponent will be a troublesome one: if its Montoya, its a player in his same age class who has been playing him (and often beating him) for years. If its Patata, its a guy who won't back down and will make him earn every point. Look for a struggle here but for Andree to prevail.
Projected Qtrs:
There's really only one quarterfinal i'm looking forward to … but here's all four projected.
#1 DLR will top #8 Carson to move on. DLR has topped Rocky every time they've played lately and will again here.
#4 Landa, if he gets here, should handle his doubles partner #5 Murray, if he gets here. But both players have had iffy results lately, so this could also be some combination of Franco and Manilla. Possible wildcard semi finalist coming out of this quadrant.
#3 Kane should cruise past his long-time rival Beltran, or will test Lalo's rehabbed knee for him in this quarter to move on.
The big one: #2 Parrilla versus #7 Moscoso. They've met three times; once at the 2017 US Open (a 5-game Moscoso win that was part of his coming out party), then a Parrilla win in 2019, then a Moscoso win last December at Worlds. They're neck and neck in my personal rankings; this is a coin flip. These are the two winners of the last two pro stops. Parrilla loves Chicago, Moscoso beat him in their last matchup and is coming off a title in Bolivia. I'm going to go with Moscoso in an upset.
Semis:
DLR over Landa if the seeds hold: Landa holds a pretty definitive career W/L record over DLR … 9-3 on the IRT and 10-5 in all top-level competitions. However, they have not played since March of 2020, which is basically when Landa plateaued as a professional. I think DLR is a step ahead now, and moves into the final here.
Waselenchuk over Moscoso; this is a great match, a rematch of the fantastic 2019 US open final. Kane has never really been threatened by Conrrado … and in fact destroyed him the last time they played in Austin in 2019. Conrrado needs a strategy to win, much as Andree had a strategy going into the Atlanta final. I'm not sure Conrrado as a player has the capability of devising a strategy right now; that's why he takes losses against lesser players despite probably being the 2nd most talented player on earth. Look for a Kane win.

Finals; we finally get (hopefully) Daniel versus Kane. Current #1 versus long-time #1. Man, I hope it happens.
DLR, like Parrilla, is a thinking man on the court, a player who depends less on power and more on shot-making. He can handle Kane's power. When they've played recently, Daniel gets his points. The scores were Kane wins, but it was 9 and 10, 8 and 10, 11 and 6. That was 2-3 years ago; what happens now?
I'm thinking tie-breaker, with Kane pulling it out and returning to the winner's circle. But if Daniel maintains his cool and is not overwhelmed by the import of the match, this could be another upset win over the long-time King.
Doubles review
We thought perhaps we'd get a return to competition the venerable pairing of Kane and @Ben Croft, but they're not in the draw. What we do have though is a stacked draw of solid international teams here to prepare for Beach Bash and for PARC.
From the top I like #1 DLR/Beltran to take out the Bolivian champs Moscoso/Keller in one semi, while the #2 Montoya/Mar takes out the team Beastmade Clothing Bredenbeck/Murray pairing in the other semi. In the final. a frequent matchup on tour and in Mexican Nationals will see the younger pairing winning out over the veteran Mexican pair.
Look for Streaming in the regular places; follow the IRT on Facebook and sign up to get notifications when they go Live.
Look for Dean Baer, Favio Soto, Pablo Fajre and the IRTLive crew all weekend on the mike, calling the shots!
Thanks to the Tourney Directors Dan Jaskier andGeoff Peters for putting this event on!
Reminder to Players! Please like and follow this page so that when I tag you, you see it. Facebook will only retain tags of people that like/follow a page, which means lots of you are not getting the notoriety of getting tagged and noticed on FB. If your name is here and it isn't tagged … it probably means I attempted to tag you but Facebook stripped it.
Associations
@International Racquetball Tour
LPRT
International Racquetball Federation – IRF
Pan American Racquetball Confederation – PARC
UnitedHealthcare US OPEN Racquetball Championships
WOR – World Outdoor Racquetball
Countries
USA Racquetball
Racquetball Canada
Federación Mexicana de Raquetbol
RKT
Federación Boliviana De Raquetbol – Febora
Federación Boliviana de Racquetball
Racquetball Colombia
Federacion Colombiana de Racquetball
Federación Costarricense de Racquetball
Asociación Argentina de Racquetball
Federación Chilena Racquetball
Racquetball Rancagua, Chile
ASOCIACION DE RAQUETBOL DE GUATEMALA
Ferac Racquet
Federación Ecuatoriana de Racquetball – FERAC
India racquetball
Major Sponsors
Reaching Your Dream Foundation / Michael Lippett
FormulaFlow / Momo Zelada and Mario Mercado
Splathead / Joe Hall
onewallball / Ruben Pagan
3wallball / Mike Coulter / mc vegas
Beastmade Apparel / Jake Bredenbeck
Wear Rollout / Jonathan Clay
Racquetball Warehouse / Ben Croft
Splatit
Suivant Consulting / Williams Accounting / Donald Williams
Zurek Construction / Francisco Fajardo
AGE Solutions / Andy Gomer
team root / Randy Root
KWM Gutterman / Keith Minor
APCON/MZ Companies / Abel Perez
Team Dovetail / Mike Kinkin
Manilla Athletic / Adam Manilla Erika Manilla Bobby Horn
Hashtags #racquetball #proracquetball #outdoorracquetball #irt #lprt #wor