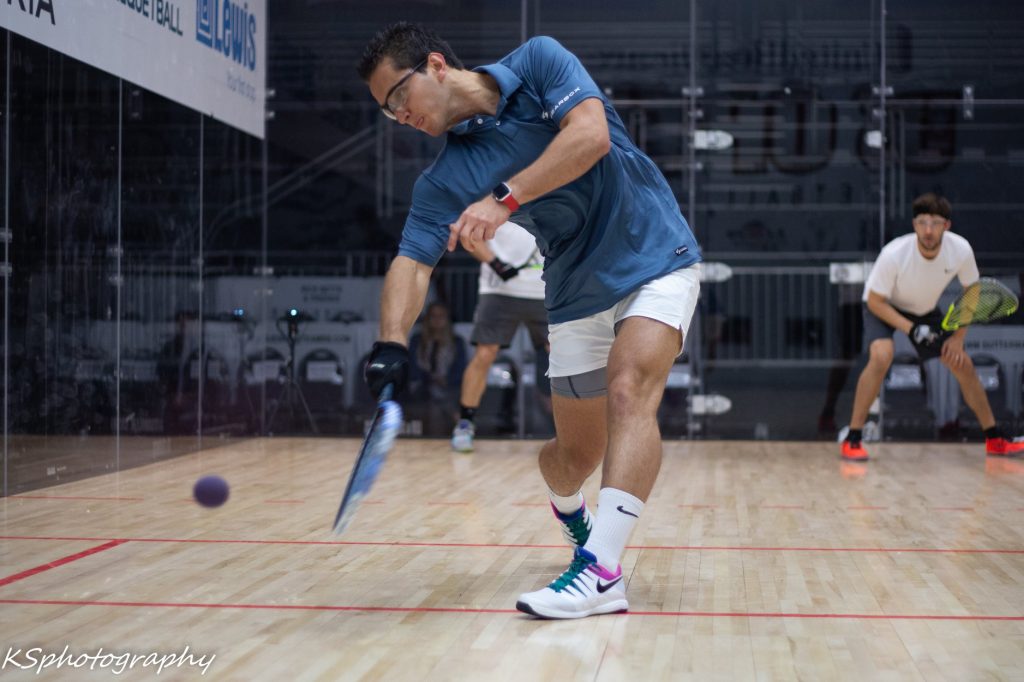 Congrats to your winners on the weekend:
Men's Singles: Andres Acuna
Women's Singles: Paola Longoria


A fantastic result for Acuna, who wins his first major title of any kind, and he beat a number of solid players to do so. Meanwhile, Longoria crushed the draw absent of her two closest rivals to take her third straight World Games title.
Click here for the list of all World Games Quarters/Semis/Finals from 1981 to present, Men's Open: https://rball.pro/9xe
Same for Women's Open: https://rball.pro/edc
R2 Sports App home page for event: https://www.r2sports.com/tourney/home.asp?TID=39815
Interesting tournament notes: for one of the few times that i can recall … we could not get live streaming for part of the tournament due to sport ownership/broadcast licensing issues. We're so used to free streaming on FB that it was a shock to the system of most viewers when we found out that the broadcast rights were exclusive to … someone else for the Semis and finals. CBS Sports? Olympic Channel? It was not clear at the time of the match. Eventually we found that the semis were broadcasting live on the Olympic channel's youtube feed … would have been nice to have the IRF actually tell us that.
Then, in an apparent massive gaffe, the two semis ran so far over on time (gee, thought rally scoring was supposed to solve that!) that the professional broadcast team left, meaning no streaming or recording of the final? That seems inexplicable. Lets just hope we actually see these matches on a CBS sports network TV feed or somewhere in the future. Since that was kind of the whole point of standing up the portable court in the first place.
Lets review the notable matches in the Men's Singles draw.
Singles Match report in the PRS database: https://rball.pro/2il
In the 16s, because of the nature of this format, there were mostly blowouts. Only a couple of the opening matches were legitimately competitive:
in the 8/9 match, Argentina's @Diego Garcia got a game off of @RoRodrigo Montoya but couldn't push it any further, losing in four.
In the 7/10 match, Guatemalan #1 @JuJuan Jose Salvatierra took a very, very close 3-game win from Costa Rican @Felipe Camacho 14,14,13.
– #13 Canadian @Lee Lee Connell , who got into this event just in the last week, pushed #4 Jake Bredenbeck in a couple of games but fell in three straight.
In the Quarters, some major upsets.
#9 Montoya took out a visibly fatigued #1 Landa in four. Landa reportedly was ill heading into the tournament, and looked fatigued on longer rallies throughout the match. Montoya's power and retrieving was on full display, and he ground down Landa over the course of four games.
#5 Parrilla "upset" #4 Jake in three, though this was certainly not an upset by IRT rankings.
#3 Mercado handled the tough Ecuadorian #1 Ugalde in three straight.
– #2 Acuna took care of business against hte Guatemalan #1 Salvatierra in three.
In the Semis, we got two solid matches with predictable results:
Despite Parrilla being #2 in the world, his bugabu is Montoya. Rodrigo improves to 6-3 in post-Junior results against Parrilla, taking him out in four.
Acuna solidly advanced past the dangerous Mercado in four to secure his third straight IRF men's singles final.
In the Finals, Acuna won three close games 12,13,14 to take the title. Not that anyone could see it.
---
Lets review the notable matches in the Women's Singles draw.
Singles Match report in the PRS database: https://rball.pro/z7x
In the 16s, as with the Men, only a couple of matches were really close:
in the 8/9, two LPRT foes squared off with Chilean @Carla Munoz holding off Guatemalan Maria Renee Rodriguez in four games.
– In the 7/10, Two LPRT veterans faced off for the 20th time in their careers, with Mexico's @Samanatha Salas taking out @AmaCris Amaya in three.
The quarters saw some solid action:
#1 Longoria handled #9 Munoz in three
#5 Barrios got a really solid win against #4 Mendez, winning in four games. This portends well for Angelica's attempts to move up in the LPRT standings, if she can get a win against the current #4 ranked player.
#6 Gaby made fast work of #3 Rajsich 8,9,8, another "upset" by seed but certainly not by current LPRT ranks.
In the best match of the quarters, and the only match so far to go five games, #7 Salas upset #2 Lawrence in a great comeback. Lawrence was up 2 games to 1, but Salas dominated the 4th to force the tiebreaker, which she took 11-9.
No Americans into the semis on home soil.
In the Semis:
Longoria won a straightforward, if slightly closer than you may have expected, semi over Bolivia's Barrios 12,12,9.
Gaby took down the red-hot Salas in four games to setup a rematch of the 2018 Worlds final against Paola.
In the final, Paola came out on fire to win the first game 15-2 before Gaby pulled back one for respectability. From there, Paola ground out the expected win to take her 3rd straight title.
---
Thanks for all the streaming on the weekend, especially from primary broadcasters Gary Mazaroff and Alexis Iwaasa, your lead broadcasters. Thanks to the IRT crew (@Pablo Fajre) for heading to Birmingham to setup the streaming equipment; it looked fantastic all weekend.
A comment on the streaming: once the Olympic channel people got in, with their million dollar equipment and high-bandwidth capabilities … man did the sport look good. From here on out, I'll be using what we saw on youtube as my defacto response to people who ignorantly claim that hte sport is "too fast to broadcast." No it isn't; you just need the right equipment.
An additional observation: perhaps we should have re-thought the qualification for this event. The top 4 racquetball playing countries are USA, Mexico, Canada, and Bolivia. You know who was not here on the Men's side competing? All four of the current reigning champions from these four countries. Carson, De La Rosa, Murray, and Moscoso. It was only half as bad on the female side, with Manilla (USA current champ) and Lambert (Canadian champ) not here. If this is the biggest showcase the sport has had in decades (when was the last time the IOC president showed up to watch Racquetball??), if it was worth the tens of thousands of dollars of expenditure for a MASSIVE IRF staff, a slew of referees, the portable court, etc … maybe we should have had our best players there? The round of 16 was an abomination as compared to what we see day in and day out on the pro tour, and less than half the current pro top 10 on either side competed. Opportunity Lost.
Thanks to @BoBob Frazer and all the staff who helped setup and breakdown the portable court; it looked amazing and the setup was awesome.
Reminder to Players! Please like and follow this page so that when I tag you, you see it. Facebook will only retain tags of people that like/follow a page, which means lots of you are not getting the notoriety of getting tagged and noticed on Facebook. If your name is here and it isn't tagged … it probably means I attempted to tag you but Facebook stripped it.
Next up?
Per our handy master racquetball calendar …
https://docs.google.com/…/1V6OTid6rZ356voXVkoV2sN7KMMb…/
Outdoor Nationals 2022 is this weekend! Its the second outdoor major of the year, the second leg of the Outdoor Cup series, and one of the longest running tournaments in our sport.