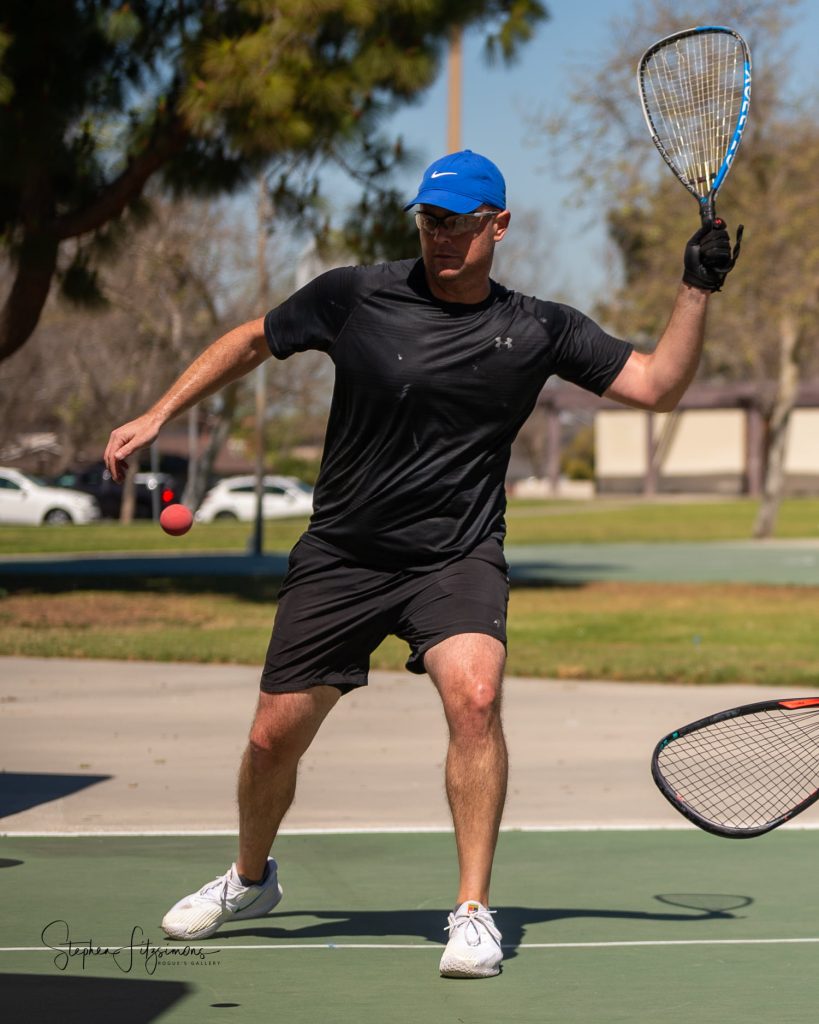 Welcome to the 2022 Outdoor Nationals!
The 48th annual event runs from July 14th – July 17th 2022 at the Marina Park outdoor courts in Huntington Beach, California.
This tournament was first held in 1974, on the grounds of Orange Coast College in nearby Costa Mesa, California. It was the brainchild of two kinesiology professors by the names of Bob Wetzel and Barry Wallace, who had converted from playing handball to outdoor 3-wall racquetball in the early 1970s and were so enamored of the sport that they began teaching it at the college.

They organized the first ever "National Championship" to be held on the July 4th weekend in 1974, and convinced all the top indoor pros of the day to compete in it as well. After much cajoling, Bob Kendler (head of the NRC, which was the main "pro tour" of the day) signed off on the event and encouraged his players to attend.
The first Outdoor Nationals included a who's who of the top "indoor" pros of the day, including historic names like Charlie Brumfield, Bill Schmidtke, Steve Keeley, Steve Serot, Craig McCoy, Dr. Bud Muehleisen, and a precocious 16-yr old named Marty Hogan, who was just about to take over the pro tour and forever transform the sport. These top NRC pros competed with the best outdoor players of the day, a list that included Wallace and Wetzel, Jim Carson (who would later become the director of this tournament for a number of years), R.O. Carson (father of Rocky Carson), Rich Carson (R.O.'s brother and Rocky's uncle), and Mark Susson. In the end, Brumfield topped Serot to take the first ever Outdoor Nationals singles title. Brumfield also teamed with his long-time doubles parter Dr. Bud to win the first pro doubles title.
After some time, the tournament moved from the Orange Coast college to nearby Golden West College, and then in 2006 moved to its current location in Marina Park. This will be the 16th iteration of this event that has been held at Marina Park, and the pink and green courts are now the de-facto home of outdoor racquetball in Southern California.
The courts are big, very big: the front wall is nearly 23' tall, the courts are 22 1/2 ' wide, and the back line is an inch short of 46 feet, making these courts the largest regularly-played courts in the country. The size of the court (and the height of the front wall) makes for some very specialized strategies, and you'll see these strategies in play all weekend.
The 2022 event is shaping up to be a very strong field, thanks in no part to the two Outdoor Cup Series going on. Outdoor Nationals is the second leg of the LPL Financial LPRT Outdoor Cup, and is also the second leg of the KWM Gutterman Men's Pro Outdoor Cup. With thousands of dollars on the line going to the best finisher amongst the three Outdoor "Majors," interest in competing is high.
R2 Sports App link: https://www.r2sports.com/website/event-website.asp?TID=38652
Here's a quick preview of the Men's and Women's pro draws (doubles, mixed, and singles). Play starts 9am PST Friday 7/15/22.
The Brackets are not yet available as of this writing so we'll talk about the leading teams in each draw.
Men's Pro Doubles
Last year, the talented team of Micah Rich/Jason Geis topped the presumed "best doubles team in the world" in Alvaro Beltran/Daniel De La Ros en route to taking the title. However, Alvi and Daniel got some revenge a few months later, beating Rich & Geis in the Vegas final. Both teams are back for 2022 (presumably as the #1 and #2 seeds), and they'll be joined by a dozen other top pro teams competing for the title.
Some of the teams to watch for this year include:
Andres Acuna/Lalo Portillo : Acuna has proven to be a quick study on the outdoor courts, and Lalo is recovered from a knee injury and should be in full form. These two made the final of the 2022 Beach Bash and are a formidable team.
Rocky Carson/Jesus Ustarroz are a long-time pairing and are 2-time winners here. They continue to play together in the regularly held shootouts on the court and are usually found in the back end of the draws. But they've been bedeviled in the latter stages of this event the last few years, losing in the final of 2018 and the semis in both 2019 and 2021. They'll still be a top seed and will look to get an upset on Saturday of the event.
Brandon Davis/Josh Tucker won this event together in 2018, and Tucker is a constant presence in the semis of this event. He's been a semi-finalist or better ten times since 2007, with three titles. Davis is no slouch either; he's been in the semis or better five times since 2011. This is the team nobody wants to see in the quarters, or perhaps at all in this tournament. They're both frequent players on the Marina Park courts and are cerebral tacticians when it comes to the outdoor genre.
Greg Solis/Scott Davis: Solis has 6 Men's titles dating to 1995, and made the final last year with Tucker. This year he's entered with Brandon's brother Scott, himself also a mainstay in the quarters and semis of this event and a finalist in 2014.
Andree Parrilla/Robert Sostre: Parrilla doesn't have much outdoor pedigree, but Sostre certainly does. He's won no less than 11 Men's Major outdoor titles in his career, and is now teamed up with one of the most skilled indoor pros out there.
Don't forget about solid pairings such as Natera/Fernandez, Coe/Koll, and Lavely/Gerhardt, all of whom are solid teams.
From the round of 16 onwards, there are no easy matches at Outdoor Nationals. This will be a neutral's paradise to watch from afar.
Women's Pro Doubles
Last year, Michelle De La Rosa/Carla Munoz cruised to the Women's doubles title, dominating the 5-team round robin. This year the draw will be significantly deeper, with a number of LPRT players pouring into the draw. Here's some teams to watch for:
Kelani Lawrence/Hollie Scott: the newly crowned USA National indoor champs are teaming up to give it a go in outdoor, and Scott's one-wall pedigree should help power this team.
Jessica Parrilla/Maria Renee Rodriguez are teaming up for the first time to compete here this weekend. Parrilla has competed in outdoor before, while this is a first for MRR.
– Heather Mahoney/Jazmine Trevino bring some California presence to this draw. Mahoney is fresh off Junior Nationals, where she captured the 18U title with ease.
Mixed Doubles
The mixed draw is of course headlined by the husband-wife pair of Daniel & Michelle De La Rosa; they've now won 14 major outdoor titles together since 2014, and they have not lost a match together since the final of the 2018 3WB event in Las Vegas. Who can challenge them? Here's the teams shooting for an upset this weekend:
Rick "Soda Man" Koll/Maria Renee Rodriguez: Koll always competes well in Mixed and has a number of titles to his credit. MRR is newer to outdoor but may prove to be a quick study.
Micah Rich/Kelani Lawrence: this could be my pick to make some noise this weekend. Rich of course is one of the best outdoor players out there, while Kelani can hold her own against any female player on the right side.
Alan Natera/Carla Munoz: for years Munoz has played with Sostre in mixed and was a regular finalist. Now she's trading the hall of famer for her husband in Natera (understandable), and will look to make it an all husband-wife affair in the finals against the DLRs.
Andree & Jessica Parrilla: perhaps the best brother-sister combination in the history of the sport teams up to play mixed in California; these are two top 10 touring pros who both can play.
Eduardo Portillo/Hollie Scott: Scott is quickly becoming an outdoor force, and Portillo can hang with most any player.
Robert Sostre and …. A game day decision to see who pairs with Sostre. As of this writing, the hall of famer and multi-mixed titlist was seeking a partner. Sostre can carry a player to the final; can he find a partner to break through and win it?
Men's Singles features 8 brave players battling it out on the massive Marina Park courts. And there's some big-time names in this draw. World Games champ Acuna, IRT #2 Parrilla, Hall of Famer Sostre, and fellow Hall of Famer Greg Solis are the favorites here. Solis is searching for that elusive singles title; he's been a runner-up several times.
Women's Singles: Carla Munoz is back to defend her 2021 singles title, and she's got a slew of regular touring pros challenging her for the 2022 title. Lawrence, Parrilla, Rodriguez, and Scott are in the draw, along with outdoor specialists Victoria Rodriguez and Mexican Junior Angela Ortega. Scott has won the last three Beach Bash singles titles, but 3-wall is a different beast in singles than one-wall. This should be a competitive draw.
Look for Streaming on 3Wall Ball , led by the invaluable @jt rball.
Thanks to the Tourney Directors @Jesus Ustarroz and @geoff Osberg for putting this event on! They've been running Outdoor Nationals for 10 years now and continue to do a fantastic job. Thanks to @3WBall and Mike Coulter and Peggine Tellez for your help as well.
Reminder to Players! Please like and follow this page so that when I tag you, you see it. Facebook will only retain tags of people that like/follow a page, which means lots of you are not getting the notoriety of getting tagged and noticed on Facebook. If your name is here and it isn't tagged … it probably means I attempted to tag you but Facebook stripped it.
Associations
@WOR – World Outdoor RacqueWoR
@USA Racquetball
onewallball / Ruben Pagan
3wallball / Mike Coulter / mc vegas
AGE Solutions / Andy Gomer
team root / Randy Root
KWM Gutterman / Keith Minor
APCON/MZ Companies / Abel Perez
Team Dovetail / Mike Kinkin
Daily Racquetball
Hashtags #racquetball #proracquetball #outdoorracquetball #irt #lprt #wor