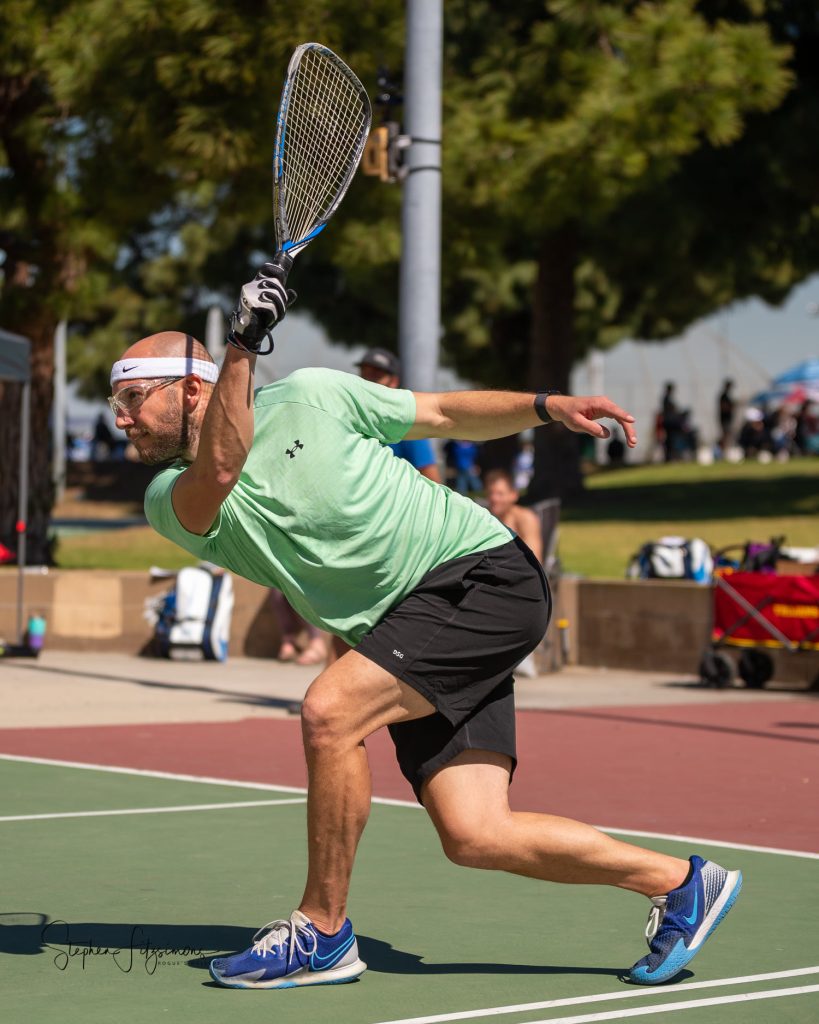 Congrats to your winners on the weekend:
Men's Pro Doubles: Jason Newberg and @Micah Rich
Women's Pro Doubles: Michelle De La Rosa and Carla Munoz
Mixed Pro Doubles: Michelle De La Rosa & Daniel de la Rosa
Men's Singles: @Andres Acuna
Women's Singles: Carla Munoz
CPRT: @Josh Tucker and @Greg Solis

Executive Summary: Geis/Rich hold off DLR/Beltran in the final for the 2nd year in a row, the DLRs continue to dominate in Mixed, mDLR gets another weekend outdoor double, as does Munoz, and Acuna goes back-to-back titles in indoor and outdoor, and a HoFamer takes the CPRT with a future outdoor HoFamer in Tucker.

R2 Sports App home page for event: https://www.r2sports.com/website/event-website.asp?TID=38652

Triple Crown Reports: These links list the "triple crowns" of Outdoor racquetball majors; its a nice way to see all the past winners in one place.
Men's Pro Doubles: https://rball.pro/j47
Women's Pro Doubles: https://rball.pro/2vv
Mixed Pro Doubles: https://rball.pro/y43
Men's Pro Singles: https://rball.pro/86z
– Women's Pro Singles: https://rball.pro/x8g
Lets do a quick recap of the pro draws.
Men's Pro Doubles: https://rball.pro/i2u
Thanks perhaps to the new outdoor player ranking system in place, the seedings were un-assailable at this event, and the draw was almost entirely chalk. Out of the 13 pro doubles matches played on the weekend, there was just one upset by seed (#10 @Robert Sostre and Andree Parrilla over #7 Thomas Gerhardt and Danny Lavely in the round of 16.
1 seeds and defending champions Gies/Rich destroyed the indoor-pro team and finalists at Beach Bash of Acuna/Portillo 1,3 in the quarters to set the tone for the rest of the weekend. They advanced frequent Marina Park shootout rivals @Rocky Carson and @Jesus Ustarroz in the semis to advance to the anticipated final.
From the bottom-side, #2 DLR and Alvaro Beltran (the 2019 winners here) defeated the 2018 winners in Josh Tucker and Brandon Davis in two games to advance to the title match.
DLR/Beltran came out firing, winning the first game 15-3 and giving the crowd a buzz; this is the third time in two years these two teams have met in a 3-wall outdoor pro doubles final. However, Rich/Geis came back and took game two 15-12 … but not before some real drama. At game point against, a ball came across the court to Alvaro on the right-hand side, who prepared to take a backhand. However, Geis was pinned and moved off the court. Beltran took the shot and hit Geis, looking for an avoidable hinder, but the referee (and line judge) ruled the ball was struck in a way that it wouldn't have made the front wall; point against DLR/Beltran and game two. DLR and Beltran were furious, and had to be separated from the referee. Not a great look for two veteran pros.
Once everything settled down, the tiebreaker was a back and forth streaky affair, with DLR/Beltran taking the early lead but Rich/Geis running a few points at the end to take the title.
The expected Las Vegas rematch should be interesting.
Women's Pro Doubles: https://rball.pro/gfq
Michelle De La Rosa and Carla Munoz won their 4th straight Outdoor Nationals women's pro doubles event, and 6th outdoor pro major together, by twice holding off the reigning USA indoor national doubles champions Kelani Lawrence and Hollie Scott . The 7 ladies teams played a double elimination draw, and thus in the match report the winner's bracket final is listed as the "semis" and thus it looks like the semis and finals were a duplication in the database. We don't get too many double elimination draws (I can count on one hand the number I've seen across all federations doing data entry for 20+ years), so the code/database isn't built to handle it perfectly right now.
Bravo to @Angela Veronica Ortega and @Victoria Rodriguez, who advanced to the loser's bracket final and finished 3rd by defeating some seasoned outdoor and pro teams.
Mixed Pro Doubles: https://rball.pro/8q6
The De La Rosa husband-wife team continues their dominance over Mixed Pro racquetball, winning this event for the 6th time in the last 7 years, and winning their 17th mixed pro outdoor major doubles title together. They remain on track to do the "triple," winning all three outdoor major titles in one year.
They topped up-and-coming outdoor regulars Eduardo Portillo and Hollie Scott in a close final, but were given a scare in the semis by the Parrilla bro/sis combo, who beat them in game one 15-4 before the DLRs made the inevitable adjustment and blew them out 2,3 from there on.
CPRT Doubles:
@Josh Tucker and @Greg Solis, who have a combined 9 outdoor nationals pro doubles titles between them (but never one together), took the CPRT 40+ pro draw as the top seed. They beat SoCal expert 40+ players @Scott St Clair and Tony Burg in the final.
Men's Singles: https://rball.pro/3cu
Andres Acuna , who won this event last year at Outdoor Nationals and was the #1 seed, took out #2 IRT player Andree Parrilla and then #2 seed veteran outdoor player Danny Lavely to repeat as singles champion here. It's been a nice two weeks for Andree, who took the World Games in Birmingham on Tuesday, hopped on a plane, then took the title here in a completely different racquetball discipline. Oh and apparently he got married recently.
A nice month for the Costa Rican. Bravo.
Women's Singles: https://rball.pro/3it
@Carla Munoz , the #1 seed and defending champ, defended her title here by ousting the improving Ortega, then two fellow LPRT touring vets in Lawrence and Scott to take the title. After missing Beach Bash, Munoz had some catching up to do with the cup series, and she took the double this weekend. She took out Scott in the final, fitting in that Hollie won the Beach Bash singles title.
Outdoor Cup Series status: we'll do a separate post later this week on the machinations of this weekend's results on the Cup standings.
Wor HOF class of 2022 Induction
On Saturday afternoon, the latest WOR Hall of Fame class was inducted. 1979 champs Dave Trenton & Steve Fey were added to the Hall; these were important transitional players who helped get outdoor Racquetball from its Paddleball roots of the 1970s into the power game dominated by Southern and Hawkes in the 1990s.
Thanks for all the streaming on the weekend, headlined by the LPRT team with SoCal's JT R Ball often on the mike, bringing on outdoor legends to help commentate. It is always a treat to listen to these specialists.
Next up?
Per our handy master racquetball calendar …
https://docs.google.com/…/1V6OTid6rZ356voXVkoV2sN7KMMb…/
… we're in the dead of summer now; no events next weekend, then in two weeks time there's a tier 3 IRT event in Alejandro Landa 's name in Juarez that should get some big names.
August is shaping up to be super busy: Worlds, the return of the Paola Longoria experience in Mexico, and a big Outdoor event in Chicago.
Thanks to your tournament directors this weekend @Geoff Osberg and @Jesus Ustarroz. Thanks to @3wa3Wall Ball 's @PeggiPPeggine Tellez and @Mike Coulter for all your support for the event and for your weekend experience help. Thanks of course to title sponsor @RaRandy r and his company Team Root for underwriting the event, to the presenting sponsor Pro Kennex, and to all the other sponsors who make this event possible.
tags