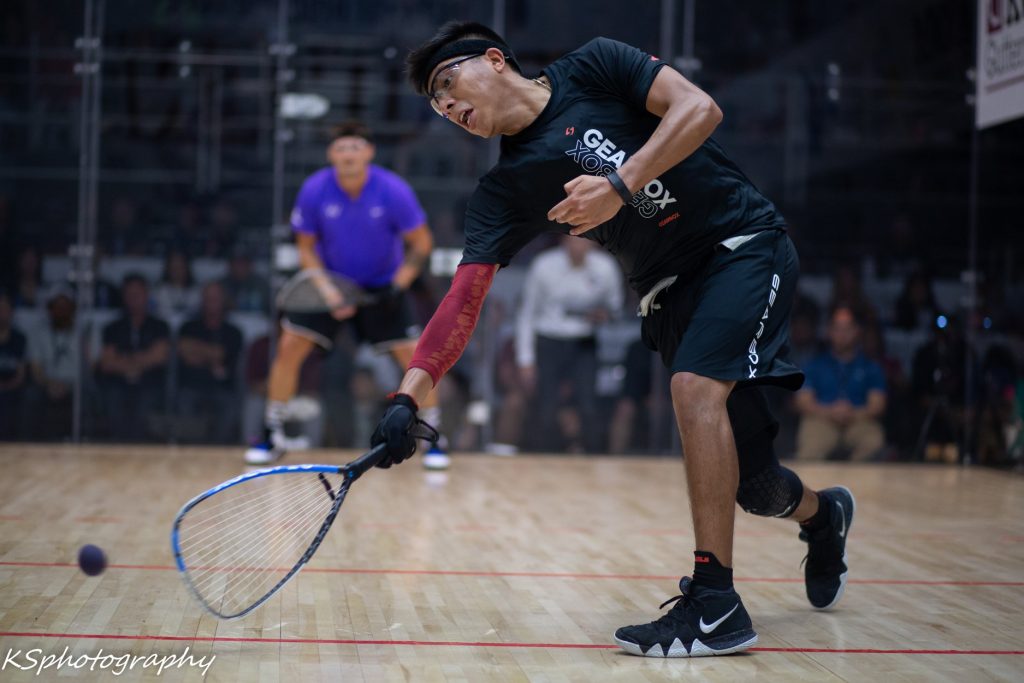 Congrats to your individual winners on the weekend:
Men's Singles: Conrrado Moscoso
Women's Singles: Paola Longoria
Men's Doubles; @Alvaro Beltran and Daniel de la Rosa
Women's Doubles: Longoria & @Samantha Salas Solis
Mixed Doubles: Salas and Rodrigo Montoya
Obviously a huge week for team Mexico, which wins four of the five draws on home soil in San Luis Potosi, strongly taking back the crown of best Country in the sport.
After the individual events, the countries played "team" events, which were both won by Mexico (Men's over Canada, Women's over Bolivia), further cementing Mexico's reclaiming of their top-country status.
R2 Sports App home page for event: https://www.r2sports.com/website/event-website.asp?TID=39914
Here's a quick recap of each draw, with some observations.
Men's Singles: https://rball.pro/9s5
Bolivia's Moscoso took out USA's long-time representative @RRocky Carson in the final to secure his third IRF title and his first world title. Rocky loses in the final of Worlds on the same court where he made his Worlds debut back in 2000, an amazing feat considering that he's still making the back end of tournaments 22 years later.
Some of the storylines of the knockout draw for me:
Moscoso really dominated this event. He beat Landa 2,3,2 (the 2021 World Champ), then turned around the next day and beat Montoya 4,2,6 (the 2018 World Champ). These were absolutely dominant wins even by rally scoring standards, and its hard to understate just how well he was playing. His serves were as fast as I've ever seen in a pro or IRF event, thanks to altitude in SLP and where Conrrado is right now.
The biggest storyline besides Moscoso has to be the shock upset loss of DLR in the 16s to Guatemalan @Edwin Galicia . This is the currently ranked #1 pro in the world, who should have been in the final against Moscoso. It is really a shocking loss for the world's top player.
– Rocky came from two games down in the semis to down @Andres Acuna , who continues to make the case that he belongs in the discussion of the top players in the world.
Women's Singles: https://rball.pro/uw5
Longoria secures her amazing 23rd international singles title, losing just one game the entire tournament. Her first title was in 2006, and now in 2022 she's just as dominant.
Other storylines for me:
I realize its the IRF and they make their own rules … but the women's draw seeds show why you cannot seed by country. Your 1-4 seeds were Manilla, Mendez, Rajsich and Centellas, giving USA and Argentina the top four seeds based on their finishes last fall. All four players lost in the quarters. Seeding is important in tournaments, and time and again the IRF's country-based seeding results in weird looking results (like the decade-long #1 LPRT player Longoria being the #6 seed here).
Manilla's loss to Barrios wasn't that big of an upset, in that they're #6 and #7 on tour right now, but Manilla's loss to Angelica (or is it Steffany now?) coupled with her loss to Enriquez at the pro stop last week does not portend well to her aims to challenge for the upper echelons of the tour rankings.
– The second straight week that #2 Herrera has lost to one of her top rivals. Last week it was Mejia, this week Gaby. Is she really ready to challenge Paola for the #1 title, or were her two wins last spring just a good run of form?
Men's Doubles: https://rball.pro/1hb
DLR and Alvaro return to the top of the IRF doubles world, winning Worlds again. They were 2018 World champions together. This represents Beltran's 11th career IRF doubles title, and he does it in his final appearance before retiring from play.
They certainly earned this title, taking out the very solid Ecuadorian team in the quarters, the US team in the semis, and then coming back from 2 games down to beat the excellent Bolivian team in the finals.
– Was slightly surprised the Canadian team didn't get to the final, but its also an indicator of just how well Moscoso was playing this week. And @Roland Keller is a fantastic right-side player.
Women's Doubles: https://rball.pro/8hc
First the obvious; Longoria and Salas of course are the most dominant pro doubles team, and continue to be the best team in the IRF. This title is their 16th IRF title together. to go with more than 30 pro doubles titles. Its really amazing.
– Bravo to the Argentina team, who beat the team i thought was a shoe-in to get to the finals (USA), then crushed an over-seeded team Canada to get there. And they nearly won; taking the champs to 5 games and a 12-10 5th game loss that could have gone either way. Would love to see what Mendez/Centellas can do going forward, and see if they can challenge the other top teams on tour (Mejia/Herrera specifically).
Mixed Doubles: https://rball.pro/g75
Montoya and Salas are clearly the best mixed team in the world right now, having won their second straight Mixed IRF major to go with their title in the 2021 Mixed pro event in Denver.
– Mixed doubles is a great addition to these tournaments and I hope we get more combined pro events so we get more full-strength mixed pro draws.
Thanks for all the streaming on the weekend; thanks to IRT crew and @Pablo Fajre for making it happen, thanks to @Gary Mazaroff and Alexis Iwaasa for your time on the mike.
Thanks to USA Racquetball for streaming the USA matches when not on the main court, as well as other orgs/players who live streamed their matches for us to benefit from afar.
Next up?
Per our handy master racquetball calendar …
https://docs.google.com/…/1V6OTid6rZ356voXVkoV2sN7KMMb…/
IRF Seniors is in Albuquerque next weekend (home of Breaking Bad and Better Call Saul!), and then the pro tours kick into action with two straight weekends of Mid-Atlantic tournaments; the LPRT in Chesapeake VA on the 9/11 weekend, and then the IRT in Severna Park the 9/18 weekend. Both of these sites are drivable for yours truly (now living in Richmond), but we'll see which ones I can get to.
tags