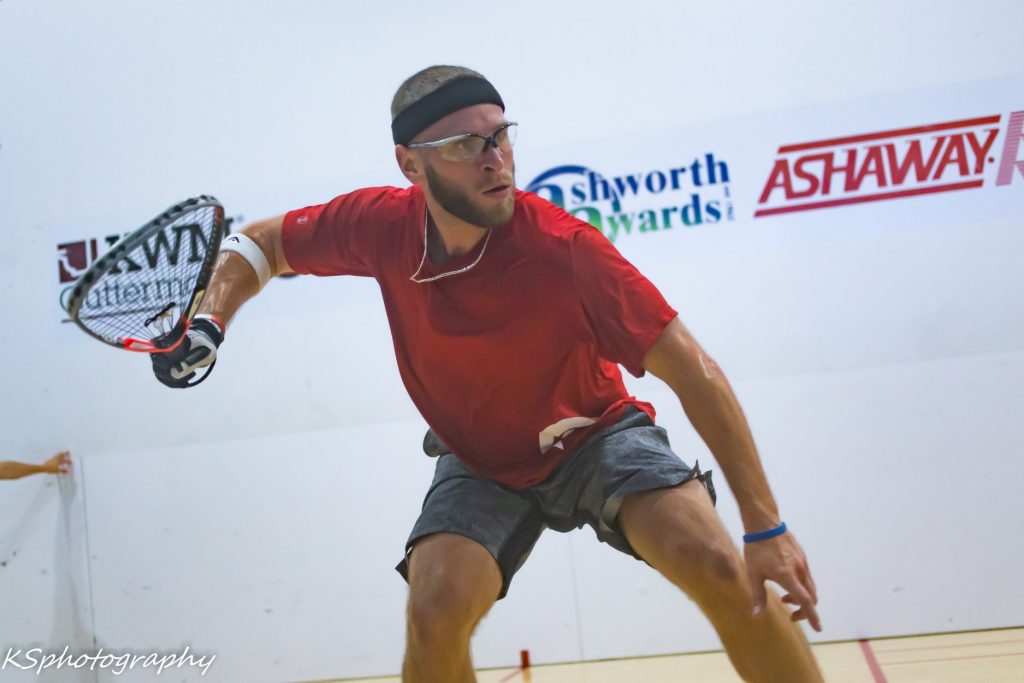 Congrats to your Pro Singles winner on the weekend: Jake Bredenbeck !
Jake becomes the 44th man to ever win a Tier 1 professional racquetball event, dating to the fall of 1974. See http://rb.gy/aibnid for a list of all Tier 1 winners in the history of the IRT and its predecessors. Jake joins a club of "One time winners" on tour which includes 10 players, several of which are active currently (Murray, Portillo, Mercado, Franco, Pratt).
R2 Sports App home page for event: https://www.r2sports.com/website/event-website.asp?TID=37812
——————
Lets review the notable matches in the Singles draw.
PRS Match Report: http://rb.gy/wfieqj
No real surprises in the 32s. The main notable match was Alan Natera 's 0,0 win, the first time we've had a double donut on tour since Jan 2019 (see this link for the tour's worst defeats to see all the double/triple donuts we've had: https://rball.pro/99u )
In the 16s, just one upset by seed but several notable matches:
– #9 Thomas Carter got a very solid win over the recently surging #8 Adam Manilla 11-9 in the breaker. Carter was solid, making serves, and making shots, while Adam was leaving things up and not putting away his opportunities. Carter makes his 3rd career pro quarter: see http://rb.gy/hio52i for his career Summary.
– #6 Mario Mercado was stretched to a breaker by veteran lefty @Robert Collin before advancing.
– #7 @Rodrigo Montoya was pushed to a breaker by Alan Natera before advancing.
– #2 Eduardo Portillo advanced over Canadian Michael LeDuc by the 0,0 score line, the second double donut of the tournament.
—————-
In the Quarters, three of the top four seeds advance.
– #1 Andree Parrilla got pushed 15-14 in game one by #9 Carter, but then blew him out in game two 15-2 to advance.
– #5 Bredenbeck improved to 3-2 lifetime against Big Canada Samuel Murray to move on. Jake topped Sam 9,4 in a comprehensive victory.
– #3 Alejandro Landa held off Mercado but was taken to a breaker to do so.
– #2 Portillo blasted #7 Montoya 1,4 to move on. Montoya, who I tipped to win this event, did not drive serve early and does not seem to this observer like he was healthy.
—————
In the Semis
– Jake won a fantastic match that featured multiple come-from-behind actions to top his long-time rival Parrilla to move into the final.
– Portillo ground out a win over the veteran Landa, winning game one 13 and then having landa retire at 11-11 in the second.
In the Finals
– Jake had another match that featured a ton of comebacks to win his first title.
—————-
Points Implications of results
This tournament expired the 2021 Chicago event, and the top 4 players on tour were essentially locked into their spots irrespective of the results here (probably why the attendance was sparse).
However, the players ranked 5-10 collectively are separated by just 200 points, so every tournament jumbles the seeding. Based on these results, and the expiration of 2021 Chicago, Murray should drop from 5 to 7, Landa and Kane will move up a slot, and Rocky drops down to #10. Montoya just misses out on a top 10 spot for the season.
At some point I presume the tour will pivot back to a 365-day rolling calendar, now that we're beyond covid and are back to a decent schedule. Right now, the 2022 title is determined in part by tournaments that happened in 2021 (not the least of which is the 2021 US Open, which gives a huge chunk of points to DLR in particular), and it probably isn't "fair" to continue to do this.
—————-
Men's Open, other draws
There was no Pro doubles here, nor a U21 division (since all those players are at World Juniors). The Men's Open draw was small, and was won by Natera over Montana Amateur Ty Hedalen . Hedalen teamed with Matthew Ivar Majxner to take the Open Doubles title, representing Montana well. California duo Will Reynolds and Estefania Perez-Picon took the large Mixed Open doubles draw. Shout out to fellow USAR board member @Cindy Tillbury, who won the Women's Open doubles draw with partner Rachel Chamness. Lastly sometime LPRT touring pro @Lexi York took the 20-person Men's Elite singles draw.
—————–
Thanks for all the streaming on the weekend, especially from broadcasters Favio Soto, Pablo Fajre and the IRTLive crew
——————
Next up?
Per our handy master racquetball calendar …
World Juniors is underway now; knockout brackets will be determined later this week after the RRs complete.
After that, the LPRT is heading to the DC Area to play the 30th iteration of the Xmas Classic, a tournament I used to help run 20 years ago. Then the last major event on the 2022 schedule is an outdoor event in Hollywood Florida that's become one of the most popular outdoor tournaments all year.
——————-
tags