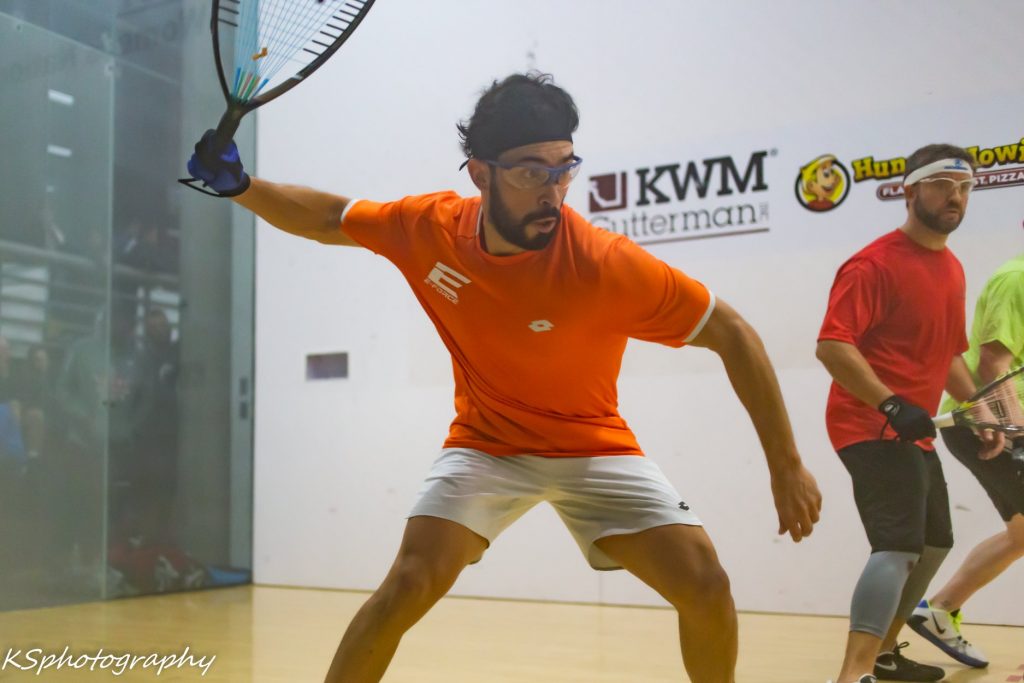 Well… its been six months since I wrote a pro tournament preview in this space. I almost forgot how to write one of these things. But somehow, we have pro racquetball happening this weekend.
The 2020 IRT Atlanta Open, which was initially set to be the 2020-21 Tier 1 slate season opener, has been repurposed as a Tier 4 event and is being held this weekend at Recreation Atlanta in Lilburn, GA.
Interestingly, the draw features a huge chunk of the Colombian national team playing, including its top three ranked singles players and some players who have traveled up from Cali. I'll call them out in the preview below.
R2 Sports App​ link for the tourney: https://www.r2sports.com/website/event-website.asp?TID=31746
There's 16 players in the pro singles draw and 9 pro doubles teams. Its a solid draw, featuring a slew of touring pros, so its worth running through a preview.
Lets preview the draw. Here's some interesting matches from the round of 16.
– #1 Alex Landa ​vs #16 Andres Ramirez​; interesting first rounder for the current #2 player in the world. He takes on a long-time Florida star Ramirez, who has been playing pro events for nearly two decades and has even played internationally in the past. This is no cakewalk for Landa.
– #5 Eduardo Garay Rodriguez​ takes on home-town favorite #12 Marquis Miller​ , the twin brother of regular tour player Maurice Miller.
– #6 Maurice Miller​ takes on traveling Colombian @Juan Pablo Rodriguez in his opener.
– #7 MoMo Zelada​ gets a tough first rounder in solid Florida amateur Matt Fontana.
Projected Qtrs
– #1 Landa over #9 Austin Cunningham, to advance over Jim Douglas.​
– #5 Garay over #4 Mario Mercado​; two Colombian teammates battle it out in the 4/5 spot. Mercado has been an enigma on the court; sometimes he's lights out and sometimes he's one-and-done. His 2019-20 season had a final reached and three round-of-32 exits. Garay topped him for the second Colombian team spot earlier this year, and that could be a trend for the young ex-Mexican junior national team member. I like Garay's game but this could be a close one. Garay to edge Mercado in the breaker.
– #3 Sebastian Franco​ vs #6 Miller: Franco also had an up-and-down season, making two semis but also getting upset in the qualifiers a couple times and missing a bunch of events. He faces the tough Miller playing on his home courts under interesting circumstances. Has Franco been playing? The court availability in the DC area isn't the same as Atlanta, where the clubs have been open for a bit. Upset watch here, but Franco advances.
– #2 Daniel De La Rosa​ vs #7 MoMo Zelada; DLR makes the bit trip eastward to compete in this event and gets DC-area native Zelada. I like MoMo (shoutout to Formulaflow​) but DLR outclasses him here and moves on.
Projected Semis:
– #1 Landa over #5 Garay: these two met twice last season and split, so Garay won't be intimidated by Landa's game. This is a contrast in style; Landa plays controlled and clinical, while Garay plays powerful and passionate. Landa ekes it out.
– #2 DLR over #3 Franco: they've met 9 times in top level competition (IRT and IRF) and DLR leads 7-2. Interestingly, they have not met professionally since Jan 2017 despite both being regular tour players for the past few years. DLR finished the season on fire, and I like him to keep going. DLR in two.
Finals: Landa over DLR. Yes, Landa owns the head to head record between these two, and it has been more than 3.5 years since DLR beat Alex on the court. But when they do play, they play close. Multiple 11-10 or 12-10 in the fifth encounters between them. Both have similar game styles; both are shot makers who rely more on skill than on power. If DLR is on, he's hard to beat. But these two have played so much that they find it hard to get into their preferred game against each other. Look for Landa to win 11-9.
Doubles review
Nine teams entered, with a good mix of locals playing with traveling pros. I like the #1 seed of Landa/Zelada advancing over #4 Mercado/Miller on the top, with DLR/Donald Williams topping two teams with Colombian pros in the bottom. In the final, Look for Landa/Zelada to take the win and give landa the double.
Don't forget to try out the IRT Fantasy Brackets this year!https://www.r2sports.com/website/event-website.asp?TID=36277 is the R2sports link for the Fantasy bracket. Enter for a chance to win and go head to head against me as I put in my picks (as predicted above).
Look for Streaming in the regular places; follow the IRT on facebook and sign up to get notifications when they go Live. Look for Dean DeAngelo Baer​ Favio Soto ​, Pablo Fajre​ and the IRTLive crew all weekend on the mike, calling the shots!
Tags
International Racquetball TourInternational Racquetball Federation – IRFUSA RacquetballFederación Mexicana de RaquetbolRacquetball ColombiaFederacion Colombiana de Racquetball