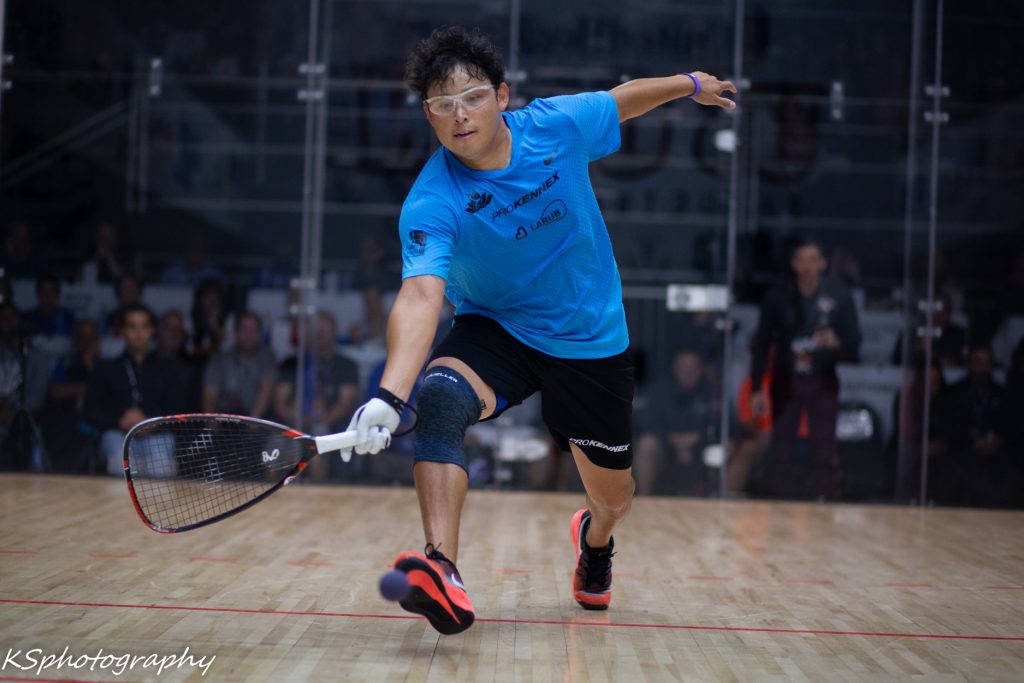 Congrats to your winners on the weekend:
– Singles: Daniel De La Rosa
– Doubles; Daniel De La Rosa/Alvaro Beltran
De la Rosa wins this event for the second time in four years (he loves Sioux Falls: he's made the final here now four years running), and captures his 4th Tier 1 victory, moving him into a tie for 19th all-time with heady names like Steve Serot, Gregg Peck, Bo Keeley and his long-time Mexican rival Alex Landa . Click here http://rball.pro/E75E50 for a list of all 40 tier 1 men's pro titlists throughout all of history.
R2 Sports App home page for event: https://www.r2sports.com/tourney/home.asp?TID=31789
——————
Lets review the notable matches in the Singles draw.
Singles Match report in the PRS database: http://rball.pro/FA1E69
—————-
In the 128s:
– Minnesota amateur Lee Meinerz played some solid ball and hung with Tony Carson in his first tourney back, taking the first game 15-14 before Carson had to retire.
In the 64s:
– Meinerz continued to play tough and stretched #17 Sebastian Fernandez to 8,12 in his tourney opener.
– #25 Kadim Carrasco played a tough tiebreaker against #24 Jansen Allen to advance.
– #28 Sam Bredenbeck played #21 Felipe Camacho tough, falling 9,14 in a hard-hitting match.
– Charlie Pratt Racquetball got a solid win over Alan Natera Chavez 10,8 to move into the 32s.
– Set Cubillos Ruiz got a tie-breaker win over the Ref Scott McClellan to advance.
– Robert Collins got a tough earned win over Canadian Tim Landeryou 12,12 to move on.
—————-
In the 32s:
– #16 Adam Manilla could not keep the momentum going from last weekend and fell to #17 Fernandez 6,10. Fernandez looked bulked up and ready to challenge #1 Landa in the main draw.
– #21 Camacho got his best win of the season, ousting #12 Carlos Keller Vargas in a tie-breaker to advance to just his second main draw of the season.
– #20 Javier Estrada went breaker but took out #13 Thomas Carter to get into his third main draw of the season.
– #19 Javier Mar eased past the Costa Rican number one #14 seed Andres Acuña to get into the main draw. Mar has a history of disrupting IRT draws, and he's well positioned to do so again here.
– #22 Charles Pratt moved to 4-0 lifetime in top-level events against #11 Mario Mercado Valenzuela in a streaky game that looked like was going against him early. Pratt gets a juicy match-up against a player he shocked in last year's PARC event in Moscoso (also his doubles partner on the weekend).
—————-
In the 16s: some notable matches:
– #20 Estrada could not get the breakthrough win he's been pursuing, losing to #4 Alvaro Beltran in two solid games.
– #19 Mar proved once again why fans wish he'd play the tour full time, topping #3 Andree Parrilla in an 11-9 breaker. Its the second straight one-and-done for Parrilla, having been shocked last week in Austin by Manilla.
– #6 @Luis Luis Conrrado Moscoso Serrudo] got revenge on Pratt from their last meeting (the 2019 PARC) and topped him in two. He seemed to show little side effect of whatever malady caused him to exit so easily in Austin.
– #7 Daniel De La Rosa continued his h2h dominance over country-man Rodrigo Montoya Solis, beating him 11-8 in the breaker in a tough match.
So, 7 of the top 8 seeds into the quarters; a slight surprise to this observer who keeps waiting for some of the guys in the 9-20 range to step-up.
—————-
In the Quarters though … all upsets.
– #8 Samuel Murray got a walk over when #1 Alex Landa pulled up lame midway through the second game. Murray had won the first, and it was hard to tell if the core injury (strained back?) was affecting Landa early on. Murray has beaten his oft-doubles partner before, so it wasn't a huge surprise for him to get a game up on the notorious slow-starting Landa … but Murray into the semis was unexpected, especially from the #8 spot.
– Whatever #5 Lalo Portillo figured out … he needs to bottle it up and sell it. After three straight one-and-dones since earning a top 8 seed … he held serve against a former top 10 touring pro in Camacho in the 16s, and then dominated #4 Beltran 5,6 in the quarters. He gets a second semi on the season, and a winnable one at that versus Murray.
– #6 Moscoso continued to have the upper hand over Mar, dating to their junior days (they're the same age-year and often met in the back end of Junior World events), and advanced in two games.
– #7 DLR took advantage of #2 Rocky Carson's first game back from injury, playing solid ball and advancing in two 12,11.
So; for the for the first time in recorded seeding history on the Men's tour, all top 4 seeds are upset prior to the semis, leaving the rest of this tourney to be contested neatly by the #5, #6, #7 and #8 seeds. We're guaranteed to have a shock finalist; Murray has just one finals appearance in his career, Portillo none. The Lewis Drug event continues to provide surprises year after year.
—————
In the Semis:
– #5 Portillo raced out of the gate to blow away #8 Murray in game one, then mounted a huge comeback after going down big in game 2 to advance 4,14 and move into his first tier 1 professional final. Lalo is just 20 years of age and is one of the youngest finalists we've seen in years, and will have his hands full against a seasoned pro.
– In just their 4th career meeting (pro or international), #7 DLR continued his red-hot form and reversed the result from the US Open earlier this season and topped the Bolivian 8,11 to move into the final. Its hard to say whether Moscoso showed any ill-effects of the leg injury he picked up in Austin; one observer in the chat-box noted that Moscoso was merely "shuffling" to his right and not crossing over footsteps, perhaps implying he still was favoring his left leg. I also find it curious that the foot fault issues that plagued him at the US Open continue to be a factor; its now to the point where the referee knows to look for the FF and I believe now calls it even when its a borderline case.
—————-
In the Finals:
It looked for a while like the young Portillo may provide a shock, as he played consistent solid ball to jump out to a lead, but DLR pulled back, played smart racquetball and eked out game one, saving game point against 15-14. In game 2, it was never really as close as the eventual 15-9 scoreline showed; DLR was in control despite Portillo's excellent game plan.
—————-
Points Implications of results:
– Landa had a chance to take over #1 with a tourney win, but by existing at the qtrs along with Carson they stay 2-3 in the standings behind Kane.
– Parrilla and Beltran remain 4-5, but Alvaro picks up some ground.
– DLR moves up to #6 with the win, gaining enough points on Moscoso to switch places and dropping the Bolivian to 7th.
– Despite the finals appearance and the win over Murray in the semis, Murray and Portillo remian 8-9 in the standings.
– With the missed event, S.Franco drops to 12th, which elevates Jake Bredenbeck into the top 10 for what I believe is the first time in his career.
– Mar jumps from #23 to #20, which is important because more than a few guys in the 11-20 range right now are either stepping back from touring or periodically miss events, meaning Mar could slip into the top 16, meaning a bye into the 32s.
the IRT now has enough events on the 12-month schedule that they're counting points in 11 events, dropping other events. Which makes it even more amazing that guys like Kane and Conrrado can maintain top-8 seeds despite not even playing the minimum # of events.
—————-
Doubles review
Match report in the PRS database: http://rball.pro/548396
The doubles draw was chalk in the semis, with all four top seeds advancing. Landa's injury took out the Murray/Landa team, giving Montoya/Mar a walk-over into the finals. There they met their long-time Mexican nemesis team of #1 DLR/Beltran.
DLR/Beltran vs Mar/Montoya is becoming a frequent match-up in major doubles events. This final is a rematch of the following major matches:
– 2018 Mexican Nationals final
– 2018 Mexican Worlds Selection event final
– Quarters of 2018 World Doubles
– Semis of 2018 US Open
– Semis of 2019 Atlanta open
The veterans DLR/Beltran won all these meetings. And they won again in the Sioux Falls final, though they had to go breaker to do so. Beltran continues to be such a skilled shot maker even at 41, that I wouldn't be surprised if he remained a dangerous pro doubles player for years to come.
—————-
Men's Open:
The top four seeds in the Men's Open draw are all IRT pros ranked in the 9-16 range, and as expected they all advanced into the semis. Only Gerardo Franco Gonzalez was really troubled along the way, taken to a tie-breaker by Canadian veteran Landeryou.
In the Open semis: Franco upset Acuna while Montoya handled Mercado, and in the final Montoya cruised to the Men's Open singles win.
——————
Next up?
The third of three IRT events in a row; the Lou Bradley Memorial in Sun Prairie, WI. It should be interesting to see what toll these back-to-back-to-back events take on players: we've already seen Kane bow out of one, Landa forfeit out with injury, and see both Beltran and Carson exit earlier than their seeds. Will we see another run from an unexpected source next week?
——————-
International Racquetball Tour
International Racquetball Federation – IRF
International Racquetball Federation
USA Racquetball
Racquetball Canada
Federación Mexicana de Raquetbol
Federación Boliviana De Raquetbol – Febora
Racquetball Colombia
Federacion Colombiana de Racquetball
F