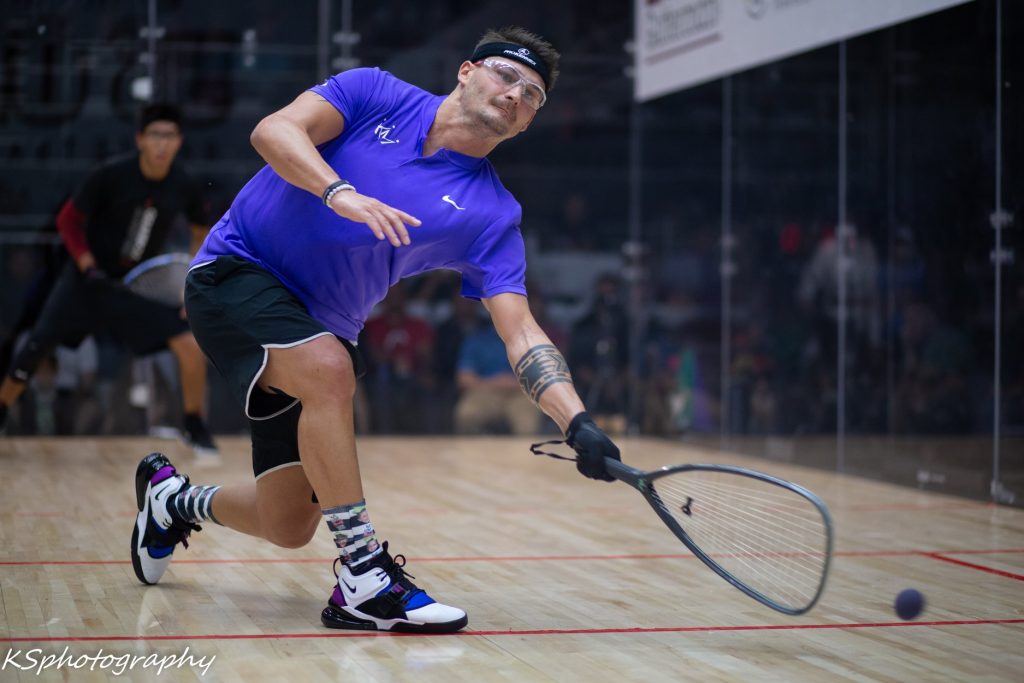 Congrats to Kane Waselenchuk on his pro singles win this weekend in Portland at the 2019 John Pelham Memorial Tournament of Champions. With this win:
– He captures his 120th career IRT Tier 1 title
– Kane improves to 17-1 on the season
– he extends his current on the court winning streak to 21.
– He increases his points lead at the top of the tour to more than 500 points at the halfway point.
– He extends his career match record to 596-53
R2 Sports App tourney link: https://www.r2sports.com/website/event-website.asp?TID=31055
PRS match report online: http://rball.pro/8743AB
A couple notable things about this event; it was a Saturday night finish, meaning a compressed pro schedule. Also, the 9-16 seeds continue to get byes into the 32s, as opposed to having to fully qualify. This is a tweak to the qualifying that the tour has been experimenting with when they can and I like it. It protects the regular touring players a bit more but also doesn't force them to have to play a ton more matches than the 1-8 guys.
—————–
Lets review the notable matches in the draw. We'll start with the 2nd round of qualifying, the round of 64.
– #17 Kadim Carrasco was stretched to a tie-breaker by local amateur #33 Sunji Spencer before falling.
– #20 Sam Bredenbeck took a tiebreaker win over #29 Matthew Ivar Majxner to move on.
– #23 Dylan Reid played fantastically, dominating Canadian #26 Lee ConnellConnell 3,1 to move on. (Plug here for Reid's excellent podcast The Racquetball Show)
In the 32s, we got an upset and some close matches:
– #16 Felipe Camacho took out #17 Carrasco in a close tie-breaker 11-7. As expected, this was a close match but the veteran Costa Rican came out on top.
– #20 Sam Bredenbeck got another IRT touring veteran scalp on his resume, topping #13 Robert Collins12,10 to qualify for his second career main draw.
– #14 Andres Acuña took the first game 15-7, then got an injury default from former event champion #19 Charlie Pratt. Its a shame to have Pratt out so early, given his recent success in this event.
– #23 Reid nearly upset #10 Jake Bredenbeck, having match point on his racquet before losing the tiebreaker 11-10. Reid came to play this event but missed out on an opportunity to return to the main draw of an IRT event for the first time in several seasons.
So, just one seed out of the 9-16 range fell at the round of 32, making for a pretty "chalk" event to this point.
In the main draw/round of 16:
– #1 Kane Waselenchuk made fast work of #16 Camacho 2,4 in a match that took less than 30 minutes.
– #9 Rodrigo Montoya Solis took out #8 Lalo Portillo 8,6. I viewed this as an interesting "show me" match for both players and the reigning World Champ Montoya came out on top.
– #12 Thomas Carter got the best win of his pro career, taking out #5 Alvaro Beltran in a tie-breaker after losing the first game 15-2. Its Carter's 2nd ever pro quarter final appearance (the first being by virtue of a walk-over).
– #4 Andree Parrilla put an end to the younger Bredenbeck's run, but had to work to do so in the second game 2,13.
– #3 Alex Landa got a solid win over the up and coming #14 Acuna 12,8.
– #6 Daniel De La Rosa downed #11 Carlos Keller Vargas 6,5 and spoke of his efforts to remain focused on the court. This is now Vargas' 6th straight IRT event losing in the round of 16 .. to now 6 different pros.
– #10 Jake Bredenbeck got a great win, downing #7 Samuel Murray to get to just his third pro quarter-final in the last two years. Its his best win since Syosset in May (also his last qtr appearance).
– #15 Adam Manilla squandered a couple of game points on his serve in a disjointed game one, then fell quickly in game two to #2 Rocky Carson 14,5.
In the quarters:
– #1 Kane took a competitive match over #9 Montoya 9,11. This is the third time they've met up on the IRT, and by far this is the most competitive that Montoya's made it.
– #4 Parrilla advanced in two straight over #12 Carter.
– #3 Landa continued his recent dominance over #6 DLR in two tight games 10,12. Landa has now won the last 5 top-level matches they've played.
– #10 Bredenbeck advanced to just his second ever IRT semi final with a win over #2 Carson. Jake served lights out in the first and won 15-6, then Carson withdrew with a knee injury. Lets hope it isn't something significant.
In the semis:
– #1 Kane was made to work for it against #4 Parrilla in the first, but then ran away with it in the second to advance to the final 9,4.
– #3 Landa made it 8 times out of 8 on men's pro matches by downing #10 Bredenbeck in two dominant games 5,7
In the Final:
– Kane took out Landa in the final in two straight forward games 7,8.
———————-
Rankings implications of the results:
– The big news is that Landa will eclipse Carson for #2 on tour. Landa has had a very consistent season so far, with 5 semis or better appearances in 6 events, while Carson now has been upset in the quarters or earlier in 3 of the first 6 events of the season. This has now led to Landa overtaking Carson by roughly 30 ranking points.
Carson has not fallen lower than #2 on tour in quite some time. He dipped to #3 in Oct 2016 for just a week or two when DLR eclipsed him briefly, but quickly gained #2 back after the 2016 US Open. Before that, you have to go all the way back to Septem
ber 2010 to find the last time that Rocky was not ranked in the top 2 on tour. That's nearly 10 years ago. Will this be a blip, or are we finally seeing a changing of the guard at the #2 spot?
Other notable rankings implications:
– with his semis appearance, Jake will jump Franco for #11 on tour. This may be the highest he's ever been ranked; its definitely higher than any season-ending rank he's ever had.
– Both Keller and Carter have moved into the top 16, ensuring a bye to the 32s (assuming the tour continues to structure the draws as they have been).
– Acuna is back in the top 20.
– Sam Bredenbeck gets a big jump into the top 30.
———————-
No doubles at Portland to report on. the LPRT played an exhibition, with NW native Hollie Rae Scott getting a nice win over #5 Rhonda Rajsich in the final.
Next up; the LPRT does its annual Xmas Classic in my back yard, at the Sportfit Laurel club in Laurel MD. There's also an IRT Tier 5 event associated with the event, so look for lots of East coast IRT pros to play.
———————-
International Racquetball Tour
International Racquetball Federation – IRF
USA Racquetball
Racquetball Canada
Federación Mexicana de Raquetbol
Federación Boliviana De Raquetbol – Febora
Federación Costarricense de Racquetball