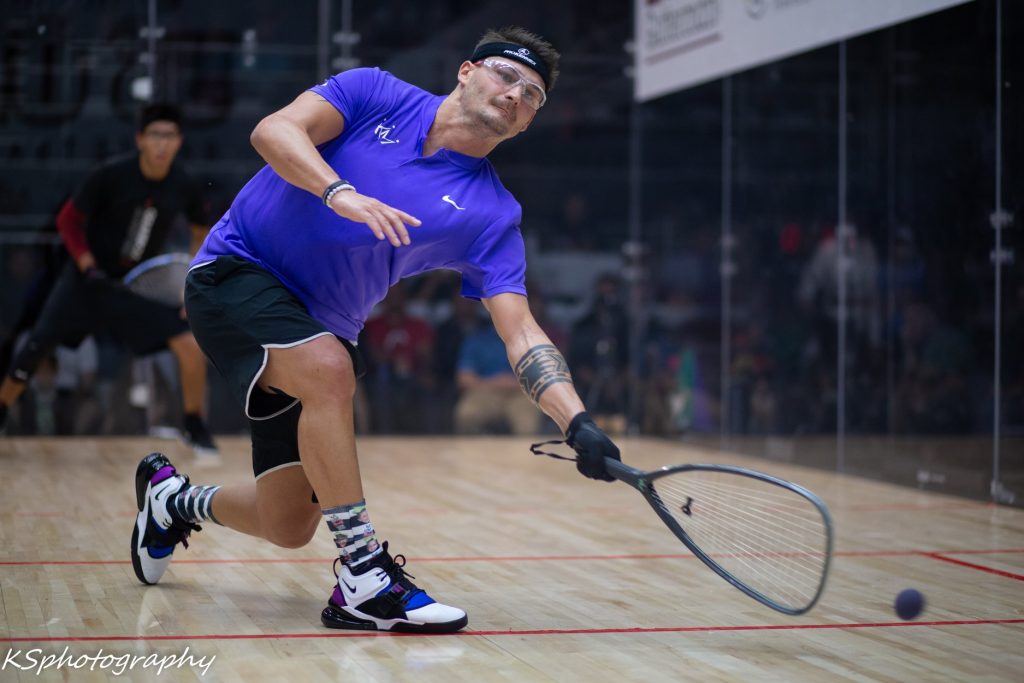 Congrats to Kane Waselenchuk on his win in Tempe this past weekend. Notable facts and stats on the win:
– 119th title
– W/L now 552-53 for his career, 13-1 for the current season
– He increases his lead at the top of the rankings to more than 800 points over #2 Carson (that's two Tier 1 wins worth of points, btw).
Match Report in the database: http://rball.pro/DCB7BC
r2sports link for the event: https://www.r2sports.com/website/event-website.asp?TID=30719
—————————
Here's a re-cap of notable matches by round:
In the 128s:
– only one upset by seed: Arizona's Preston Tribble took out Oregon's Jim Douglas in two.
In the 64s, some upsets:
– Texan Ruben Baez took out Chilean veteran international Francisco Troncoso 11-9 in the breaker.
– IRT regular Justus Benson fell to top Virginia amateur Thomas Gerhardt 9,8. Solid night of qualifying for Gerhardt, who wins both Thursday matches to move into the 32s in (and I had to check this twice) his first ever IRT Tier 1 appearance. Local players to the east coast know him well as one of the top players in Virginia and a frequent local area tournament participant; can he keep the run going in the next round?
– Similarly to Gerhardt, Utah amateur Anthony Martin also took out a regular IRT touring pro in Nick Riffel 9,8 to move on. Solid win for Martin, who earns a spot against #11 Jake (and a spot on the live streaming) on Friday morning.
In the 32s, a couple of surprises:
– Colombian Set Cubillos Ruiz got perhaps his best ever career win, playing solid ball to oust #12 Sebastian Fernandez in a breaker. After taking a close first game, Fernandez came out on fire in game two to win it 15-3 … but then couldn't keep up the pressure as Cubillos really earned it.
– #14 Thomas Carter played two solid games to oust #30 Gerhardt in two 12,9. Great showing by Gerhardt in his tour debut.
– #15 Bolivian Carlos Keller Vargas was taken to the limit in game one against Costa Rican veteran #18 Felipe Camacho, then ran away in game two to advance 14,4.
– The final round of 32 to complete featured a close match that may have surprised some observers: relative unknown player Ruben Baez, making his IRT Tier 1 debut, took it to the #9 seed David " Bobby" Horn, beating him in game one before running out of gas in the tiebreaker to fall (14),10,3. Baez's USAR ranking, per the comment box, is #626. He certainly doesn't play like the 626th ranked player in the land.
——
Round of 16 observations: just one upset by seed, but some solid matches.
– #17 Andres Acuña really pushed #1 Kane Waselenchuk , nearly taking game two from him before falling 8,14. As I've mentioned in this space a lot over the past few months, Acuna's game has improved by leaps and bounds in the past year, he made his first pro quarter in Laurel in Sept, and I think he can continue to rise.
– #9 Horn could not follow-up on his solid Bay Club win, falling to #8 Samuel Murray in two.
– #5 Conra Moscoso Ortiz's first match since the US Open was up against the surprising Colombian Cubillos, a nice all-South American match-up. Moscoso made short work of Cubillos though, winning 4,6 to move on.
– #14 Carter played pretty well to push #3 Alex Landa, falling in two 11,11.
– #6 Andree Parrilla continued his recent head-to-head dominance over his long-time WRT rival #11 Jake Bredenbeck, advancing 9,11.
– In the round's sole upset by seed, #10 Eduardo Portillo Rendon took out home-town favorite #6 Daniel De La Rosa in two close games 13,12. They met in Atlanta earlier in the season, but Portillo was able to turn the tide here. He advances to just his second ever pro quarter final, while DLR surprisingly is one-and-done in his home-town tournament (one that I thought he'd leverage the crowd support to make a finals run). This win is nearly enough to put Portillo into the top 10 for the first time, while DLR continues his uneven start to the new season.
————
In the Qtrs:
– Kane committed canuck-on-canuck crime, defeating his country-man Murray comprehensively 5,4
– #5 seed Moscoso was stretched to a tiebreaker by #4 Álvaro Beltrán before advancing.
– #3 Landa turned the tide on a recent trend of losing to #6 Parrilla head to head, completely dominating their quarter final and advancing 3,7.
– But the story of this event happened in the final quarter; #10 Portillo, playing in just his 2nd pro qtr … took out #2 Rocky Carson in two games 10,8 to reach his first ever pro semi. Portillo finished last season ranked 17th while playing the tour part time, but has consistently made the main draws of the last seven pro events he's entered to push his ranking to the cusp of the top 10.
—————-
In the semis;
– We got our highly anticipated re-match of the US Open final in the top half, with Kane and Moscoso going at it. Far fewer FFs this time from Moscoso, who introduced a new motion and clearly has worked on his footwork. It did not help; Kane does what he typically does against good opponents who hang with him for portions of game 1; he hung in there til about 10-10, then ran off 5 straight to take the first game. Demoralized about missing out on chances, Mosocos got wiped out in game two to lose 10,2. Kane is still the master, even if you watch Conrrado's game plan and see a possible pathway forward for him at some point in the future. With this result, Moscoso will move up to 7th in the tour rankings despite only having points from four events.
– #3 Landa made fast work of the youngster Lalo, ending his run 5,9 to advance to his 5th ever IRT pro final. With this result, Portillo should move up to 9th on tour, putting himself in position to get a top8 seed if one of the existing top 8 misses an event.
—————–
In the final, Kane demoralized Landa, put away mistakes on the service return with clinical precision, and dominated the match to win 4,7. He improves to 15-1 against Landa head to head (the sole loss was a fft/no-show).
——————
Points ramifications: based on my points projections, here's the ramifications of this weekend on the tour rankings:
– Moscoso and Murray swap places at 7,8
– Portillo improves from 12 to 9
– By virtue of Portillo's move, he pushes Montoya, Franco and Horn each down one slot.
– Collin's moves up 2 spots from 18 to 16
– Acuna jumps up 4 spots to #22.
– Cubillos improves 10 spots from 39 to 29.
———————-
Next up; the IRT moves to Fullerton for the Los Compadres Auto Sales Open, which should get a pretty solid draw. There's also a big Costa Rican tourney, which may pull away the likes of Acuna and Camacho to compete on home soil
———————-
International Racquetball Tour
USA Racquetball
Racquetball Canada
Federación Mexicana de Raquetbol
Federación Boliviana de Racquetball
Federación Costarricense de Racquetball
Fecoracquet Fecoracquet