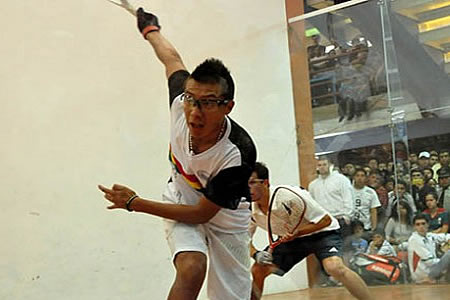 Man, the matches come fast at US Open on Wednesday and Thursday. Here's a review of the 2nd half of Thursday's matches, the round of 16. There were some big time results.
– #1 Kane Waselenchuk dominated #16 Gerardo Franco Gonzalez to move into the quarters. I feel like Kane's path this year has been more straight-forward than last year, though he gets a tough player in Mar (who he beat 12,10 in the 16s last year) next.
– #24 Javier Mar outlasted #25 Carlos Keller Vargas in a tiebreaker, dropping the first then cruising in games 2 and 3.: Mar had about 20 minutes to get ready for this match after a marathon win over his doubles partner Rodrigo Montoya Solis in the earlier round. Despite their seeds, these two players would both be pushing for the top 10 if they played the tour regularly.
– #5 Álvaro Beltrán dominated the upset-minded #21 Thomas Carter, advancing in two quick games.
– #4 Alex Landa was pushed by long-time WRT rival David " Bobby" Horn, and had some "disagreements" on the court at times, but advanced in 2 straight to setup a rematch of the 2019 Mexican national singles final in the qtrs with Beltran. This sets up a rematch between these two long rivals, who met for the 2019 Mexican Nationals final and in the final of the 2018 Florida pro-am just after Beltran had beaten Kane.
– #3 Andree Parrilla dominated his younger doubles partner #14 Lalo Portillo 5,4. Portillo keeps making incremental moves forward on tour.
– #6 Daniel De La Rosa held serve and took out #11 Jake Bredenbeck in two.
– #23 Sebastian Fernandezwon me an ice cream cone from Brian Pineda by defeating #26 Adam Manilla in two games.
– In the upset of the round, #15 Conrrado kevin Moscoso Ortiz Racquetball defeated #2 Rocky Carson for the second time in as many meetings in Grand Slam events 13,5. This was a dominant performance from Moscoso, much more-so than his win in Bolivia, where he was in real jeopardy of losing in two quick games before catching fire. This could open up a path for him to the finals; if he can beat Carson, he can beat anyone not named Kane in this draw.
———-
So, the 16s were comprised of these seeds:
1,2,3,4,5,6 of top top seeds, then 11,13,14,15,16 from the next set, and then 21,23,24,25,26 seeds of qualifiers.
Now, your quarter finalists are 1,3,4,5,6,15,23,24.26. So two qualifiers remain to the quarters, but 5 of the top 8 seeds are through.
Nationalities in the quarters: 6 Mexicans, 1 Canadian and 1 Bolivian. No Americans. Someone asked yesterday if this was a first? Here's a Q/S/F report by nationality to help: http://rball.pro/F834D0
Answer: Yes this is the first time a US Open has not featured at least one American in the quarters of the Men's draw. In 2007, 7 of the 8 quarter finalists were from the USA … now its nearly reversed to have 6 of the 8 be from Mexico.
But not only is this the first time an American has not made at least the quarters of the US Open … this is the first time in the history of the IRT that an American has not made a pro quarter … ever.
————
Quarters start today at 10am CDT. All four should be streamed.
International Racquetball Tour
UnitedHealthcare US OPEN Racquetball Championships
USA Racquetball
Federación Mexicana de Raquetbol
Federación Boliviana de Racquetball
Racquetball Canada