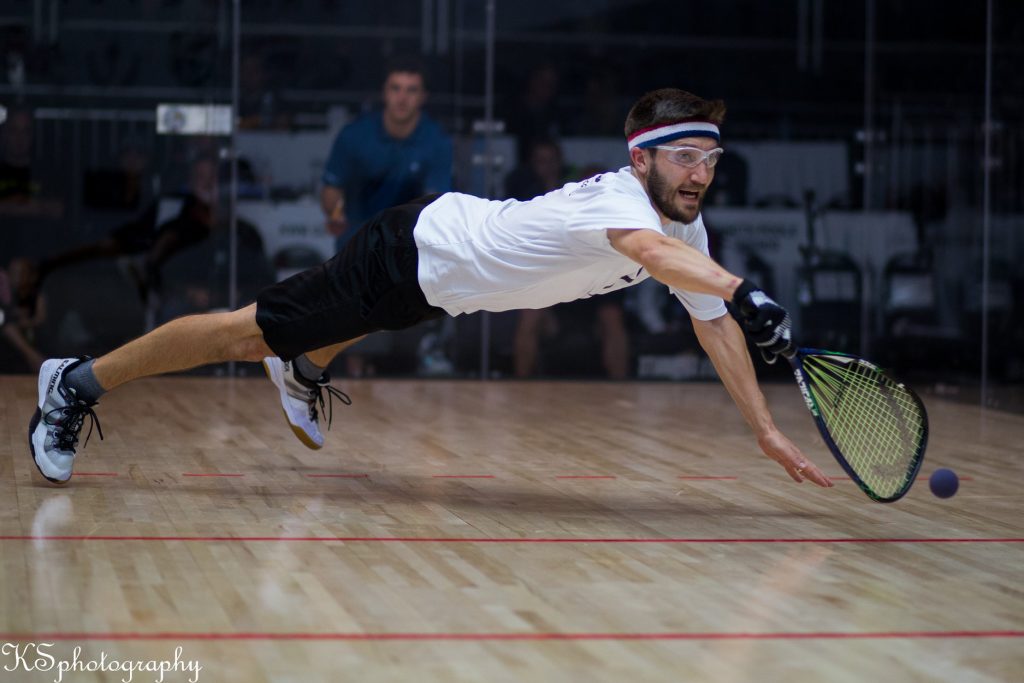 Welcome to the last IRT tier 1 tournament of 2019, and a return to one of the more unique spots on the IRT's calendar; Portland. Its the 2019 SPC John A Pelham Memorial Tournament of Champions event.
The Tournament of Champions has been held every year in Portland since 2013. Prior to that, there was a gap in holding the tournament back to 2001, when it was held pretty regularly throughout the 90s. It used to be a traditional season-ending event in the style of the ATP's year end invitational. Now its a strong recurring event with a solid field.
Its also home to some interesting results. To wit:
– In April 2013, Ben Croft made the final in Portland, one of just 5 times he made a pro tour final in more than 120 tournaments (he lost to Kane).
– in May 2015, Daniel De La Rosa made just his 3rd ever pro final at the event, at the end of a successful pro season that saw him ascend to the #3 spot on tour (he also lost to Kane in the final).
– In Dec 2017, the tournament saw two first-time pro tour finalists in home town favorite Charlie Pratt and Mario Mercado reach the final. Pratt won in three straight games to claim the title, and to this day its the only time either player has so much as reached a final of a pro Tier 1 event.
#1 Kane Waselenchuk has taken the title here in 5 of the 6 times it has been held since 2013 (he missed the 2017 event), and is back to defend his title.
————————-
Lets take a quick run through the draw. We're missing some key names in the top 10, which will affect the seedings.
Top 10 players missing include #7 Luis Conrrado Moscoso Serrudo; this will give current #9 Lalo Portillo a top 8 seed for the second tournament running, coming off a solid win at the San Luis Potosi Open this past weekend.
Missing from the 11-20 range this event include #11 Sebastian Franco and #13 Mario Mercado, both east coasters who may have opted to skip this event that doesn't have a doubles draw. Also missing is #14 David " Bobby" Horn, a curious absence in that he's a west-coaster with an easy flight. #15 Sebastian Fernandez, #16 Gerardo Franco Gonzalez and #20 Jose Diaz also miss out on the event, as do a lot of the regular Mexican players in the 20-30 ranges who may have balked at the longer flight to Portland given their busy schedule of local RKT events.
Despite these absences, there's still a healthy 36-man draw. More than a few Canadians have made the trip south of the border for the event, and they join a solid group of Portland-area players in the pro draw.
No flip seeding this time, so we'll get a true draw, which will (as we'll see) should make for a lot of chalk at the back end. Also no doubles this weekend so its one and done for the singles players.
—————-
Here's some qualifiers to watch for:
In the 128s:
– Wayne Antone takes on Canadian Ian Frattinger , fresh off a quarters appearance in the Canadian National selection event.
In the 64s:
– Sam Bredenbeck likely takes on Matthew Ivar Majxner, who returns to Portland for the first time in a few years.
– Dylan Reid has an interesting match against Canadian veteran Lee Connell, also fresh off a quarters appearance in the Canadian National selection event.
Projecting possible round of 32s of note:
– In the 16/17 match, Costa Rican veteran Felipe Camacho likely takes on Bolivian veteran Kadim Carrasco for a spot against the #1 player. This could be a very close match between two players of similar style.
– #9 Rodrigo Montoya Solis likely faces Canadian veteran Tim Landeryou, who just finished 3rd at the Canadian selection event.
– The winner of the Bredenbeck/Majxner play-in takes on touring veteran Robert Collins in what could be a close match.
– The match of the round though projects to be a defending champ in this event Charlie Pratt, now having fallen to #32 on tour (and is seeded 19th here) as he steps back his playing time, taking on the surging Costa Rican champion Andres Acuña, who now sits 22nd on tour and who is seeded 14th here. The last two times Pratt has played this event, he's lost in the semis (2018) and won it (2017); he's a force to be reckoned with in Portland. Its a tough draw for Acuna, who has already achieved his career best result this season and is looking to build on that success.
– Bolivian Carlos Keller Vargas has a challenging match against Utah amateur Anthony Martin, who plays his third pro event of the season and has some wins over touring pros in the past.
– #10 Jake Bredenbeck likely takes on local favorite Reid for a spot in the main draw.
Projecting the 16s: there's more than a few compelling possible 16s matchups here.
– In the 8/9: Lalo Portillo likely takes on Montoya in the 16s. This is a great test for both players to see where they are right now. I thought this was the year for Montoya to really take a step forward on tour; instead he's basically been treading water right in the 8-10 ranking all season, with no break through wins all season. Meanwhile, Portillo is coming off a win at the SLP open, where he topped both Alan Natera Chavez and Parrilla to take the title. If Portillo can beat Parrilla, he should be able to beat Montoya as well, but they're two vastly different animals on the court in terms of game style. Can Lalo handle Montoya's power? This will be a very telling result.
– #3 Alex Landa vs Pratt/Acuna winner: I'm assuming this is Pratt, which would make for a really compelling match here. Landa beat Pratt for the 2017 PARC title, but then Pratt turned around and beat Landa in Mar 2018 in Lombard. Pratt is a player who can give Landa some trouble. If Acuna prevails in the 32s, he's also a player who has beaten Landa before, but under odd circumstances at the 2019 PARCs. I like Landa to advance here but it could be a battle and an upset isn't out of the question.
– #6 Daniel De La Rosa vs #11 Keller: Keller has played all five IRT events this season … and has exited at the round of 16 in all five, losing to five different players. He now projects to play a 6th distinct player in the 16s, and faces a familiar opponent. These two are the same age; Keller knocked DLR out of the 2009 and 2011 Junior Worlds, and they've met a handful of times since. But only once professionally, and that was more than two years ago. DLR seems vulnerable and Keller seems motivated at this stage of their careers; could be an upset to watch for here.
– #7 Samuel Murray vs #10 Bredenbeck: these two good friends will celebrate the launch of Beast Made Clothing by .. likely having to play each other in the 16s. Two of the hardest hitters on tour, they both have wins over the other in top level competition. Look for a battle here.
Possible Qtrs:
– #1 Kane Waselenchuk over #9 Montoya: would love to see another episode of this match-up to see if Montoya has improved against the King.
– #4 Andree Parrilla over #5 Alvaro Beltran; a frequent pairing this year, with Beltran getting a couple wins over his young rival and showing he's not done yet. I like Parrilla to move on here though.
– #3 Landa over #6 DLR: if DLR advances, we get another episode of the razor-thin line that stands between these two long time rivals. Their match history is littered with 11-10 tiebreaker wins and 5-game marathons under the old scoring method. Landa again to advance.
– #2 Rocky Carson over #7 Murray; they've played professionally 11 times and Rocky is 11-0. Despite his recent win in the Canadian national selection event Murray hasn't quite figured out how to top the long-time #2 player on tour.
Projected Semis:
– Kane over Andree
– Carson over Landa; they've split their last 2 meetings, they've split their last 4 meetings … in fact, they've split their last 10 meetings dating to 2014. Like with Landa vs DLR, its usually razor thin between them. Landa has the harder path to this semi, so i'll give Carson the edge on the day.
Projected final: #1 vs #2; kane over Carson.
————————–
International Racquetball Tour
Federación Mexicana de Raquetbol
Racquetball Canada
USA Racquetball
International Racquetball Federation – IRF
Federación Boliviana De Raquetbol – Febora
Federación Costarricense de Racquetball