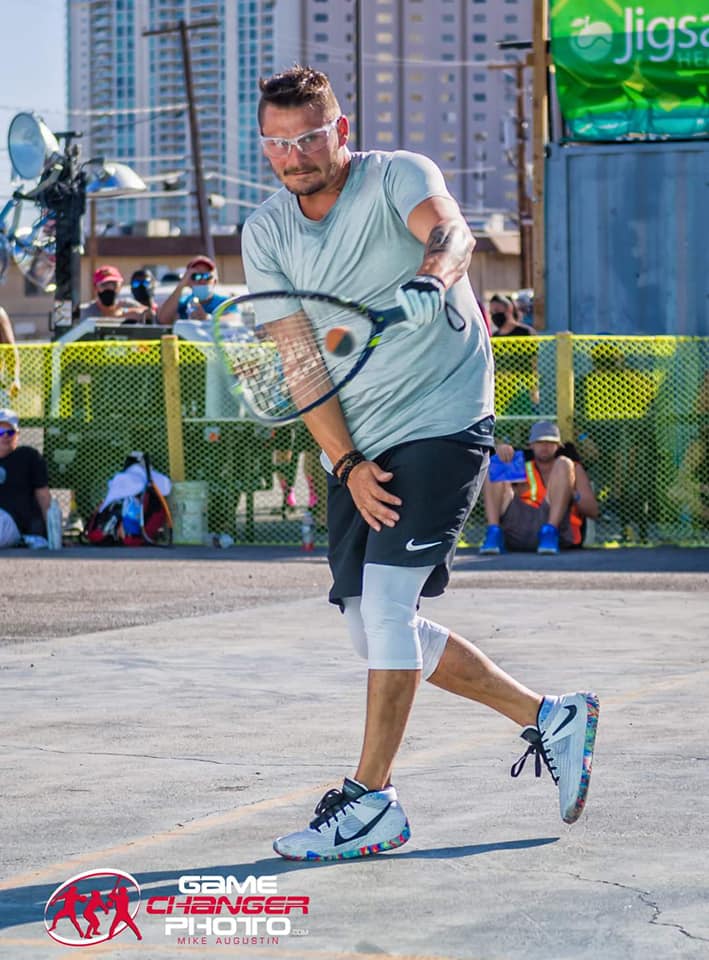 Note: my wrap-up is so big that i'm going to break it up into two parts. Today we'll review the great Men's 3-wall pro doubles draw, then tomorrow wrap-up the rest of the event.
Congrats to your winners on the weekend:
– Men's 3-wall Doubles: Daniel De La Rosa & Alvaro Beltran
– Women's 3-wall Doubles: Paola Longoria & Janel Tisinger-Ledkins
– Mixed 3-wall Doubles: Daniel De La Rosa & Michelle De La Rosa

– Men's 1-wall Doubles: Robert Sostre & William Rolon
– Women's 1-wall Doubles: Kelly Gremley & Aime Brewer
– Mixed 1-wall Doubles: Rick "Soda Man" & Rhonda Rajsich

– Men's 3-wall Singles: Andree Parrilla
– Women's 3-wall Singles: Paola Longoria.


Another stellar weekend for the De La Rosa household, who get back to back event victories in Men's and Mixed.

R2 Sports App home page for event: https://www.r2sports.com/website/event-website.asp?TID=34945


Here's a review of the tournament, calling out interesting results round by round.

3-Wall Men's Pro doubles:
PRS Match Report: http://rball.pro/953FFE

The round of 32 had some "upsets" by seed, but probably not by talent, as this tournament featured a ton of non-outdoor regulars with little in the way of outdoor ranking points.
In the 16s, we saw a number of top seeds fall.
– #1 Daniel De La Rosa & Alvaro Beltran handled the Alex Landa / Sudsy Monchik team 13,8 to avoid their biggest tripping point on the way to the final.
– Relative unknowns Cesar Chavez & Jeremy Mcglothin upset two top-10 seeds to advance to the quarters, taking out teams with veteran outdoor players such as Ignacio Espinal and Thomas Gerhardt.
– Jake Bredenbeck and Brian Pineda played outstanding racquetball to take out two-time Outdoor National doubles champions and #5 seeds Rocky Carson and Jesus Ustarroz in a tie-breaker. Jake proved quite adept at translating his power game into outdoor success, while Pineda on the right hand side gave off a shot-making clinic to drive the upset.
– The #4 team of Paddleball legend Emmett Coe and tourney host Rick Koll held serve and advanced past the veteran California-based doubles team of Tim Herman and Mike Myers.
– IRT veteran Mario Mercado teamed with relative unknown Bolivian Marcello Vargas Aguilar to take out last year's semi finalists and outdoor veteran #3 seeds Floridians Roy Hernandez and Marcos Gravier. The two Bolivian natives played solid ball and had great court coverage and could be a dark horse for more upsets.
– #6 seeded outdoor veterans Brandon Davis and Alejandro Barcelo cruised into the quarters with ease.
– Two IRT veteran indoor players (and college buddies) in Adam Manilla and Nick Riffel teamed up to oust WOR Hall of Famer Mike Peters and fellow Huntington Beach outdoor veteran Patrick Allin 12,8 to be shock quarter finalists.
– Lastly, the big one. IRT #1 Kane Waselenchuk and his frequent indoor doubles partner Ben Croft took on the #2 seeded team of WOR hall of famer Robert Sostre and experienced indoor and outdoor pro David Horn. Lots of build-up to Kane's appearance here, with outdoor specialists questioning whether the duo could adjust to the outdoor game, while indoor fans questioning why anyone would predict that Kane would lose, anywhere.

Game one was a shock to the system: Sostre could not miss and Croft/Kane looked like the outdoor novices that they are, and the #2 seeds won 15-2. With Michelle De La Rosa and Sudsy on the mike for streaming, they watched as Kane literally learned how to play outdoor throughout game 2, suddenly working the angles and hitting the kinds of outdoor-only shots that would be anathema indoors. What looked like it was going to be a two game blowout suddenly went to the tie-breaker. There, the novices picked on Sostre while serving, forcing him to hit backhands and forcing the #2 seeds to change tactics, but to no avail. The newbies cruised to an 11-4 tiebreaker win and put a shot across the bows of the outdoor world.
In the Quarters, a couple of shock results:
– #1 seeds DLR and Beltran made quick work of the upstart Chavez/McGlothin team 2,3.
– Despite downing the #5 team in the 16s, one of the two of Bredenbeck/Pineda failed to report in time for their quarter final match and the #4 team of Coe/Koll was given a walkover into the semis. The reported reason? "Too much Las Vegas."
– The #6 team of Davis/Barcelo blitzed the all-Bolivian team of Vargas/Marcello in game one, then had to mount a furious comeback to take game two and advance 1,14. The second game featured great shot-making from both sides, with the prowess of Davis in particular proving the difference.
– Croft & Kane made quick work of two fellow IRT touring pros relatively new to outdoor in Manilla & Riffel to move on.
The semis featured two fantastic matchups:
– The top half featured two teams of outdoor veterans in the #1 vs #4 matchup.
– The bottom semi featured two of the best outdoor specialists out there in Davis/Barcelo versus perhaps the best current doubles team in the world (indoor or outdoor) in Kane/Croft. One team had to budge; which would it be?

In the end, both matches were anti-climactic, with the #1 seeds winning 3,5 and the Kane/Croft team blitzing to a 3,7 win to setup the final that everyone wanted.
In the final, the sport and all the neutrals got the match they wanted, and they were not disappointed. Kane/Croft won a back and forth first game that could have gone either way, then DLR/Beltran pulled away with consistency and by working the left side of the court. In the breaker they continued their dominance, running out to a 10-5 lead before a fantastic shot from the champ extended the match. Kane & Ben pulled back a couple more points, but an error on a service return sealed the win for the #1 seeds. DLR/Beltran defeat Waselenchuk/Croft (12),9,8 to repeat as champions.
But nobody is walking away from this tournament without recognizing just how well Kane and Croft played to get to the final. Here's hoping this is just the latest chapter in these two teams' rivalry, indoor or out.
——we'll post part II tomorrow.——-
TagsInternational Racquetball TourLPRTWOR – World Outdoor Racquetball3Wall Ball3WallBall Outdoor World Championships2020 3WallBall Outdoor World Championships2020 3WallBall World ChampionshipsUSA RacquetballRacquetball CanadaFederación Mexicana de RaquetbolFederación Boliviana De Raquetbol – FeboraFederación Boliviana de RacquetballRacquetball ColombiaFederacion Colombiana de RacquetballReaching Your Dream FoundationFormulaflowBeastmade ApparelRacquetball Warehouse
Hashtags #racquetball#proracquetball#outdoorracquetball#irt#lprt